Most of us don't realize how much energy it takes to power our daily lives. Every time a coffee maker is set to brew, every time a laptop is plugged in, and every time the starter cord of a lawnmower is pulled, energy is expended. The energy we use to peruse our phones for news, take our medications, and drive our cars to work enables us to live our modern lives. Most people take for granted just how much of our days are dependent on energy.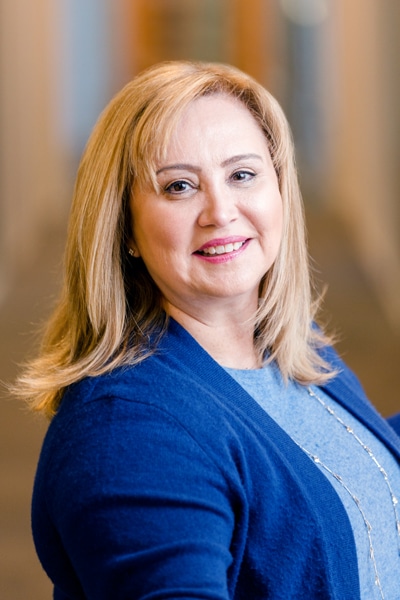 Margita Thompson, vice president of public affairs for California Resources Corporation (CRC), understands better than most that while energy isn't the flashiest nuts-and-bolts issue on any statewide docket, it's something that impacts everyone's livelihood. That's why one of her main objectives at CRC is to help both policymakers and the public become energy literate when establishing the greater good of any state's mission.
"Energy is the science of physics which is not viewed as easily accessible as, say, social issues," explains Thompson, who joined CRC in 2014. Currently, she's not only working to make energy policy more accessible in the Golden State, but she's also bolstering partnerships with organizations like the State Building & Construction Trades Council of California, which is composed of 300 labor unions and over 450,000 members who have a stake in the energy debate as workers and consumers.
As a steward of California's land and ample oil and natural gas resources, Thompson works to unlock people's attention so they grasp the benefit of optimizing local energy production under the world's strongest labor, safety, human rights, and environmental standards. Backed by CRC's workforce, Thompson wants to ensure that the state's energy infrastructure is maintained by the highly qualified women and men who make up California's working families. "And we're extremely motivated to continue providing affordable energy and economic security that all Californians need to thrive," she says.
"California is an energy island, importing over 70 percent of its oil, 90 percent of its natural gas, and 30 percent of its electricity," Thompson highlights. Not only is the VP well aware that the state houses the largest population in the country, she also knows that it has the fifth largest economy on the planet and needs energy to foster sustainable growth. Even with energy playing such an important role, there is misinformation and misperceptions about the oil and natural gas industry in California that are not based on science and facts. That's why Thompson and CRC understand that creating opportunities to have balanced conversations about energy is crucial in sustaining trust from the state and communities that it serves.
"California is an energy island, importing over 70 percent of its oil, 90 percent of its natural gas, and 30 percent of its electricity."
An important initiative Thompson and her team have created to promote education and transparency is Powering California. Through its easy-to-understand website, Powering California features videos, infographics, and articles that discuss energy issues and practices as a way to boost people's energy literacy, while also cascading the message that energy is an important force that when harnessed and directed conscientiously can be a powerful agent of change. Powering California is aimed at more of a general audience, but Thompson remains acutely aware that CRC employees, policy leaders, and the greater industry can and will benefit from the organization's continued diligence in educating its audiences to the benefits of a balanced energy strategy and supply.
Standout Moments From Margita Thompson's Career
Won an Emmy
For public commentary on election night 2010
Made it onto David Letterman's Top Ten list
Happened while she was serving as Governor Arnold Schwarzenegger's press secretary
Got to ride in the King of Jordan's helicopter
Also happened while working for Schwarzenegger during a trip to Israel
Met the Dalai Lama
Thompson says the spiritual leader was "very joyful"
Booked Robert Mueller on CNN
When he was FBI Director and before he was a special counsel and investigated Russian meddling in the 2016 presidential election, Thompson booked him for an episode of Larry King Live while working as a producer. "He was very reserved and straitlaced," she says of Mueller.
Evacuated out of the White House on 9/11
At the time, Thompson was serving as second lady Lynne Cheney's press secretary. Amid fear of a plane headed toward the White House, the Secret Service ordered everyone to leave. Thompson still stashes twenty dollars in her office and has at least half a tank of gas in her car at all times.
In describing her leadership style as straightforward, Thompson acknowledges that she tends to think of the bigger picture while making sure CRC programs like Powering California are humming along. "CRC lets me be me," she says. And who is that? "A Hispanic feminist Republican Californian who works in the oil and gas industry," she laughs. Having diversity of thought in a working environment is vital because it will enable anyone to see problems in a different light, while identifying commonalities that make tough conversations easier. Thompson believes that she and the members of her team are different, but that their styles and communications are complementary and help build strong communities inside and outside CRC.
According to the VP, there have been major shifts in how companies communicate with their audiences, particularly as millennials ascend to top positions. Expectations have evolved as employees demand that companies follow through on their stated values. Similarly, consumers want to purchase products and services from enterprises that take proactive roles in solving societal issues, while investors increasingly prioritize issues like workforce inclusion, diversity, and sustainability. "For CRC, that means championing upward economic mobility that should be everyone's right," Thompson says.
"Our industry provides a path to the middle class and helps working families achieve the American Dream."
While California is a global economic powerhouse, almost four in ten residents live in or near poverty. Energy ultimately affects everyone, and regressive policies that drive up the costs of energy for both consumers and producers disproportionately affect those who work paycheck to paycheck, as well as their families and lifestyles. In addition to providing affordable energy to power our lives, the energy industry in California offers high-quality and stable jobs with great pay. Thompson points out that residents who don't have a college or even high school degree can still have successful careers in which they earn over $80,000, on average. "Our industry provides a path to the middle class and helps working families achieve the American Dream."
For Thompson and CRC, the mission is to promote security, affordability, and upward financial mobility to all California communities through local energy production, as well as by being an active and supportive community partner. Through her company's community outreach initiatives, Thompson has led several major philanthropy projects that have positively impacted thousands of families. In partnership with the Herman Ostrow School of Dentistry of USC and the California Teachers Association, for example, CRC launched a series of free mobile dental clinic programs throughout the state. Each of the weeklong clinics provides much needed dental services for low-income K-12 students—many of whom have never seen a dentist.
A particularly gratifying experience from one of the dental clinics in Taft, California, sticks out in Thompson's mind. A high school-aged boy with a missing front tooth was being treated for general dental work through the clinic and the dentists working on him decided to go above and beyond and replace his front tooth. When the boy came out of the dental van with a huge, toothy smile on his face, his mother cried happily exclaiming that she hadn't seen a smile on her son's face in years. That's the sort of positive energy Thompson loves to spark.
---
Expertise Spotlight: Cesar Diaz, California State Building and Construction Trades Council
Cesar Diaz directs legislative strategy for the California State Building and Construction Trades Council, a powerhouse political organization in California that represents nearly 450,000 hard-working construction workers, including 62,000 trade apprentices. Cesar, who was born in Guadalajara and immigrated with his family to California at age five, has been instrumental in the passage of some of the most complex legislation that made its way to the governor's desk of the fifth largest economy in the world.
Cesar's focus is on enacting policy that improves working conditions for the members of the building trades and expanding training opportunities for disadvantaged youth around the state, as well as ensuring that all legislation that makes its way to becoming law in California is beneficial to all working Californians. He is widely recognized at the California state capitol as a trusted ally who is adept at working with legislators from both parties to bring about pragmatic solutions to polarizing political issues that affect California's working families.
The California legislature considered nearly two thousand bills in 2019. Cesar was responsible for understanding each proposed law's advantages and disadvantages for working people. Cesar's political and legislative strategy was crucially important in the passage of California's landmark environmental and affordable housing legislation, as well as legislation entitling the construction of the state-of-the-art arenas for the Los Angeles Rams and Sacramento Kings.
Cesar, who initially went to work as a meat cutter after attending Mission High School in San Francisco, worked hard to broaden his skills and hone his leadership abilities to now shape and influence public policy in California. His path was not a simple one, but was a path he created for himself through hard work and perseverance. Beyond his work for the building trades, Cesar, a proud father of two, was appointed by then Governor Brown to the State Allocation Board, while also serving on the board of the California Conservation Corp Foundation and the executive board of the California Democratic Party, where he cochairs the party's resolution committee.