Rebecca O'Mara, vice president of Grundfos' service and solutions business unit in the Americas, literally climbed her way to the top—it just took a little time to get there.
At the beginning of her career, O'Mara was not entrusted with particularly high-profile positions. As a bank teller in high school, she was not even allowed to touch any money. For more than a year, she counted food stamps in a back room. Later, after obtaining an undergraduate degree in finance, O'Mara found a position in the investment department at Harris Bank in downtown Chicago.
"I was basically a secretary with a bachelor's degree," O'Mara says. "It was the 1980s, and there were very few opportunities for women. There were no women traders on the trading floor. There's nothing wrong with being a secretary; it's quite a noble profession. But I didn't want to be a secretary—I dreamed of being an executive."
Knowing she wouldn't get very far in that environment, O'Mara went to work for Illinois Bell (now AT&T). "I was a line manager and had to learn how to climb telephone poles," O'Mara says of her initial job duties. "I installed phones on the North Side of Chicago, out in the street with a truck and ladder. I was with the company for ten years and worked my way up. By the 1990s, I was one of the youngest executives in the company.
"But then the whole world changed," O'Mara continues. "The regulations changed, the technology changed, and the industry consolidated as one company bought another and another. So, I decided to go and find a new path."
O'Mara's drive, as well as the connections she made while serving as a volunteer coach, mentor, and speaker with Hispanic organizations like the Hispanic Alliance for Career Enhancement (HACE), landed her a position as director of global sales and marketing at Caterpillar.
Located in a rural region of Illinois, Caterpillar was struggling to recruit people, particularly diverse candidates. To help solve that problem, O'Mara founded the company's first employee resource group (ERG), the Caterpillar Latino Connection. She was the president of the organization between 2005 and 2007.
"You never really lose your drive and ambition—it just changes as you get older. You focus more on helping others and making a positive impact in the world."
"I wanted to create a place for people from all different Latin American backgrounds to feel an affinity," O'Mara recalls. "But I also wanted to make sure that Caterpillar understood that we were a benefit to them. As a business leader, I knew that we had to show facts and data, and Caterpillar Latino Connection supported recruitment events, provided training for our members, and raised money for nonprofits. We were welcoming to all."
O'Mara's leadership of the Caterpillar Latino Connection clearly made an impression. Soon after, other ERGs formed including a women's organization and LGBTQ group.
As she has continued in her career, O'Mara has remained unafraid of carving out opportunities for herself and others. "You never really lose your drive and ambition—it just changes as you get older. You focus more on helping others and making a positive impact in the world," O'Mara says. "I'm always striving and reaching for ways to give back my knowledge and insights on my successes and failures."
In her current role at Grundfos, O'Mara does just that. She makes a point of encouraging other women to maximize the impact of their work by taking on profit and loss management roles. "There are so many super, super successful women out there," O'Mara explains. "But there aren't too many doing full P&L management. The decisions you make in those roles can affect hundreds, if not thousands of people. They can affect the return on investment for investors. It's a powerful role."
Given the historical and often unconscious biases affecting women in those roles, O'Mara has her work cut out for her. But she doesn't mind. "I like to do things that are hard and messy," she says. "I'm always thinking about how I can use my voice with male colleagues to help them see a different perspective."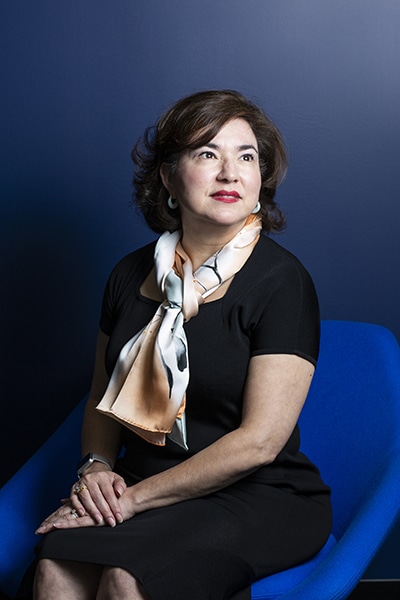 O'Mara has not always had the same kind of support that she provides as a leader and mentor. "In a high school drafting class, I went to the teacher and said, 'This is getting too hard, I'm going to quit.' And he just said, 'OK.' I was getting all As in the class, but it didn't seem to matter," O'Mara remembers.
At Grundfos, O'Mara works to create an environment that allows her team to come up with great ideas and to fail when they need to. "I tell my people all the time, 'Fail small and fail fast, then regroup, adjust, and transform.' That's where you really learn, when you make mistakes," she says.
That philosophy has led O'Mara to great success, enabling her to grow her unit by double digits percentage-wise during her first year at Grundfos. "I encourage my team to try out their ideas," O'Mara says. "Do you think a rental pump is a good idea in your market? Do it. Do you want to start a training program? Start small. Do you need help with pricing? Do it—see how it goes, build on it, and I'll help you if you need it. My job is to remove the roadblocks."
Pursuing a Passion
According to O'Mara, the importance of personal passions cannot be discounted.
"Singing is my outlet and my salvation," O'Mara says. "I really believe that people should have hobbies, or just things they love to do. I sing in a band, and I play the piano."
And O'Mara isn't going to let anyone stand in the way of her love of singing.
"I've been known to sing with the mariachis at any venue—even when my daughter was a teenager and would get embarrassed and beg me not to," O'Mara chuckles. "And now, she's a singer too."
RELATED LINKS
https://hispanicexecutive.com/2019/toyota-five-compadres/
https://hispanicexecutive.com/2019/sal-montes-fender/