This article is brought to you by Brenntag.
In 2020, the century-old chemicals and ingredients distribution company Brenntag embarked on a major global reorganization and transformation. A successful organization previously structured geographically, Brenntag launched a major restructure by type of business and industry to further unlock its true potential. The German-based company introduced two divisions: Essentials—commodity-type chemical products sensitive to logistics—and Specialties—ingredients tailored to meet the specific formulation needs of customers.
"This was a seismic change," says Viktor Alvarado, vice president of controlling for Brenntag Specialties Americas. The company had many decades of operating via distinct regional units and dismantling the long-established business structure in favor of the new operating model would take considerable time and effort. It also was likely to provoke some resistance among the ranks.
Alvarado felt up for the challenge. Having grown up in Venezuela, where he started with Brenntag 21 years ago, Alvarado says he was accustomed to a volatile government and changing business environments that require managers to cope with sharp changes in policies and operational conditions.
"When you come from a place like Latin America that has smaller and fluctuating economies with frequent dynamic changes, it forces you to be very adaptable," he says. "If a customer's plant shuts down, for example, you have to adjust, because you can't expect another one to quickly fill the gap." This forces managers to endure adversity and find creative solutions to difficult problems.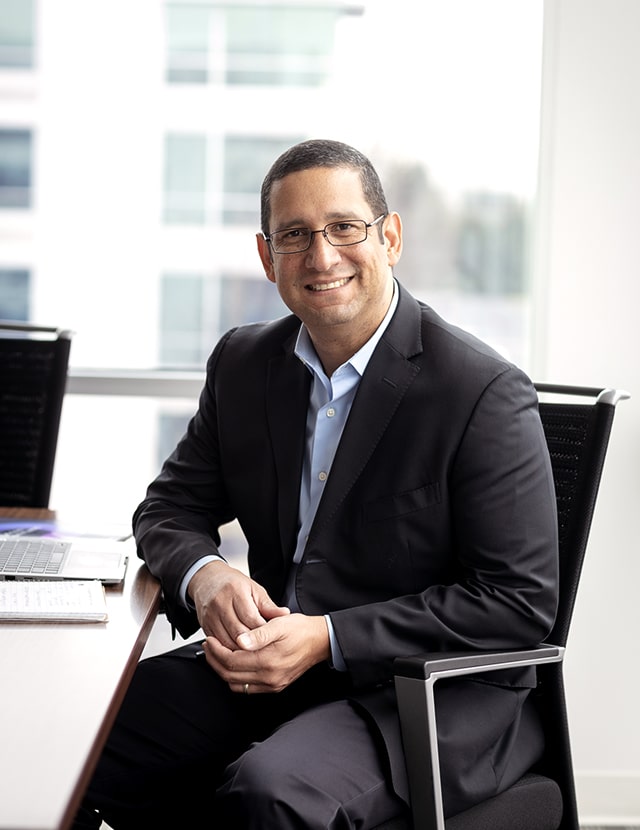 The transformation came with a role change for Alvarado. He would move from vice president of finance for the US Pacific Region to the role he holds today, a position he describes as "a finance and strategy copilot of Americas Specialties." This meant he would be dealing with many more Brenntag managers and teams from different areas, who would be coping with drastic operational changes.
Alvarado was under no illusion that it would be easy, but he understood why corporate leaders were heading for an organizational upheaval. "The strategic reason was fairly simple," the VP says. "The specialties business is more profitable than commodities, and less volatile." The commodities business though, was much larger, and tended to overshadow specialties when it came to some key decision-making. Having specialties operate more independently and distinct, the thinking went, would allow it to spread its wings and grow faster.
One challenge that quickly became evident was how to divvy up accounts and structure commission incentives, critical aspects to commercial success. Previously, sales were divided by geographical region. The new divisional structure meant that salespeople would own accounts crossing old regional boundaries. They would lose some customers and gain others. In addition, different regions had different commission schemes. "We had to align them and make sure that they promoted what we at Specialties wanted to emphasize," Alvarado says. Once the changes were implemented, it remained critical to monitor their impact to ensure they supported, and not hindered, the strategic goals.
As the reorganization and transformation was unfolding in 2021, Brenntag made a large acquisition, J.M. Swank, a major food ingredients distributor with annual revenue of about $600 million. This move immediately increased the Specialties business size by approximately 30 percent. Indeed, integrating Swank was a critical step for the specialties business, a first test of the decision to reorganize. "We had to do it right," Alvarado says. "It could not fail."
While integrating a big acquisition has plenty of challenges for any company, it also presented a unique opportunity for Brenntag to do this in the midst of global internal transformation. While Brenntag's former regional organizational structure made for siloed functions, Swank had been organized nationally. Thus, the acquired company provided a template for the parent company to build upon. Rather than immediately absorb Swank into Brenntag's existing framework, Viktor and the executive team decided that the acquisition should be left as a standalone unit with key leaders remaining in place. This minimized additional impact on the business as the company scaled up its internal nutrition business.
Brenntag formed a steering committee comprising leaders from both Specialties and Essentials to guide the Swank integration. After about six months, top Swank leaders left the company. The transition has gone well, as evidenced by the accomplishment of most of the initiatives set out in its business plan, and set the new specialties unit on a course for robust growth.
The integration process created some friction. "Some people wanted this part of the business or that part of the business," Alvarado says. His previous experience, which included taking over key management roles within Brenntag as an outsider, helped him negotiate contentious issues diplomatically. For instance, he remembers a point soon after taking over as Pacific region controller from a similar post in the Latin American region. Some managers resisted his decisions to correct financial control shortcomings. "Who is he to tell us what to do?" seemed to be their mindset.
As some changes took place, a more collaborative culture helped set a more supportive tone, Alvarado says. For his part, he strived to foster honesty and transparency when explaining his decisions; and he asked his reports to do the same. "Always tell me the truth," he says. "It doesn't matter how ugly it looks."
"That experience helped me develop a better understanding of how people are emotionally attached to their businesses," Alvarado says. "It allowed me to gain more empathy."
Alvarado applies this leadership approach to his new role guiding Specialties and the Swank integration, and it seems to be working. "We already see the Swank business and Brenntag's formerly regional specialties operations becoming more intertwined," Alvarado says.
And his colleagues at Brenntag agree. "I have worked with Viktor for a number of years in a variety of roles and value him as a strategic thought leader, who always leads with values and people," says Donovan Mattole, VP HR Americas. "In his role as VP Controlling Specialties Americas, Viktor has spearheaded the transformation of our specialties business in a way that places people first and aligns the right individuals with the right business."
Overcoming the adversity and challenges of his early career, Alvarado notes, helped set him up for success in his current role. Those very skills became critical for the company during a time of massive transformation within the organization. Although some at first perceived Alvarado as an outsider, having spent most of his time within Latin America, the supportive network and open culture at Brenntag allowed for smooth transition into his new regional role over all of the Americas.
Alvarado believes that this perception is an obstacle that executives with Latin American roots must sometimes face when taking on North American responsibilities, but it's a challenge that shouldn't dissuade any Latino executive from joining the right US organization. And it is important they lean into the challenge and realize that their experience in Latin America can be leveraged to truly transform North American businesses. "There always will be some narrow-minded people," he says. "But for every one of those there will be ten that will be positive and want you to succeed, and Brenntag is a great example of this."