You want a Slurpee, but the line for the machine reaches out the door and down the block. When Electra Consumer Products Ltd., a master franchisee of 7-Eleven International LLC, opened its first 7-Eleven store in Tel Aviv's Dizengoff Center in early 2023, that was precisely the case. Excited customers lined up hours in advance to get their first taste of world's largest convenience store chain, with Israel becoming the nineteenth country to roll out the yellow, green, orange, and red drink loved by millions of Americans.
This is just the latest victory for Esteban Velasquez, director of financial planning at 7-Eleven International. The director has called 7-Eleven home for his entire career. In fact, he got his start at the very first rung. "As I was working through college, I was able to work the second shift at a 7-Eleven store," Velasquez remembers. "Learning the business from the ground level was incredibly important for me, even though I had no idea I would end up joining the company."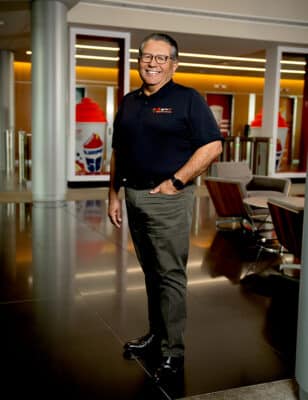 Velasquez has been on the front lines of providing support and guidance on the formation of 7-Eleven International. The new entity was announced in early 2022 and aims to ensure long-term growth by expanding the brand into new territories as well as provide world-class value and support to existing international licensees and master franchisees.
"A lot of passion and effort went into establishing the infrastructure and culture of 7-Eleven International," the director states. "Having the opportunity to work closely with our coCEOs and their executive committee for almost a year was an incredible experience. And, although helping develop 7-Eleven International's five-year strategy took a lot of time, and there have been countless presentations and discussions, it has been so exciting, and rewarding."
Working globally is Velasquez's bread and butter. He loves driving international growth and seeing how his work ultimately translates to new stores in new locations. While he undersells just how direct his contributions may be, he still feels the parental pride of bringing a new store to life.
Velasquez's pride for 7-Eleven is the result of a culture that has supported him since he joined. Early on in his career, he got the opportunity to join a year-long management training program that would impact the rest of his professional life.
"We got the chance to go back to the store level, understand the business from that side, and understand what it takes to support the store from the management perspective," the director says. "I spent a year working from store to markets to divisions and then to the corporate office so we could fully understand our role and how we could support those people on the ground providing services and products to our customers."
Velasquez says 7-Eleven earned his loyalty on his first day in management when brothers and children of founder Joe C. Thompson Sr., John and Jere Thompson, spent half a day with Velasquez and other newcomers to the company. "That was the most impressive thing to me," he reflects. "Leaders of this organization took the time to visit with me and understand where I was coming from. Leadership here always understands that the customer comes first, and I learned that from day one."
7-Eleven's customers can be found at nearly thirteen thousand stores in the United States, over twenty-one thousand in Japan, and many more across the world. The customer-first mindset of is still a winning strategy.
For those hoping to rise in their own organizations, Velasquez is resolute in his advice. Education is the key that opens the door to opportunity, and whatever happens, that education can't be taken away.
Velasquez doesn't just believe this, he's lived it. The only boy of five children, Velasquez and his siblings couldn't finish their high school education because they needed to help keep their family afloat financially. But that didn't stop him. Velasquez would ultimately earn his GED, his college education, and his CPA with what he says was the help of mentors and people that wanted to see him succeed.
Now with children and grandchildren of his own, Velasquez is an incredible example of just how far a family can come in a single generation. And there's little doubt that his other family of stores will just keep multiplying. The cultures may be different, but the service, the reliability, and the customer focus will remain the same.
---
KPMG congratulates Esteban Velasquez on this well-deserved honor! We are proud to work with Esteban to help 7-Eleven expand into new markets globally. KPMG's Global Mobility Services practice provides end-to-end global mobility services by utilizing a global operating model, investing in tomorrow's technology and meeting the full range of client needs