Ramon Ceron arranges his calendar around prioritization of financial risks. While the risk management focus varies, monitoring Atkore International's financial health is a constant for the vice president and treasurer. Ceron explains that his job is, essentially, to ensure his company remains on strong financial footing at all times.
"No surprises," he says. "Foresee factors and situations that could derail the company's plans or constrain strategic or operational initiatives. It is critical to both communicate and act on anything that might be a hindrance to the success of the company."
Atkore, a manufacturer of electrical raceway products, is in the process of expansion and needs Ceron to make sure the road is clear. When pressed, he rattles off a long list of risks under his purview, including capital structure, financing, global cash and liquidity, property and casualty insurance, interest rate risk, foreign exchange risk, and management of pension assets and liabilities. They're all things that could easily block or slow expansion if not monitored and managed effectively.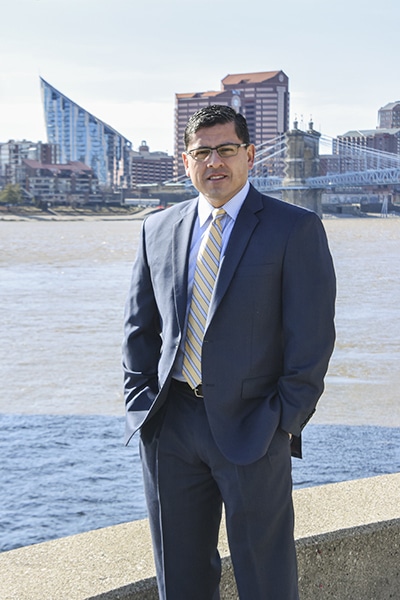 Ceron's career path has been intentional, bringing him to a place where he's prepared to assess risk and proactively recommend courses of action to ensure the short- and long-term financial stability of Atkore. It began with engineering degrees from the University of Michigan–Ann Arbor and University of Wisconsin–Madison. After completing his master's degree, he took a job with AT&T, and as the company began to split, he found himself more interested in business dynamics than the "manufacturing processes" that he worked on.
After getting his MBA from the University of Chicago Booth School of Business, he decided that corporate treasury was the preferred path. From there, he followed the same advice that he often shares with others: "Have a plan. Be efficient with your time. Be patient but not complacent. And take risks." As someone well versed in risk management, the risks he takes are calculated ones.
Though he no longer works as an engineer, Ceron still thinks like one. He recognized that treasury would allow him to engage in strategic and analytic work, which would be a better fit for him than other areas of finance. Ceron isn't interested in selling anything, so banking and consulting didn't make sense.
And to go into private equity or asset management, as he says, "Historically, you needed to know people. With my Hispanic background, I was not familiar with the connection-laden world of finance." In a treasurer role he is effectively the client: "I am most comfortable as the buyer. Analytically evaluating the financial and strategic merit of any service or product for the company is a core competency."
One unusual challenge is a lack of available positions. "There is only one treasurer in a company," Ceron points out. So he took opportunities to acquire experience in the facets of treasury because, as he puts it, "learning, coupled with broad experiences across the breadth of subsectors within treasury, is critical to positioning yourself for treasury leadership."
Finally, having spent a great deal of time as a "treasurer in waiting" at a previous company, he took a risk with a Midwest company in the midst of a turnaround and moved his family from Connecticut to Ohio. Eighteen months in, the company was acquired, and Ceron accepted a role at Atkore International in Chicago.
While the job means a serious commute between Cincinnati and Chicago, he says, "Great opportunities in great companies are hard to find, and this has been a smooth and rewarding transition into a company with healthy growth."
"Be efficient with your time. Be patient but not complacent. And take risks."
Atkore is a smaller company than he has worked at before, but smallness has its benefits. Ceron finds himself rolling up his sleeves and getting into all aspects of the work—something he embraces as a learning opportunity. "The key is to prioritize financial risks and focus on things that are most impactful," he says.
To achieve this, Ceron takes his leadership and managerial roles seriously. Managing a young team requires an emphasis on soft skills and teamwork, which he believes are critical to supporting and growing talent.
Recent years have brought about significant change at Atkore. In 2016, Atkore went public. Up to that point, the company went through a series of acquisitions and divestitures, with a focus on building a lean organization. Following the public offering, it was quick to establish independence from private equity and set in place a number of leadership changes. The company also sought new talent.
"We are part of a new team that is focused on Atkore's next phase of growth and success," Ceron says. "Right now, everyone is single-minded on that goal." The strategy seems to be paying off—Atkore's stock price has doubled in the thirteen months since he arrived.
The company currently manufactures and supplies steel and PVC conduit—everything needed to deploy, isolate, and protect a structure's electrical circuitry from source to outlet—but Ceron says growth may come from a broader portfolio of electrical products. With strong free cash flow, the company has been able to bolt on smaller businesses as part of their M&A strategy. Atkore is on the move, fortifying its balance sheet and expanding in key strategic areas.
Ceron is determined to help Atkore grow at a prudent pace. He works diligently with key internal and external stakeholders. Much of his work revolves around banks, rating agencies, insurance brokers and carriers, investment advisors, actuaries, and attorneys. "My time is spent keeping balls in the air—many of them related to outside parties with whom we collaborate," he says.
Ceron also finds the intimacy of a small company rewarding. He runs a fairly autonomous department, he explains, yet appreciates the collaboration and sharing across areas. "You get to be a leader and yet be fully connected to the rest of the organization," he says. Just like his chosen profession, this means a lot of risk and, so far, a lot of reward.
As Ceron looks back, he also looks forward and says, "It hasn't been easy. Nothing worth pursuing ever is. I relish the challenges that are forthcoming."
---
Related Links