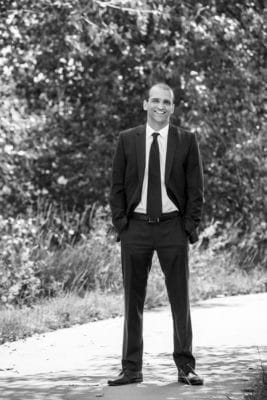 Gustavo Biscardi was just sixteen years old when he started studying law in Rio de Janeiro. It was a five-year program, so he was twenty-one by the time he graduated with a bachelor's in law. At age seventeen, while he was working on his law degree, he started interning at a local law firm, which offered him a full-time position as a junior partner once he graduated. He held that job for a few years, but he was then made an offer he couldn't refuse.
"During my tenure as a junior partner, I got really interested in what was going on at the other side of the table, which was the finance world. Suddenly in 1999, I was offered a position to join a start-up business in Brazil to manage the administrative and finance part of the venture," Biscardi says. "So, I jumped the boat and went into another career with a start-up business. I stayed there for five years and built my management and finance skills."
After that, he and his wife moved to Australia, where he got an MBA from Queensland University of Technology. "I knew I needed some sort of a finance academic background, so I chose to close the gap and get my MBA in finance," says Biscardi, who later earned a bachelor of accounting as well.
Shortly after Biscardi completed his MBA, JBS acquired Swift Australia. With operations in more than twenty countries, JBS is one of the world's leading food-industry companies. The acquisition of Swift Australia meant the company now had a branch in Australia, so Biscardi joined the team in 2008 as a treasury and finance analyst. He held that position for about a year and a half before he started moving up the company's corporate ladder.
Before long, the board of directors asked Biscardi to create and present a feasibility study on launching a transportation division in Australia. They liked what they heard, so they put him in charge of applying his research to the real world.
"I didn't know anything about trucks or drivers, so it was a challenging situation. I had to lead a new team while learning about the industry," Biscardi says. "I knew everything on paper, but I had no experience in the real-world applications of the transport and trucking business."
Nevertheless, Biscardi was successful in implementing his plan, and the company saw double-digit EBITDA (earnings before interest, taxes, depreciation, and amortization) margin and positive free cash flow within the first year. After two and a half years of leading the successful venture, JBS invited Biscardi to become the company's Asia Pacific treasurer, a position that he held for a year and a half before the company invited him to join the team in Colorado as JBS's North American treasurer. After another year and half in that role, JBS made him global treasurer, a position that he has now held for almost two years.
"We're responsible for managing all of the cash for the organization," Biscardi says. Since JBS USA has $38 billion in revenue, Biscardi has his work cut out for him. "We use it as widely as possible, so if we need money in one region and hold a surplus in another region, even if it's abroad, we can make sure cash is moved efficiently among any of our domestic or foreign subsidiaries."
With a large, international company, the treasurer also needs to consider the tax structure of each area in which the company operates so that it can be sure to get the most out of its money.
"White & Case has had the privilege of working with Gustavo and the JBS team over the past fifteen years," says Dan Nam of White & Case. "As a multinational corporation, JBS has one of the most intricate structures we have seen. This requires constant oversight to ensure that the cash needed to maintain operations is where it needs to be. This responsibility falls on Gustavo's shoulders, who has performed admirably. Gustavo's dedication and hard work have greatly contributed to JBS' operational success."
Overseeing the company's cash flow, however, is not the only responsibility that falls on Biscardi's shoulders.
"Aside from cash management, we also have significant financial risks that must be managed, which are mainly the foreign-exchange and interest-rate exposure that the company has as a whole," Biscardi says. "And liquidity is more important than anything. We're a very active player in the capital market, so we have to manage that and make sure we have the right liquidity there to cope with the markets."
Considering he's managing so much money for such a large company, you might expect Biscardi's team to be much larger than it is.
"We have a pretty lean team—about six people in North America who work very closely with me," Biscardi says. "We also have lean local treasury teams in other regions to make sure we walk together in the same direction."
One of the challenges of operating such a large, global company can be maintaining a cohesive strategy and making sure every member of every team is on board with that strategy. Biscardi says JBS works hard to maintain synchronicity.
"We have a high level of communication between the team members in all regions," Biscardi says. "The company has a strong culture, and we all have to work together; no one has a personal agenda. There's a global strategy for the company, and we all work together to make that happen."
At the same time, JBS encourages a sense of ownership. "We have to honor our tasks," Biscardi says. "I really emphasize the sense of ownership in the company, and that has been cascaded down from the leaders. We try to put that in front of everything."
Both the high level of communication and the sense of ownership, which are such an inherent part of JBS's culture, have influenced Biscardi's own leadership style, which he says is an open-door style. He emphasizes communication while also respecting his team members' boundaries and work styles.
Biscardi also makes sure to put a lot of effort into coaching his team members. "We always have the next line of leaders growing inside the company—and not just in my department," Biscardi says. "We have a program that is training the next wave of leaders inside the company."
Biscardi  has also received coaching from the company's leadership, which ultimately resulted in his ability to take the position of global treasurer of JBS. From his opportunity to present his ideas to the board of directors early on in his career to his long-lasting and close partnership with the company's CFO, Biscardi is aware of the support he was given on his climb up the corporate ladder, and he is committed to providing that same support to the next generation of JBS leaders.