https://hispanicexecutive.com/lina-martinez-atlas-copco/
Jesús Vázquez jokes that he became a lawyer because it seemed like his father respected his sister's law practice more than his career—and he was an actual rocket scientist. After getting his degree in aerospace engineering from Penn State, Vázquez spent nearly eight years working on navigation software for the Titan IV rocket program at Martin Marietta Aerospace Corporation (which has since gone through a merger and become Lockheed Martin).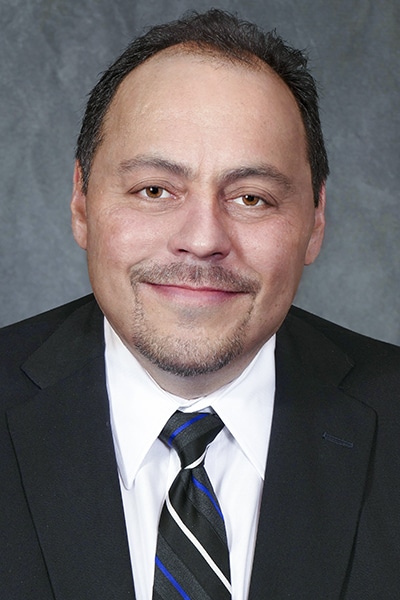 He realized, though, that he wanted a job that let him help people solve their problems, so he went back to school for his law degree and then spent twenty-three years specializing in intellectual property law at various firms.
Two years ago, he went in-house at United Cannabis Corporation (UCANN), a Colorado-based biotechnology company dedicated to the development of products with cannabinoids for medical applications. The company had recently formed a joint venture in Vázquez's home country of Puerto Rico, and after Hurricane Maria decimated parts of the country, the attorney wanted to find a way to reconnect and help jump-start business any way that he could.
"The research showing the benefits of CBD for patients suffering from a broad spectrum of maladies was indisputable, and this appealed to me as a way of helping people," Vázquez says.
He offered his help, and UCANN responded by offering the attorney in-house responsibilities at the burgeoning cannabis company as vice president and general counsel. In December 2019, the magazine Managing Intellectual Property recognized Vázquez's contributions in their list of "50 Most Influential People in IP 2019."
He recently took some time to answer questions about his role, including the challenges of working in a burgeoning and legally complex industry.
What do you feel you've been able to bring to UCANN from the perspective of trying to provide a slightly more formalized culture?
After twenty-two years working at conservative corporate law firms, the loose culture I encountered at UCANN was refreshing but also a bit of a shock. My duties very quickly expanded from managing the company's intellectual property portfolio to performing due diligence and drafting and negotiating the company's contracts with vendors and suppliers, as well as managing the inevitable disputes that arise in business.
I could tell early on that there was a stigma that the companies in the CBD sector would have to overcome in order to become more mainstream and to attract mainstream corporate partners and investors. To help with that, I began making in-house presentations regarding the rapidly evolving legal and regulatory landscape that applies to our sector, and I also began mentoring staff at meetings on communicating more effectively and professionally.
Given the FDA oversight, I view CBD products no differently than consumer food products like rice or beans. I wanted to change the mind-set within the company such that we viewed our CBD products that way. I also had, and continue to have, one-on-one meetings with staff regarding the importance of due diligence and properly papering agreements. My goal is to move more and more toward a corporate culture that follows and embraces the formalities of business.
How has your extensive IP work applied to wider efforts at UCANN?
UCANN now owns two patents—one covering liquid cannabinoid formulations and the other one covering methods of using the formulations. While valuation of patents is a science in its own right, I believe the patents are the company's most valuable assets. Ideally, we would like to partner with other companies in the sector via license agreements. Currently, we have a patent infringement action pending in the US District Court for the District of Colorado. This is a widely watched case and the first time in history that a federal court has been asked to enforce a cannabis-related patent.
What lessons has the burgeoning cannabis industry taught you? Have you had to evolve your own approach to working in such a new industry?
I spend my time almost exclusively working on issues related to the industrial hemp and CBD sector. The company does not make or sell medical or recreational marijuana, which would involve compliance with the state's Marijuana Enforcement Division. This point highlights one of the main lessons: the necessity to be thoroughly educated about the sector and the laws and regulations that apply to, and govern, what we do. There is an awful lot of misinformation out there. Everybody and their brother think that they know what is legal and what is not. 
"I could tell early on that there was a stigma that the companies in the CBD sector would have to overcome in order to become more mainstream and to attract mainstream corporate partners and investors."
What does the future look like for you at UCANN? What are you proud of having accomplished thus far?
These are trying times in the industry as the market contracts and corrects itself and the legal landscape evolves from its current state, where some federal laws are not in harmony with others or with state laws. The FDA is lagging way behind. Managing growth and capitalization are standard issues that emerging businesses grapple with, and we are no exception. As a company, there are certainly rough waters still ahead, and I am going to do everything within my control to help us through.
Individually, I'm very proud of my contributions to the company over the last two years. When I joined UCANN, we had six employees and revenues of $362,000. Today we have sixty-two employees, and revenues for 2019 were $16.8 million. This has certainly been a team effort, but I like to think that my efforts and guidance to management have contributed.
---
Related Links
Sean Jaquez: "Piracy is a symptom of shifting consciousness from the community to the individual."