An evolving business strategy and an intense focus on innovation have kept Marathon Oil, a US independent oil and gas exploration and production company, going strong for more than 130 years. And this year is no different.
Centered on a clear business strategy, the company embarked on a transformational journey more than five years ago that has driven a peer-leading balance sheet and a multi-basin portfolio focused on four US resource plays. As director of talent supporting the company's Technology & Innovation organization, Edwin Suarez is focused on leadership development, diversity, and encouraging innovative thinking across the company.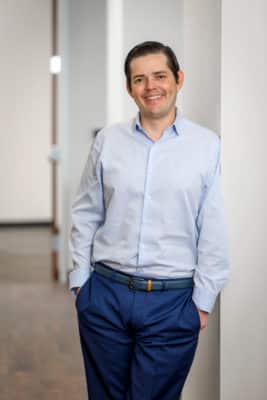 A Colombian native, Suarez began his US career in one of the highly acclaimed leadership-development programs at General Electric. After the program, he spent fifteen years jumping between digital technologies, business operations, software, and process-excellence leadership roles. "I was all over the world," he says—and, in doing so, he gained substantial knowledge of the inner workings and leadership styles of a number of corporate cultures within GE.
In his role at Marathon Oil, Suarez's first priority is to cultivate a culture of innovation and inclusion. This includes increased leadership training as well as building development programs and shoring up core competencies.
Suarez says diversity continues to be extremely important to the company's ongoing success. "We believe a positive, constructive environment requires diversity—more ideas are brought to the table," he says. To that end, Suarez has been working to help others become more aware of the potential for unintended biases, improve inclusion in hiring, and build partnerships to aid in bolstering diverse environments.
"Being a diverse candidate myself," he adds, "I believe that the mission of a great leader is building and developing other leaders—not just diversity of people, but diversity of thought." He explains that, by creating an environment that ensures the positive development of women and people of color, he is a facilitator of thought leadership.
"I believe that the mission of a great leader should be building and developing other leaders."
Suarez takes his own continued leadership development very seriously, as well. Over the years, he has evolved his style to suit the needs of his organization.
"Communication is key," he says. More than promptly replying to emails, he works to bring everyone together to drive the company's goals. He believes it's important to look beyond the short-term and understand how each team member fits into the long-term picture.
"To support each other, sometimes we have to think at a higher level and see the bigger picture," he explains. Supporting one another speaks to Marathon Oil's cultivation of a collaborative environment and "one team" approach.
On a day-to-day basis, Suarez is very direct and candid with his colleagues, reinforcing their natural team dynamic and collaborative mind-set. Though he ensures work is aligned with Marathon Oil's strategy, he prefers to foster an environment where what people need to do and what they want to do are one and the same.
Before all of this, though, Suarez advises the organizations he supports that leadership starts with hiring the best people for the job in the first place: "The key is to hire people smarter than you," he says. "Then get out of the way and let them do their thing." While it's always important to provide direction to make sure your team is aligned in their professional goals, Suarez reminds others to empower instead of instruct. "Which is not always easy to do," he notes.
"Your people make a choice every time they come into work."
With a background in the tech industry, Suarez had already formed the skills needed to create a culture of innovation—where one learns from their mistakes and moves on. "It's very expensive to be perfect," he says, adding that Marathon Oil prefers to cultivate an environment where employees can try ideas, learn from them, and adjust to make them better. "Early on, I was very heavily informed by my creative mind-set, because that's how we do things in software: try, learn, and iterate.," Suarez notes, adding that he hopes to continue to encourage teams to value and foster innovation and inclusion at all levels of employment.
"Your people make a choice every time they come into work," he says. "To inspire the best out of them, you have to make sure they keep making that choice day in and day out."
Community Activism
Suarez also takes the time to mentor high-risk youth both in the United States and in Colombia, offering everything from personal advice to building crowdsourcing campaigns to raise money for college. "I'm very lucky to have everything I've had," he says, adding that he hopes to pass those advantages on to the next generation.