Junior Sanchez's passion about his lifelong career in the collections industry is twofold.
First, there is the work itself: Sanchez describes the company's philosophy of changing lives by helping people get out of debt. "No one wants to be in debt," he says. "Something happened in their life that put them in this situation. We have opportunity and solutions that will help them."
The second rewarding aspect of his career is developing people. Sanchez takes the most pride in helping the people he works with succeed, both in terms of their career goals and their personal goals. At ACT Inc., where Sanchez is the VP of operations, he has had ample opportunities to advance the careers of others, first through expanding ACT's presence in San Angelo, Texas, and then by opening a new ACT office in the Cincinnati area.
After two years in San Angelo, Sanchez had grown the employee count from 100 to over 180 and revamped the culture to foster a more motivating and productive environment. When ACT needed to further grow its headcount, the company expanded by opening a new office in Ohio with Sanchez at the helm. The Ohio team comprised nine people on its opening day, including two who had moved from San Angelo along with Sanchez. Today, the Ohio ACT team has a capacity of 350 members.
Hiring staff is one feat, but engaging and retaining them is the true result of strong leadership. Sanchez's leadership focuses on a culture that directly rewards hard work and builds a sense of community.
"We don't micromanage. We identify our people's strengths and give them the tools to be successful, and the team understands that they are responsible for their own success or failure."
He describes a typical organizational chart, with the leader at the top and entry-level employees at the bottom. At ACT, Sanchez views his team as an inversion of this chart, with transparency and accessibility permeating each level. He stresses that he wants collectors, team leads, and managers to take an entrepreneurial approach to their work.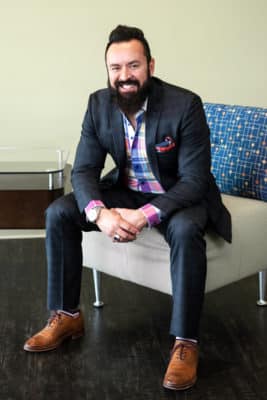 "We don't micromanage. We identify our people's strengths and give them the tools to be successful, and the team understands that they are responsible for their own success or failure," he says.
To help facilitate success, managers schedule monthly performance assessments where employees can have honest and open conversations about what is going well and where they would like to improve. These conversations are not just about work. Sanchez stresses the importance of forming strong relationships in the office, and encourages team members to also discuss their objectives for personal growth outside of work.
Policies at ACT are also structured to empower employees to take ownership of their work. Employees who meet their minimum expectations each month have the ability to build their own schedules the following month. This allows them to have the flexibility to customize their workday with any shifts during the week as long as they work the requisite forty hours per week during ACT's hours of operations.
Sanchez explains that this policy came about due to his team's needs outside of the workplace. "We have a lot of single parents, as well as people who are health and fitness conscious," he says. "We listened and took these schedule constraints into consideration, giving people the ability to manage their lives and still be productive at work." The bonus structure at ACT is also designed to reward those who deliver strong results with an unlimited monthly maximum payout.
Even the way that office design influences culture was taken into account at ACT, with choices that improve performance results and subtly communicate to employees that they are valued. "We have a completely open office with low cubicles. Employees can feed off of each other's energy," Sanchez says. Workstations have ergonomic desks and chairs. The color scheme of green, orange, and blue was deliberately chosen based on studies of how colors can impact mood. Instead of a break room, ACT has a cafe with a variety of seating options, games, and a television. Sanchez emphasizes that he wants his staff to relax on their breaks. "I started as a collector, so I know what their job is like and how important it is reset during lunches and breaks," he says.
"When I opened this office, I had a goal to build thirty careers. We've tracked employee progress, and so far, ninety-four people have been promoted in this office since its opening."
Every practice, policy, and environmental detail at ACT aligns with Sanchez's mission to enhance the careers and lives of those he works with, and it shows: ACT has twice earned a high spot (eighth place, then first place the following year) on the list of Cincinnati's Top 100 workplaces.
"When I opened this office, I had a goal to build thirty careers. We've tracked employee progress, and so far, ninety-four people have been promoted in this office since its opening," he says. Included in those numbers are the two employees who traveled with Sanchez from San Angelo to open the Ohio office. Sanchez explains with pride that both of those individuals began their careers at ACT in entry-level collections roles, and have since worked their way up the ladder to become team leads and eventually operations managers. "Watching someone come in here and evolve, watching their personality and confidence change, watching their personal goals change—that's my favorite thing about this job."
Sobre Su Familia: Like Father, Like Son
Sanchez's values stem from watching his father work as a manager at Sears when he was a child. He was inspired by how his father's employees gravitated towards him, and took it to heart when his father told him that, "If you want to be successful, you don't build a business; you build your people, and your people will build your business. If you remember that, you will be successful in everything that you do."