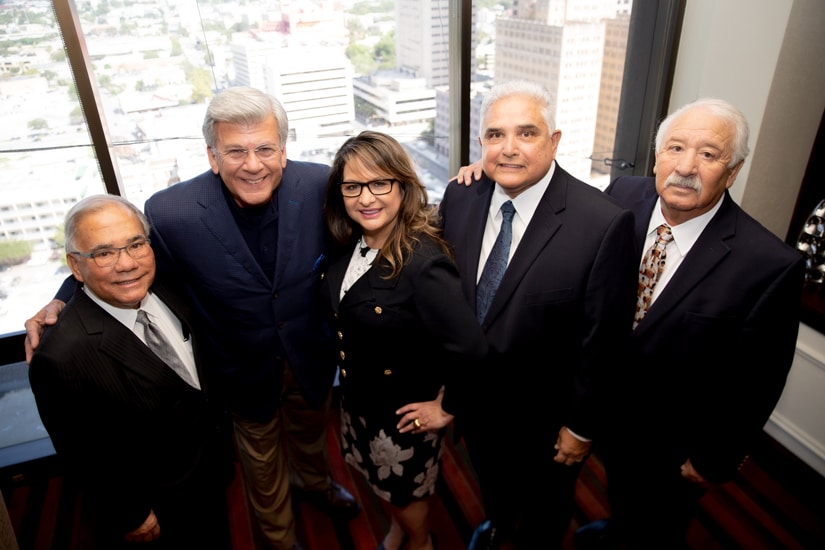 What do you get when you take a lawyer, two multi-business entrepreneurs, a STEM expert, and a staffing expert and put them in charge of manufacturing components for Toyota pickup trucks?
You get the Five Compadres, the Tier 1 suppliers for Toyota's plant in San Antonio, Texas.
Now in its fifteenth year, the San Antonio plant "has proven to be an outstanding performer in the global lineup of Toyota plants," says Chris Nielsen, executive vice president and chief quality officer for Toyota Motor North America. The Five Compadres have performed so well, they have been entrusted with supplying a new Toyota plant in Guanajuato, Mexico, scheduled to open December 2019.
Meet the Five Compadres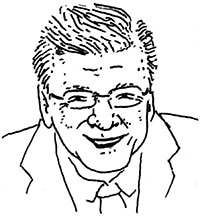 Berto Guerra
Chairman & CEO,
Avanzar
Interior Technologies

Frank Herrera
Chairman, HERO Assemblers and HERO Logistics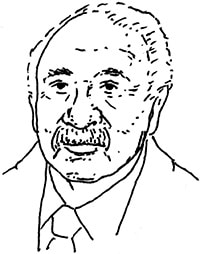 Max Navarro
Chairman, OpTech Corporation and VuTex, Inc.
Fernando Reyes
President, Reyes AmTex Automotive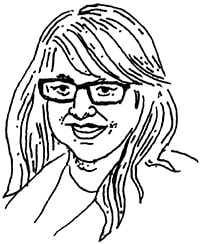 Rosa Santana
Founder & CEO, Santana Group
But don't suppliers have to be automotive or manufacturing experts? In this case, no. To understand why, let's go back to the beginning.
How It Started
In the late 1990s and early 2000s, Toyota Motor North America was looking to establish a new plant. Thanks to years of advocacy by former mayor Henry Cisneros, the location it chose was San Antonio.
The choice was a surprising one. "San Antonio was not a manufacturing town," says compadre Frank Herrera, owner and president of the Herrera Law Firm and chairman of HERO Assemblers and HERO Logistics, which provide wheel and tire assembly and on-site logistics and cross-dock operations, respectively. "The fact that Toyota decided to locate a plant here in San Antonio was a mystery—but it's not so much of a mystery anymore."
Herrera explains that Toyota is a very forward-thinking company. "I'm sure their thought was, 'Where are the markets going to be in the next thirty, forty, fifty years?'" he says. "And all of us know that the fastest-growing community in this country is the Latino community. So why not locate a plant where the market is going to be? After all, Texas is known for its love for trucks."
An Influential Japanese Texan
Another factor in Toyota's decision to come to San Antonio was the influence of Naoko Shirane. For more than twenty-eight years, she served the city as the senior trade and foreign investment representative for the Japan-Texas office in Tokyo. Shirane was instrumental in attracting several multimillion-dollar corporations to San Antonio, and she became a close friend of the Five Compadres.
"We became lifelong friends," says compadre Max Navarro, who founded the first San Antonio-based Hispanic-owned scientific research firm before launching Vutex Inc., which assembles numerous components for the Toyota trucks made in the San Antonio plant. "Shirane was responsible for my first interactions with Toyota both in San Antonio and in Japan, where I visited her many times. I owe all of my initial relationships to Secretary Henry Cisneros, Mrs. Naoko Shirane, and Toyota, for its vision of total inclusion."
Venturing forward with the build of its San Antonio plant, the leaders at Toyota recognized that the plant's home was a majority-Hispanic community. "We were eager to develop a deep understanding of the society and unique aspects of its culture," Nielsen says. "And, since automotive suppliers didn't exist in San Antonio, we sought out successful Hispanic business leaders in the community who shared the same 'respect for people' values as Toyota. With that foundation, we felt they could learn the unique elements of being an automotive supplier."
Learning a New Business
When opportunity knocked, four business leaders—from diverse backgrounds and industries, but connected through the Hispanic Chamber of Commerce—answered. (The fifth teammate, the comadre, joined the group later.)
"I was already driving Toyota products; I already knew the quality," says compadre Berto Guerra, chairman and CEO of Avanzar Interior Technologies, which manufactures the trucks' interiors. "When this opportunity came up with Toyota, it was a no-brainer for me. Of course I'd like to build Toyota products."
Guerra, a lifelong Texas entrepreneur who had navigated new industries before, didn't think twice about becoming a Tier 1 supplier and employing 1,084 people. He immediately had a vision: to create jobs for a lot of the less-fortunate people in San Antonio.
The jump to manufacturing was larger for Herrera, a personal injury lawyer who often found himself on the plaintiff side of disputes with large corporations. He now owns the manufacturer supplying Toyota's San Antonio plant with wheels and tires. "Before Toyota, I was a lawyer by trade—I didn't even fix my own flat tires!" he recalls, laughing.
To teach the first four San Antonio businessmen-turned-suppliers the automobile-manufacturing business, Toyota partnered each of them with other Tier 1 suppliers to form joint ventures. Then, the compadres traveled all over the United States and to Japan to learn their processes. "They also sent some of their best trainers in the world to us," notes Guerra.
"Toyota has a reputation for being a top company to work with and for—they treat their employees and partners with respect and provide resources for success," says compadre Fernando Reyes, a born-and-bred San Antonian who owns multiple businesses in real estate and manufacturing, along with his two companies, Reyes Automotive and Reyes AmTex, which provide plastic parts and carpeting for Toyota Tundra and Tacoma trucks.
Prior to entrepreneurship, Reyes worked for the US Department of Defense, the Department of Housing and Urban Development, and the Internal Revenue Service. "The experience and knowledge I gained through my various positions with the government made me realize the potential for success and growth as an entrepreneur," he says. "This same opportunity was presented to me when I was approached to consider becoming a Toyota supplier—I saw the opportunity to grow in an entirely new field."
The Toyota Way
The compadres received extensive training by a company with a world-renowned culture of organizational excellence—a culture so profound, it has been studied, written about, and exemplified in countless companies. Called "the Toyota Way," the principles and methods of Toyota are a source of constant education and improvement for the compadres. "Constant improvement—Toyota's core principle of kaizen—means you never reach perfection," Herrera says. "You're always improving."
Training on the Toyota Way wasn't just for the compadres; their staff had to be trained, as well. This may seem obvious, but its importance is paramount to each of the compadres' success. Toyota chose these prominent business and community leaders to become suppliers, but that didn't mean the compadres stopped their business and community leadership. Guerra, who also owns a Toyota dealership, greatly values his ability to employ others and help put food on their tables, but his responsibilities don't end there, which is why training is so important.
He explains, "I have to make sure that my employees are taken care of, that we have a good relationship with our customer, Toyota, and that we have a good relationship with our elected officials who can make you or break you with laws that affect business. And I have to make sure that we have a good relationship with our community so that when we have an issue with our city, our county, or our state, we have credibility when we go and ask those elected officials to help us with a certain vote.
"You can't afford to do any of that unless you have the best-trained workforce in the world," Guerra continues. "We've got to have a team that knows what to do. One that has been trained and takes care of the business as well as I would take care of the business. And we firmly believe, 'Do not reinvent the wheel,' especially when a company as good as Toyota has already invented it. We are successful because of the training, the support, the development that Toyota has provided to the compadres."
Fortunately, as Nielsen identified, the compadres already aligned with the Toyota culture. They were selected as Tier 1 suppliers in large part because of this alignment. Training on the Toyota Way reinforced their business practices and gave them further definition.
"Communication is big—they don't like surprises, we don't like surprises," Guerra notes, adding, "Always, always do the very best. Try to give people the best price possible or the best service possible with the best quality, and always keep in mind the safety of your workforce. How do you keep people safe? You keep your place clean—always keep your place in five-S condition."
The five S's Guerra is referring to are Toyota's framework for creating efficiency and value: Sort, Set in order, Shine, Standardize, and Sustain. Guerra's staff carry keycards to open doors at their facility, and the five S's are printed right on the card as a constant reminder of this "way of life," as he puts it.
Increasing Diversity, Building Camaraderie
Toyota also believes deeply in diversity, as evidenced by its decisions to locate a plant in San Antonio—where no automobile manufacturing existed—for its strong Hispanic community and to make Tier 1 suppliers of Hispanic business leaders with no previous experience manufacturing automobile parts. "To Toyota, it makes good business sense to have a diverse supplier base because it generates innovative ideas for improvement and solutions to problems," Nielsen says. "Toyota is committed to having a supplier base that more closely reflects the diversity of our customers and the diversity of our team members who build Toyota vehicles in North America."
San Antonio, Then & Now
When Toyota opened its San Antonio plant, the location it chose was in the southwest outskirts of the city: an underdeveloped, predominantly Latino community. "That area has now been totally developed," says Frank Herrera, owner and president of The Herrera Law Firm and chairman of HERO Assemblers and HERO Logistics. "Even though San Antonio had zero experience in the automotive industry, Toyota took a chance and decided to build a plant here, and San Antonio is now the seventh-largest city in the United States, and is now known for its automotive experience. The Latino community is a hard-working community. I would call us the Latino Detroit."
Furthering its diversity, the four compadres became five in 2014, when Toyota asked Rosa Santana, the comadre, to start a company that would become a direct Tier 1 supplier of fully assembled truck beds. True to form, the move was one of belief in culture over experience, as Santana had zero experience running a manufacturing operation. She has more than thirty-six years of experience in the staffing industry. She also had spent the nine years previous to becoming the comadre—or the fifth compadre—providing human-capital services to her now-fellow compadres and to Toyota as a Tier 2 supplier. (Tier 2 suppliers provide services, while Tier 1 suppliers provide products/vehicle components, and direct suppliers provide vehicle content.)
"I'm the first Hispanic woman to own a direct Tier 1 supplier to Toyota," Santana says, the pride evident in her voice. "Toyota is an amazing partner to have; I truly feel part of the family. I've been in business a long time, and I've never, ever had a customer like Toyota. They treat their suppliers like family. I walk into any Toyota site, any Toyota plant, any division of Toyota, and I always feel like I'm part of them. If you're made to feel like you're a big part of the team—whether you're Hispanic, or female, or not—I think that really tells a lot about the company.
"When I was announced as the first Hispanic woman to be a direct Tier 1 supplier to Toyota, Toyota hosted a dinner to introduce me to the compadres," she continues. "At the time of the announcement and ever since, the compadres have all embraced me, helped me, and mentored me, and the camaraderie between all of us is unbelievable."
The other four compadres reiterate the same sentiment. They meet regularly to discuss how they can help each other. Guerra reenacts their discussions: "Like, 'What kind of issues are you having?' 'Well, I've got issues with the union,' or, 'I don't understand how to negotiate these pricing things.' So we help with that."
"Then, whenever I would have any business that was left over, I would fight to give that business to a compadre who could manufacture or assemble things that I needed done. Why not help our own team?" Guerra says. "We are four brothers and a sister."
The family-like relationship of the Five Compadres is not only a microcosm of the broader Toyota team, but of the San Antonio community. And, broader still, the Latino workforce as a whole.
"Toyota has helped me appreciate and understand the workforce from an entrepreneurial perspective," Herrera notes. "It helped me understand the role, particularly here in San Antonio, of the Latino workforce in empowering the community economically. Because as we do so, we can then help the community improve educationally. Because once you have the finances and education, you can unify forces and assume a leadership role. Having played a small role in that gives me a sense of satisfaction."   
Community Activism
If the story of this group of extraordinary professionals isn't inspiring enough, one need only read the résumé of one compadre—any one, as they all have it—to find an amazing, long history of giving back to the community. The following commendations only scrape the surface:
Berto Guerra's decades of work with CentroMed—providing healthcare to San Antonio citizens who are uninsured, underinsured, or homeless (90,000 patients and counting)—has been so profound, its twentieth clinic will be named the Berto Guerra, Jr. Clinic. Guerra also is the volunteer chairman of the San Antonio Water System, and worked to diversify the city's water supply, which took a true community-sized effort to support the $2.9 billion effort. Guerra explains, "It guarantees water for our city for the next fifty to sixty years."
Frank Herrera was involved with the Mexican American Legal Defense and Education Fund (MALDEF) for thirty-five years, include multiple years of service as chairman, until he retired from the board in 2018. "Through the court systems, MALDEF opens up doors for Latino communities in education, in employment, in all areas impacting our community," he says. "That part of my life has been one of the more satisfying, because you can see change happening. You can see how MALDEF has played a great role in improving the political and work environment in all respects of the Latino community to make it what it is today."
Max Navarro has been so integral to San Antonio's annual Small Business Symposium—where small businesses are sponsored, networking opportunities are abundant, and entrepreneurs are given opportunities to meet with state and local procurement officers—that it was recently renamed the Max Navarro Annual Small Business Symposium.
Fernando Reyes has worked as president of the Fiesta San Antonio Commission, a nonprofit serving Fiesta San Antonio, which started in 1891 as a one-parade event and is now one of the nation's premier festivals with an economic impact of more than $284 million for the city. Funds raised by the festival provide services to San Antonio citizens throughout the year, including scholarships.
Rosa Santana dedicates herself to empowering other minority and women business owners through her work on several boards and councils. Her key piece of advice is, "The sky's the limit," she says. "When I think about Hispanic businesses and women-owned businesses I think that sometimes we tend to doubt ourselves. We say things like, 'How could I reach that?' and 'I could never go there.' So when I mentor—for women in particular—I tell them, 'You can reach for the stars and you can get there. You've got to really think about where it is that you want to go and build the path."