https://hispanicexecutive.com/edgar-aguilar-mastercard/
Robert Estrada first fell into the insurance industry by chance. He was taking a graduate school class in his native El Paso, Texas, when he came across a job board that had a posting for an insurance adjuster position. He hadn't been out of college long, and while he had a bachelor of business administration degree, he felt unsure about exactly what kind of career he wanted to pursue. So he applied—and got the job. That set him on the path to where he is today, director of human resources at auto insurance company Fred Loya Insurance.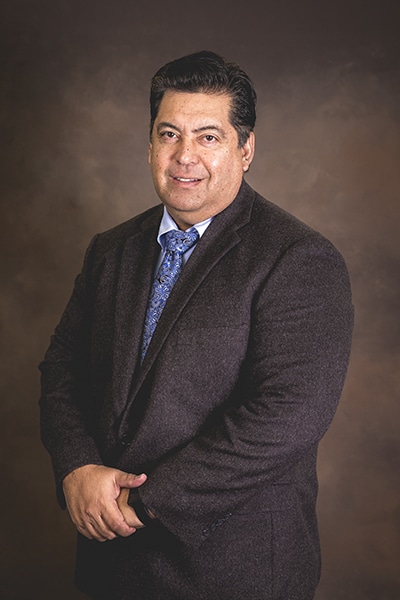 But he took many steps in between, including years at Time Warner Cable, TreeHouse Foods, and others—all work that deepened his interest and expertise in the field of human resources.
After five years in the insurance adjuster job in El Paso, he went on to work as an office manager at another insurance company. His duties involved working with local businesses on worker's compensation claims reviews. That's how he got to know people in the field of human resources, and the more he talked to them, the more interested he was in the work they did. So in 1993 when an HR opportunity came up at a company now called Rockwell Automation, he took it.
The company had a twin plant operation—common in border towns such as El Paso— which involved a manufacturing facility in Mexico that worked in conjunction with a facility just across the border in the US. Estrada took on workers' compensation claims there and saw how improving workplace safety had a direct impact on bringing those claims down. He also developed a passion for the impact his team could have by hiring the right people.
"As you go up within a company, one of the things I've noticed, seen, read—it becomes less about technical skills and more about how you interact with people and get the best out of people."
After Rockwell, Estrada worked at several other companies and did a nearly four-year stint in California. He and his family moved back to El Paso in 2004 to be closer to relatives, and he was working in human resources at a snack manufacturing company when he got a call from a recruiter. 
"I got calls from headhunters all the time and the guy was like, 'No, this is a job for you,'" Estrada says. "I said, 'I'm pretty happy where I'm at.' He said, 'This is an opportunity to step up a level.'"
The opportunity was at Fred Loya Insurance, which he joined in 2017 as director of human resources. He's gained valuable perspective leading his department at a company that has hundreds of offices around the country and about 3,300 employees.
"When you work at a plant or division level, you don't see the big picture," he says. Now, from the corporate office, he has a more holistic understanding of operations. "I try to see the big picture about costs and all those things.
"Don't Put Limits On Yourself"
During Robert Estrada's time at Rockwell, he recruited a new human resources manager out of Florida. The two of them hit it off, and one day the newcomer asked Estrada what his goals were.
"I said, 'I'd be happy to be the HR manager here at the plant,' and he said, 'You're thinking too small,'" Estrada says.
He remembers his colleague telling him: "Don't put limits on yourself, just because of whatever your background is." That motivated Estrada to strive for high-level positions throughout his career.
That broader view led to Estrada working on a leadership program for homegrown members of upper management at Fred Loya who didn't have much or any experience at other companies. His team worked with a professor to develop that program, and then they went on a road show around the US to educate and train employees at Fred Loya's many offices.
The program helped introduce employees to new standards, and for Estrada it reinforced the advantages of positive coaching rather than a negative approach.
"Things don't go well for companies that stay status quo," he says. "You've got to keep evolving."
Listening to other members of the team is crucial for Estrada when he maps out projects and initiatives. He recalls a story from earlier in his HR career when he had to take over for a manager who went on leave for surgery. At the same time, the company's vice president directed him to double the workforce at a plant in order for operations to start running around the clock.
"I had no clue how to do it, other than, I brought in a bunch of temps," he says. "We worked seven days a week for eight weeks," and the company eventually hired those temps on full-time. But it wasn't until after the whirlwind that Estrada talked to other people in the HR department and learned how hard it had been for them to accommodate all the paperwork involved in the expansion. "I should have been better organized, but in the moment you don't really see it," he says. 
That experience taught him to delegate and the importance of absorbing feedback from others.
"You need to understand—try to see the big picture even when a pressing need is occurring," he says. "There's always more than one way to do things."
As human resources director, he's observed how people skills are as crucial as formal training and educational background—if not more so—for upward mobility at any company.
"If you can get the best out of people, you'll be a good director," he says. "As you go up within a company, one of the things I've noticed, seen, read—it becomes less about technical skills and more about how you interact with people and get the best out of people."
---
Related Links
How Susan Baida is impacting the largest employer with the longest reach