https://hispanicexecutive.com/mark-madrid-pedro-guerrero-latino-entrepreneurship/
Around the end of Steve Apodaca's nearly decade-long tenure at telecom company Charter Communications Inc., several personal losses spurred him to take a closer look at his life path.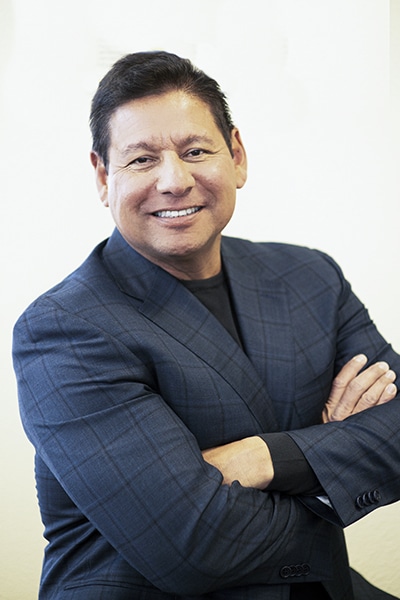 His father passed away suddenly, and he lost two of his colleagues. In the span of just a few years, other family members and a friend passed away as well. Apodaca loved being the president of operations at Charter, but it was also an incredibly demanding, stressful job. He found himself pondering the meaning of life and rethinking his priorities.
"The corporate life—as much as it's looked upon as that higher echelon of where you always want to be—you also realize that in order to do those jobs, it's a full-time, full-life commitment," Apodaca says. "As an executive, you're always 'on' and you're always working."
His personal life was out of balance as a result, and he wanted to spend more time with his children. So he recalibrated. He left the telecom company, went into semi-retirement, and took a pause to evaluate his health. He was overweight, had high cholesterol, high blood pressure, and the medications to match. He went to a specialist in Denver who treated him with hormone therapy, which Apodaca says changed his life. The experience was so transformative, in fact, that he decided to combine his new passion for the therapy with his lifelong goal of owning and operating his own business.
"The corporate life, as much as it's looked upon as that higher echelon of where you always want to be, you also realize that in order to do those jobs, it's a full-time, full-life commitment. As an executive, you're always 'on' and you're always working."
About five years ago, he launched Cratos Health, a medical spa and wellness center in Colorado Springs, Colorado. It offers medical weight loss, hormone therapy, and medical aesthetics services. After spending twenty-some years focusing on driving recurring revenue through subscriptions in the telecom industry, Apodaca saw potential for a medical business based around a subscription model, too. And that's how he designed Cratos.
"If you've got a good base of customers, that recurring revenue will always come back to you if you treat those customers well. The same is true in this medical type of practice," he says. "If you take care of them, that model will continue to replicate itself."
He saw a big market to tap as baby boomers age and stay active later into their lives than generations before them, and as they want to continue to feel good about themselves. He also sought to fill a niche. Cratos, he says, is the middle ground between pricey, more invasive plastic surgery and aestheticians' services such as facials and microdermabrasion.
It wasn't just his more recent health awakening that made him passionate about the work Cratos does. During his college years, he was a bodybuilder, steeped in the world of health and diet. That's part of why he transitioned from the world of telecommunications to where he is now.
"I'm able to apply the subscription model business with something I love, which is hormone therapy, weight loss, lifestyle and quality of life," he says.
The company has seen more than five thousand patients so far, Apodaca says. The business currently has two locations in Colorado Springs, and he plans to start franchising in the next couple of years.
"I'm basically running a medical practice as a business—that's what's making it grow," Apodaca says. He handles the business side, and he has a medical team that works with patients.
There have been learning curves along the way, too. At Charter, he was part of a large company with established departments, systems, and protocols already in place. But with Cratos, he's had to build everything himself, right down to picking the phone numbers.
"In this case, you're creating everything new and you're running into things you weren't prepared for," he says.
At Charter, he had to deal with regulation from the US Federal Communications Commission. At Cratos, he deals with the US Food and Drug Administration. But even with all that was new to him when he started his company, Apodaca's marketing background applies just as much as it did to any job in his past. He has an MBA from Colorado State University and a bachelor's degree in marketing from the University of Northern Colorado, the state he has long called home.
"That's the essential element of why this business works—because I have a passion for all the patients."
Being Hispanic, Apodaca's interest in marketing started as he began to notice when marketing targeted toward his demographic resonated with him. The idea of figuring out how to speak to various cultures and identities to match their needs intrigued him.
Now, at Cratos, he finds joy in serving the customers he sets out to help. He recalls one married couple coming into the clinic, seeming distant from each other. The wife sought help with low energy, low libido, and trouble sleeping—problems that, in turn, led to a disconnect between her and her husband. With help from services at Cratos, she lost weight and was able to tackle her issues, and later her husband became a patient there as well. Over six months, Apodaca says, they went through such change that it reignited their relationship.
"It's lovely to see a couple kissing, holding hands, reconnecting," he says. "That's the essential element of why this business works—because I have a passion for all the patients."
---
Related Links
Time to Stretch: Carlos Vidal leads Orangetheory's Global Expansion
Former Marine Javier Diaz Devotes His Career to Paying It Forward