The joke is that Monica Caldas didn't encounter the traditional American chicken dish of pot pie until she was in college. Growing up, she was steeped in Portuguese culture at home. Her family emigrated to New Jersey from Portugal when she was eight, and she found herself raised in two different worlds. Caldas was in a regular elementary school during the day but was otherwise encompassed by Latin culture from television to newspapers to even going to Portuguese school in the evening.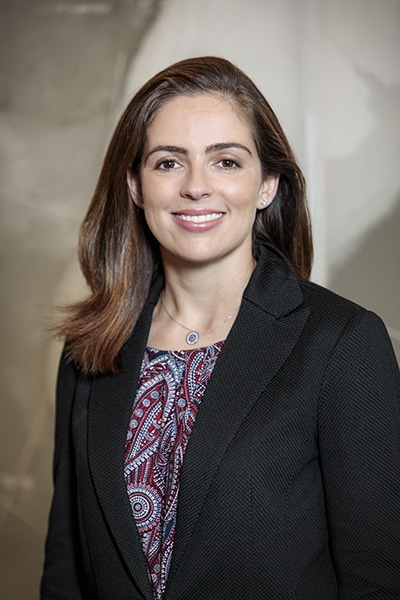 She recalls the emigrant experience being one of perseverance and grit where, in one instance, her father cut out cardboard to place over a hole in her mother's car so that her feet wouldn't get wet. "We were very connected to the experience of trying to achieve our American Dream; it's something we would talk about every night around the dinner table," Caldas says. "It shaped who I am. My parents' courage and determination were inspiring."
Caldas built her career upon the foundation of perseverance and tenacity and in part grew to understand how important these different experiences are to enrich a team and how critical diversity and inclusion are to lift an organization's success. Following her impressive rise through General Electric, Caldas now lays claim to the roles of SVP and global chief information officer for global retail markets at Liberty Mutual Insurance. "I was blessed by starting at an organization that valued grit and D&I," Caldas says. "All of the different roles I pursued at GE were about pushing the art of what is possible and not settling for the status quo."
The CIO keeps a Ralph Waldo Emerson quote handy when discussing her philosophy, especially when it comes to matters of diversity. "Do not go where the path may lead; go instead where there is no path and leave a trail," Emerson's saying goes. Caldas goes on to elaborate, "I really believe that to be effective you have to be bold and courageous, speaking up for diversity of thought, background, and experience to create a dynamic environment that helps propel that boldness forward."
One of the lasting lessons Caldas has been able to bring to Liberty was learned at GE. "When I first started working, I wouldn't really tell anyone where I was from, and my introduction would be two sentences," she says. "At GE I was able to find role models who weren't just women—they were Hispanic, and we shared similar stories around being an immigrant." Caldas says that learning to be her authentic self at work is something she stresses to her teams. It not only applies to the girls-in-STEM program at Liberty she executive sponsors called LEGIT—short for Liberty Encouraging Girls in Technology—but also to her global team of 2,500.
"I really believe that to be effective you have to be bold and courageous, speaking up for diversity of thought, background, and experience to create a dynamic environment that helps propel that boldness forward."
Part of the allure of coming to Liberty was Caldas's desire to help a progressive organization accelerate a widescale transformation effort. "My leadership opportunity is about transforming Liberty from a decentralized operation worldwide to a globally-orientated organization that can serve customers with global scale," Caldas says. "It is about harnessing the power of our diversity to bring our capabilities together and deliver outcomes with greater value and speed. With the sixteen-country landscape, this is an incredible opportunity."
Creating global scale with teams that have not operated at that level is a challenging role that Caldas is ready for, especially given her past experiences. "Operating globally is not about taking control away. It's about enabling choices that serve our customers better and make us all add more value together," Caldas explains. "It's about appreciating the local differences in customer base and needs, while acknowledging regulatory constraints and balancing those with how we can scale, solve problems with greater speed, and, most importantly, serve customers better."
Caldas says threading the proper balance of needs between, say, Vietnam and Ecuador is complex. You have to purposely understand what local customers value so that you may carefully create the formula between local and global capabilities. Caldas states, "To do this you must understand the value chain of the business process and work with the teams to comprehend the reusable opportunities."
"Operating globally is not about taking control away. It's about enabling choices that serve our customers better and make us all add more value together."
A year into taking this role, Caldas says that her organization now has carefully crafted global plans that set three-year road maps that are more focused and purposeful in using the power of technology to enable greater customer value. "I am proud that our team was cocreated at a global scale to generate a road map that benefits from the power of our diversity." Caldas continues, "Not only is there a road map, but in 2019 we have been executing the plan and benefitting from each other to accelerate our goals." Thrilled to be part of the Liberty team, she goes on to say, "We haven't achieved success because I came with a specific solution—instead the success is the result of the culture of Liberty, which welcomes my full self every day. I was encouraged to bring my courage, my grit, and my humility along with the understanding that diversity of thought and inclusion matters."
Diversity and inclusion will be ongoing passion points for Caldas. With so much more on her to-do list—including enabling business process optimization and modernizing global ecosystems—Caldas can apply the motivation and passion of her Portuguese upbringing and her family's de-facto motto when it comes to not just enabling success, but success through diversity and inclusion: "Failure is not an option."
---
Related Links
Citlalli Rojas Empowers Her Community, Which Empowers Her In Return