Transformation for some is a hard science, steeped in process and bold defining lines. For others, it's an ambiguous art, ever-changing and indefinable. For Liberty Mutual's Enrique Huerta, driving change falls somewhere in between.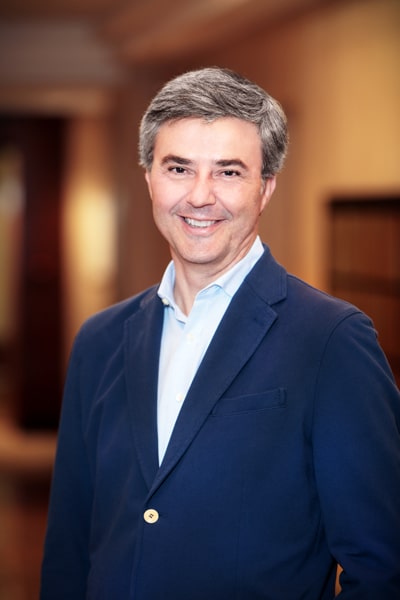 "Imagine that groups of instruments in an orchestra are the markets and functions in a global organization," Huerta begins. "Each is used to playing in a specific way, and it knows how to coordinate with the other groups instruments."
When a transformation does happen, Huerta says that the goal of an effective leader should mirror that of a concert conductor. "You want them to keep on playing well because you need to execute your short-term plans. At the same time they need to start mastering the new music not only within their group of instruments, or function, but also with all of the other musicians." The combination of short-term excellence and pursuit of change must be coordinated, but still beautiful.
It's that fine balance that has helped form the nearly twenty years of Huerta's progressive roles at Liberty Mutual. First stationed in Spain and now in the US, the senior vice president and general manager of global retail markets transformation (see update below) leads worldwide initiatives aimed at improving processes and efficiencies, while also presenting solutions to complex, global challenges. Through it all, Huerta tends to and facilitates the necessary ebb and flow of the music of transformation.
Huerta says that in driving change, it's crucial that all members of his team—and, more widely, all members across the organization—feel a responsibility for the effort required. "Believing in that shared goal is the key to effective, organizational-wide change," Huerta says.
Striking the right tone in terms of internal motivators can be especially challenging for a global team that includes eight different nationalities and incorporates five languages. Huerta effectively harnesses the diversity of his team as an asset. "There are such global differences in markets, so the diversity among my own team helps us navigate those differences." He adds that he feels honored to have such diversity on his team and that it makes him a better leader.
"When you are transforming the way you operate, at the end of the day you are changing the culture of the organization."
Huerta admits that operating as the initial change agent is a challenging proposition. "When you are transforming the way you operate, at the end of the day you are changing the culture of the organization," the GM says. "The challenge is for people to understand what you are doing and why you are doing it."
Huerta's leadership skills were put to the test when his team was tasked with evolving a business model with the goal of improving global management. "We realized we had a great opportunity to leverage our global scale to improve our capabilities around the world," Huerta says. "We wound up finding ways to be more interconnected with improved efficiencies and processes."
With fifty thousand employees spread across the world, Huerta says managing change on such a large scale requires the company to think and act differently, while emphasizing streamlined communication worldwide. "This is very important to our current and future customers to better fulfill our promise to them, ensuring that we have access to resources and expertise across our organization that wind up being beneficial for those customers."
Huerta began by identifying markets where the company could hone in on specific opportunities that would improve the customer experience. "We started to assess capabilities and needs across markets and identified that we had very strong direct sales and digital capabilities in the US that could benefit customers across the globe," Huerta says. "Our work was then to identify a core team that could have an immediate, face-to-face interaction with colleagues in other operations and have them not only share what they successfully did in the US, but also act as a hands-on, agile team effort, helping to customize their solution locally."
The reward for Huerta was seeing that the process not only gave customers a better experience while interacting with Liberty's products, but also served as an example to other areas of the company of how they might export capabilities in a successful way. "The secret sauce is the three Cs: communication, collaboration, and commitment," Huerta adds.
Huerta doubled down on his own commitment when he and his family made the decision to move to the US in 2018. After years of successfully managing change around the world, Huerta himself realized that some adaption might be necessary. "One of the main learning experiences since moving here has been navigating the cultural differences between Spain and the US," Huerta says. "There are sometimes subtle things that you don't realize could be affecting your relationship with others." Huerta says Erin Meyer's The Culture Map was especially helpful in understanding how to improve his interactions with his US colleagues.
Since coming to the States, Huerta has entrenched himself in Liberty's efforts on two fronts. His team has partnered with the global vision group to help better define what operating with a global mind-set means for the company's operating model. "Our employees aren't limited to their local business," Huerta says. "We know we have expertise to share across the globe." It's Huerta's focus to continue to find ways to facilitate that connection and experience of fellow Liberty employees.
Huerta is also focused on working to clarify roles and responsibilities for the formerly independently managed parts of the organization that are now more unified. "We have been defining frameworks to ensure our people operate in our new markets and environments the best way possible," Huerta says.
Through all of these efforts, it's easy to imagine Huerta, baton in hand, emphasizing harmony among his team. And as he helps drive Liberty's transformation, he'll also continue to innovate in ways that help the global organization stay in tune.
---
UPDATE
In September 2019, Enrique Huerta was promoted to a newly established role at Liberty Mutual. He is the company's first-ever global employee experience officer, and now reports directly to Melanie Foley, Liberty Mutual's executive vice president and chief talent and enterprise services officer.
Felicidades, Quique!
---
Related Links
https://hispanicexecutive.com/2019/citlalli-rojas-new-york-life/
https://hispanicexecutive.com/2019/alexander-reyes-citrin-cooperman/