With 87,000 employees, 40 hospitals, 700 doctors' offices and outpatient sites, 4,900 physicians, and a 3.4 million-member insurance-services division, the University of Pittsburgh Medical Center (UPMC) isn't just a $19 billion integrated healthcare system, it's the largest non-governmental employer in the state of Pennsylvania. As such, the organization is able to make a defining mark in advancing its diversity and inclusion agenda and redefine the community role of the healthcare system into one of compassion, dignity, respect, and outreach. It's a role the organization does not take lightly.
Susan Baida, UPMC's engagement and inclusion director, leverages twenty years of experience working with underrepresented and underserved communities in her leadership towards the organization's stated aim to "ensure that diversity, inclusion, dignity, respect, and cultural awareness are core components of the employee, health plan member, patient, and community experience."
Baida left a global marketing executive role in 2008 to pursue a social entrepreneurial venture, eCareDiary, a technology platform for family caregivers to coordinate care. It was a personal project to Baida and her husband who were both caring for their own parents: Baida's father-in-law was diagnosed with Parkinson's disease and her own father was blinded as a result of type 2 diabetes.
"eCareDiary was all in response to the dramatic increase of the aging population and all the unpaid care being provided to them by family members," Baida says. The venture was successful, and eventually sold, and Baida says it provided her valuable experience in better understanding the patient perspective. "It also exposed me to the variety of health disparities that exist amongst diverse populations," she notes.
As a female minority business owner, Baida also gained a less-desirable perspective, often finding herself the only woman, let alone Latinx, in the room. "It certainly revealed a lack of diversity in leadership roles," Baida says. She was educated on the research showing that companies with higher levels of diversity are more innovative and grow at a faster rate, but realized that reality had a lot of catching up to do.
Baida saw the career move to UPMC as a chance to have a wider and more pervasive impact on diversity and inclusion matters. If the sheer number of community outreach programs and in-house initiatives Baida is able to rattle off is any indication, UPMC is the perfect fit.
In broad strokes, UPMC's diversity and inclusion agenda was implemented with four strategic areas in mind:
Enhance the diversity and cultural competency skill-set of its employees.
Provide culturally and linguistically competent care to improve the health status of its increasingly diverse patient and member population.
Enrich the health status of those who live and work in the communities it serves.
Grow its patient population and insurance membership through effective market-segmentation strategies that target the fastest-growing segments of the region.
These strategic areas comprise a multitude of different efforts. From an executive workforce perspective, the organization has set out to increase representation of people of color in executive roles by 40 percent and women by 20 percent within a five-year span. As such, the percentage representing people of color at UPMC has increased every quarter since the fourth quarter of 2017.
Additionally, a program aimed at increasing diverse representation within its nursing workforce, the UPMC Scholars Program, offers $25,000 annually in tuition to underrepresented students pursuing the University of Pittsburgh School of Nursing undergraduate program. Upon graduation, students are offered a three-year work commitment at one of its hospitals, which removes the stress of searching for post-college employment.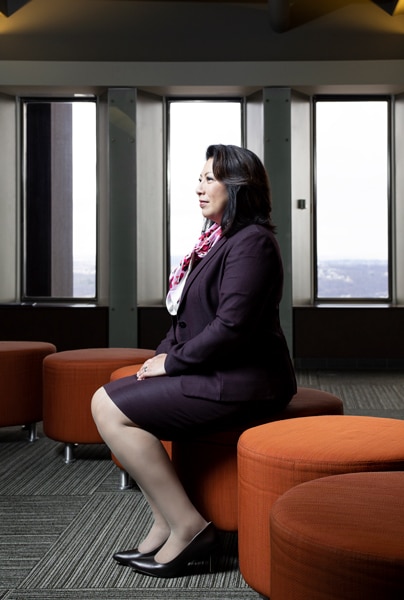 "We recruit many of our nurses from the University of Pittsburgh School of Nursing, so it makes sense to offer scholarships to help increase their diverse population of undergraduate students," Baida says. "When they graduate, they can pipeline into full-time nursing positions at UPMC." The program started last year and Baida says that the applicant response has been fantastic.
Annually, UPMC recognizes selected employees as "Champions of Dignity & Respect" through a six-month, systemwide nominations process. These employees set very high standards as role models of inclusive behavior and community service. They are then honored and celebrated at a breakfast event featuring a nationally recognized keynote speaker. This year's event, held in March, featured best-selling author and spiritual leader Iyanla Vanzant who is also the creator and host of Iyanla: Fix My Life on the OWN network.
Within its own walls, UPMC offers a number of learning forums for employees to understand the impact of culture on healthcare outcomes to subsequently better serve their patients. These programs include addressing needs of the LGBTQ community, immigrants, and refugees, and combating unconscious bias in decisions impacting workforce and care-delivery practices.
Outside of its walls, UPMC has formed a Community Health Partnership Council. The council, Baida included, has internal stakeholders in the areas of patient experience, diversity and inclusion, and health plan, as well as community leaders that serve diverse populations. "We meet on a quarterly basis to better understand the needs of the community and address those issues together," Baida says. "It has really been our forum to garner information about what our community needs." UPMC provides more than $1 billion in annual community contributions through free and subsided programs, charity care, and hospital-funded research.
"We meet [with the Community Health Partnership Council] on a quarterly basis to better understand the needs of the community and address those issues together. It has really been our forum to garner information about what our community needs."
When it came to UPMC's community strategy, Baida says she had the opportunity to revamp many of the efforts that were in place. Having transplanted seven years prior from New York City, Baida felt it was critical to get a better feeling for the community as a whole. "One of the first things I did was meet with the Allegheny County Health Department to understand the major health disparities impacting our diverse populations," she says. The University of Pittsburgh's own extensive research also provided significant data on social determinants of health outcomes impacting the region.
Baida then worked to design a strategy that would complement, and not overlap, other nonprofit efforts in the area. "Pittsburgh is the second highest in the country in foundation funding, after New York City," she says. "My goal was to figure out where we can partner together with these nonprofits to really have an impact."
The strategy ultimately has focused on two major areas: gun violence prevention and diabetes prevention. "Gun violence is the number three leading cause of death amongst our diverse male population," Baida says. That violence brings with it overwhelming trauma in underserved communities that Baida says UPMC can start focusing on. "I really have to give the community credit for our focus," she explains. "After spending so much time speaking with these communities and neighborhoods, this consistently came up."
There are many more initiatives, and many more programs. A Junior Healthcare Explorers program exposes children to a litany of healthcare careers. An anticipated partnership with the National Museum of African American History and Culture will showcase African-American history and influence in the medical and health sciences fields. A push to address the impending employment gap stoked both by the retirement of baby boomers and UPMC's continued growth and expansion. So many more, Baida admits there are almost too many to name in one conversation.
Ultimately, she's just happy that UPMC has demonstrated a strong commitment to diversity and inclusion, a commitment that includes and supports all of Baida's efforts. "That commitment really does stem from the top down," she says.
Making An Impact Outside UPMC
Baida's endless supply of community engagement spills over into her free time, as well. "I have personally benefited from many community efforts as I was growing up," she says. "I want to give back and help a new generation within my community."
Baida serves on the board of Casa San José, a nonprofit organization serving the needs of Latino immigrants and youth in the Pittsburgh region; the Allegheny County Executive 2020 Census Commission; and the 2019 Pittsburgh International Jazz Festival Advisory Council, among others.