"You have to grab the reins early," Rob Negron says. "If you don't steer yourself, you'll end up wherever the wind blows. It's up to you to make sure you're on the path you want to be on."
Negron has relied on this philosophy as he's guided his career exactly where he wants it to go, unafraid to shift directions or take on responsibilities outside his comfort zone. Today, he is lead director and associate general counsel at Equitable, a life insurance and financial services company covering households in the US and Puerto Rico. He began his career, however, at a law firm specializing in commercial litigation. Realizing after seven years had passed that he was still stuck working long hours and not having the work-life balance he envisioned, he made a change, transitioning to an in-house role at MetLife.
"I took a look around and said, 'I don't know if I want this to be the next thirty years of my life,'" Negron says.
He landed at Equitable as a regulatory attorney in 2012. "I wanted more responsibility, and Equitable seemed like a good fit," Negron says. "I had a good connection with the person who would be my boss—we went to the same law school, had both worked at MetLife, and are of a similar mind-set. Once you realize how much time you spend at work, it becomes important to work with people you care about and can collaborate with."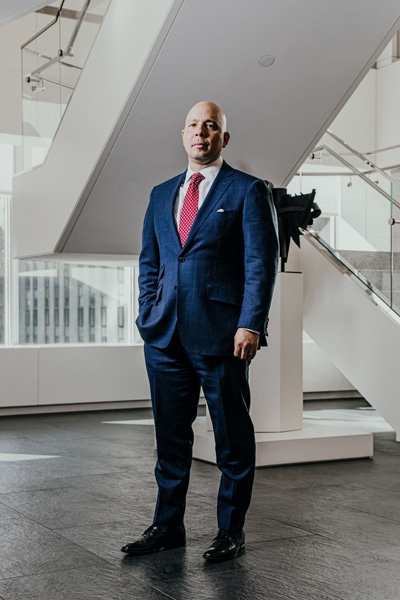 Negron found the delicate balance of risk and opportunity inherent to the insurance industry intriguing. "As a lawyer, my job is to manage risk—we tend to be risk-averse. But an insurance company makes money by taking and managing risks," he says. "It's an interesting tension that requires you to be creative as a lawyer. You can't just say 'no' to your clients. You have to find solutions that work for both sides."
Today, Negron oversees nine direct reports, including attorneys and government relations professionals, and he's responsible for Equitable's regulatory affairs function. "Insurance is a heavily regulated space, and my job is to help my clients navigate it in a way that helps them accomplish their objectives but not take on undue risk," he says.
His team is responsible for managing the company's interactions with state and federal regulators to ensure Equitable's products get approved for sale, and also to help educate regulators about Equitable's customers and the products it offers to help customers meet their goals. When necessary, Negron leads the company's advocacy efforts with respect to proposed changes in laws.
"For example, in one state the regulator felt that the law as it was written didn't support what we were trying to do, so we worked with the legislature to have the law updated so the regulator could feel comfortable approving the product based on the updated language," he explains.
Last year, Negron and his team helped Equitable undergo an IPO by its French parent company; in 2020, the company will launch a rebrand as a fully independent public company.
"If you don't steer yourself, you'll end up wherever the wind blows. It's up to you to make sure you're on the path you want to be on."
"We worked with regulators to get the company prepared for the IPO," Negron says. "This is a big sea change for us, as we'll have more flexibility to go in different directions. As a public company, we now also have to report to investors and be prepared to undergo a lot more scrutiny and press coverage. It's been an exciting challenge."
Part of the reason Negron rose to his current role is his willingness to step up to new challenges. For instance, eighteen months after he arrived at Equitable, the lead privacy attorney retired. Negron, who always had an interest in privacy-related issues, volunteered to step in.
"It wasn't quite within my job description, but I still do the job today and I enjoy it," he says. "It's been interesting work that's allowed me to expand as an attorney—an opportunity I wouldn't have had if I hadn't stepped forward."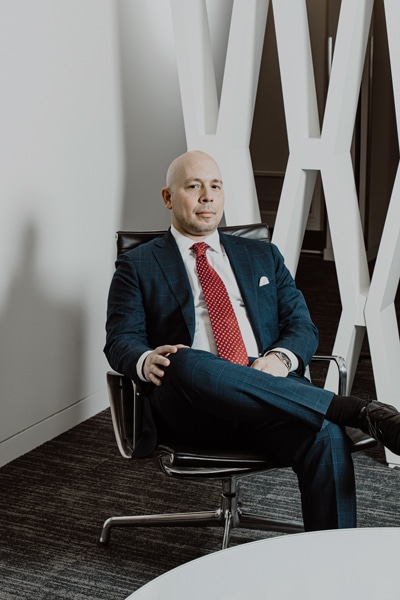 A knack for building strong relationships has also been key to his career success. "If you don't have good relationships and don't build up credibility to become a trusted advisor, then you can't have those tough conversations on how to manage risk appropriately and arrive at good outcomes," Negron says. "We make money when we sell our products and services, and sometimes lawyers have to make tough decisions that impair that. You have to be creative to see around issues, and it's an invaluable skill for me and my team to learn to just stop and listen first."
Negron has also had to learn how to manage employees—an entirely different skill set than the technical expertise required for law. His leadership philosophy continues to evolve, but is based on a belief that a good leader is authentic, sets the tone, and gets out of the way.
"The most important thing is to be yourself as a manager and to support folks as professionals, allowing them to get the work done as they see best," he says.
Negron's words of advice to future lawyers or those just starting out in their careers mirrors the advice that has served him so well on his own journey: "It's easy in a big company to get swallowed up by the machine. Don't forget that you can exert a pretty big degree of influence over your career."
---
The BakerHostetler Privacy and Data Protection Team applauds the accomplishments of Rob Negron at Equitable and we congratulate him on this recognition. Privacy and cybersecurity are executive-room issues and our team of more than seventy lawyers is uniquely positioned to help clients address these always evolving issues.
---
Related Links
Joe Echevarria's Journey from the South Bronx to the Boardroom