6:10 a.m.
An early riser, Claudia Romo Edelman enjoys a regular morning workout. "I work out with my husband six times a week," she says. "Exercise is the anchor of my life. It keeps me focused and centered, which is particularly important when you lead a life that's constantly on the move."
7:21 a.m.
Claudia and her husband, Richard, enjoy breakfast together. "Every morning, as I enter the day, I like to outline the three goals I want to achieve," she says.
7:43 a.m.
Claudia checks in with her daughter. "Regardless of where I am or what I'm doing, I always have a daily call with my kids," she says.
8:47 a.m.
Toting her luchador laptop bag, Claudia travels to her first meeting. "We produce these bags and give them to the speakers at our summit with the message: 'Behind every mask, there's a human,'" she explains. "At the World Economic Forum in Davos, we saw the president of Microsoft wearing his."
9:12 a.m.
Upon arriving at the Radisson Blu Aqua hotel, Claudia greets Patricia Mota, president and CEO of the Hispanic Alliance for Career Enhancement (HACE), at the breakfast for HACE's thirty-seventh national summit and gala.
10:33 a.m.
After doing a walk-through of the venue that will host her foundation's Hispanic Leadership Summit the following day, Claudia practices her keynote speech for the HACE luncheon. Her tips for public speaking? "First, address and connect with the audience, then tell a personal story about yourself, deliver your message with one to three points you want to make, then close it with something inspirational."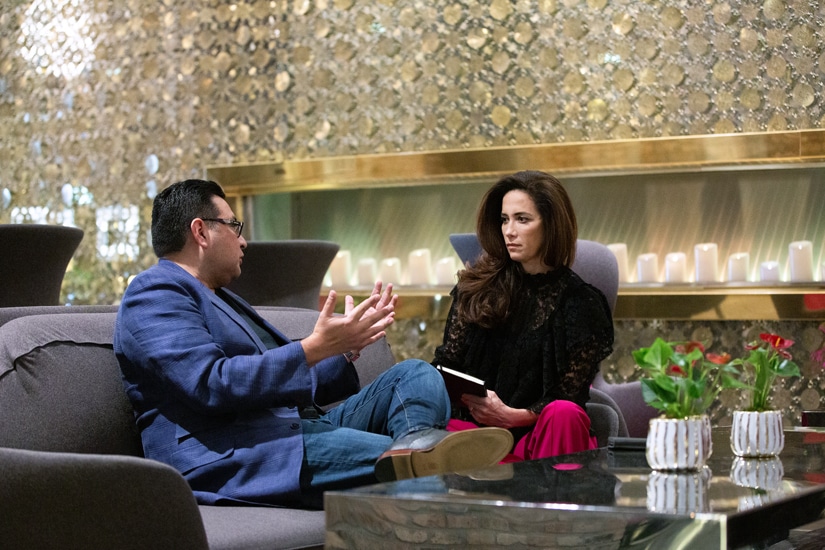 11:07 a.m.
Claudia meets with Dr. Robert Rodriguez, founder and president of DRR Advisors, to coordinate efforts in uniting the
Latino community.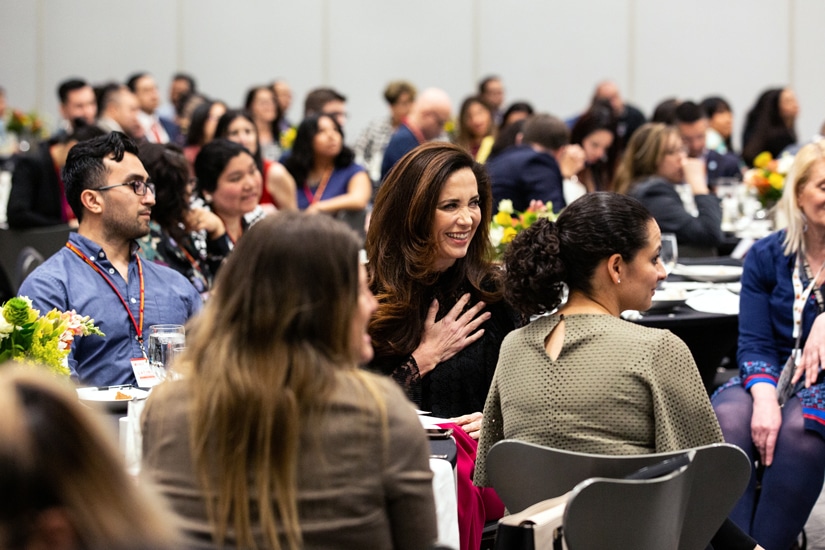 12:56 p.m.
At HACE's summit luncheon, Claudia is touched by the words of the speakers preceding her keynote address. "Being able to speak up for the issues that matter is a privilege," she says. "I want to use my voice to remind us that we are all part of the same human family."
1:04 p.m.
"This is our time. There is no better time," she says during her keynote address. "Hispanics have never been stronger. However, we've also never faced so many political pressures. This community needs to be united and it needs to unite now."
Read the Leading Latinas 2019 feature on Claudia Romo Edelman ⟶
---
Related Links