Given the ease with which Paul R. Garcia seems to navigate the legal terrain, one would never imagine that he has felt like a fish out of water for much of his law career. Indeed, one pictures him equally comfortable on land as at sea.
Garcia, who currently serves as senior vice president and associate general counsel of intellectual property (IP) and litigation at Frontier Communications, has a résumé that weaves in and out of litigation firms, criminal prosecution for the United States Attorney's office, global IP litigation in-house at GE, and a host of other roles that, the lawyer admits, might beg the question: what's the plan here?
But it's all the seeming contradictions that make Garcia such a fascinating interview. The seasoned courtroom litigator speaks with a voice so kind and gentle, it seems like it should be narrating a children's book. His warm demeanor gives no indication of a lawyer who describes himself as "hyperaggressive," who has argued on both sides of the courtroom as well as in many pro bono cases.
"I have heard that people had a hard time believing the person they met was the same person they saw in the courtroom," Garcia says, laughing. "I don't like conflict, but I'm very good at working on behalf of others."
Justice on All Sides
Garcia's ability to traverse the many different sides of the legal world is perhaps attributable to his parents, who themselves traveled the world before meeting in the United States. His mother arrived from Asunción, Paraguay, in 1959; his father's family settled in "Nuevo España" (what is now New Mexico) in the early 1600s. After meeting in college, both of his parents became teachers in Omaha, Nebraska, where Garcia was raised and encouraged from a young age to advance his education.
"My mother spoke with a strong accent, but she was so involved in the community," Garcia remembers. "Watching this short woman from South America who was so passionate meant a lot to me." He still keeps her citizenship papers on his desk—papers she worked hard to earn so she could vote for Robert F. Kennedy before he was assassinated in 1968.
That community spirit undoubtedly played into Garcia's move from firm life to the US Attorney's Office for the Northern District of Illinois, where he worked from 1996 to 2001. But there, again, was a contradiction. "I had mixed feelings working as a prosecutor because so much of what we were seeing was Black and brown people being prosecuted," Garcia remembers. "At the same time, I felt it was important for me to be in that spot. I thought I could bring fairness and equity to the role and was encouraged to find a lot of people with the same mindset in the office."
Even before he joined the US Attorney's Office, Garcia also sought out pro bono work wherever he thought he could have the most significant impact. That impact was two-fold because he would almost always bring along a first- or second-year associate who showed promise.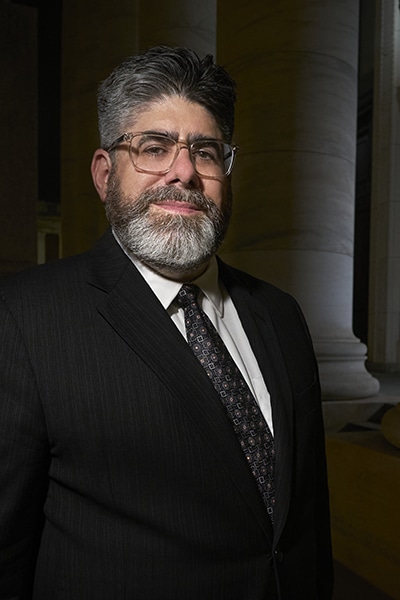 For one lucky associate, that meant arguing a case in front of the Seventh Circuit Court of Appeals. Garcia and his team were able to get ten years removed from a prisoner's sentence because the prisoner's lawyer was dismissed for unjust reasons. The victory was more shocking because two of the three judges on the panel were some of the most conservative on the court.
"Everybody deserves a lawyer, and we were able to make an important contribution to that area of law," Garcia says. "We also helped someone get ten years of their life back." The first-year associate would wind up joining the Department of Justice.
What's Next?
Garcia has been practicing in-house since 2016 and with telecommunications giant Frontier since 2018. "Once I took the in-house plunge, I found that I really loved it," Garcia says. "I really like engaging with the business and helping to head things off at the pass before they become a legal problem."
If you're doing in-house work right, Garcia says, it's certainly different from outside practice—but not in any diminished capacity. Instead of arguing in court, in-house attorneys are given the opportunity to be involved in strategy across a wide array of issues.
Garcia entered Frontier when it was at a crisis point—the company was soon to enter bankruptcy—but according to Garcia, Executive Vice President and Chief Legal and Regulatory Officer Mark Nielsen provided him the necessary runway to take those challenges head-on. "Mark has been so supportive, and he fits so well into the mold of great people who have given me opportunities along the way," Garcia says. "He's been one of the best things about coming to Frontier."
Garcia has also built fruitful relationships with outside partners during his time at Frontier. "As outside real estate counsel for Frontier, I enjoy working alongside Paul on numerous transactions," says Joan Wolff, counsel for McGuireWoods. "He combines fierce advocacy with a practical nature, always focused on successfully crossing the finish line."
Today, the lawyer is nothing but excited about the company's future. "We have a new CEO, a new board of directors, and this place is just roaring with a new energy and a new vision," Garcia says.
Looking back on the many twists and turns in his journey, Garcia is grateful for the many growth opportunities he's had—and eager to find even greater opportunities in the future. Given the achievements that are already under his belt, it's difficult to imagine him not wanting to run a legal department from the top spot. He won't bite on the question, but the former fish out of water is certainly capable of tackling any challenges that come his way.
Upbeat and Undeterred
Volunteering has always been a significant part of Paul R. Garcia's career. He and his daughter spent the 2020 election as outside poll observers in Philadelphia, helping those that didn't speak English find their polling places. While standing outside, Garcia and his daughter heard a shot and Garcia felt a sharp pain in his arm. An ambulance was called and as someone turned on a flashlight to apply pressure to his wound, they realized his arm was green. He'd been shot, but with a paintball gun.
"The only thing that was hurt was my pride," Garcia says, laughing. "But there is so much going on in the country right now dividing people. I want to continue to try and make an impact and help in any way that I can."
Related Links