Lawyers are trained to be risk-averse. It's a mindset that's inherently built into the profession. But there are those rare attorneys who are able to balance a natural aversion to risk with their own hopes and ambitions. Danny Diaz Leyva spent over a decade in private practice, all the while building towards something bigger.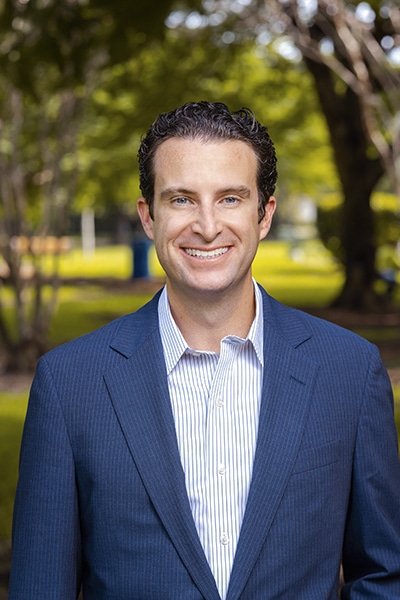 The now managing attorney at the Diaz Leyva Group has spent the past nearly five years leading a self-made law practice grounded in real estate and business transactions consisting of clients that include one of the nation's largest publicly traded homebuilders, several of the nation's largest banks, regional developers, and various family offices.
Building a successful and growing practice is only part of the story, however. Diaz Leyva has done so while drawing both the best and worst of his own private practice experiences (as well as a 2014 run for the Florida House of Representatives), electing not to lead with an iron fist but with the golden rule.
A Natural Builder
Entrepreneurship was imprinted on the budding lawyer from a young age. "My grandfather started our family business some sixty-odd years ago," Diaz Leyva says. "My father eventually took it over, and I spent a lot of time with both of them. I was exposed to these self-made men who taught me to tighten my belt and do what you need to do to survive. It's just built into my DNA."
Being surrounded by self-starters and entrepreneurs led Diaz Leyva to major in finance, and even after attending law school he remained focused on businesses and individuals investing in business or real estate. Or, as Diaz Leyva puts it, "I have represented everyone from the Danny Diaz Leyvas of the world to major, publicly traded corporations and everything in between."
---
Danny Diaz Leyva expounds upon his passion for law:
---
While accumulating experience, the lawyer began to understand he wanted to lead his own practice. Part of his drive came from his family's tradition of entrepreneurship, and another part arose from his faith. "I've had so many friends and mentors guide me along the way," the lawyer explains. "And, frankly, I've felt God's hand in my life, opening doors and guiding me through them."
One of those doors opened up after Diaz Leyva's 2014 bid for the Florida House of Representatives, which was ultimately unsuccessful. "Not winning that race was one of the best things that ever happened to me," Diaz Leyva says. "Not only would it have set me down a completely different career path, but my son had been undergoing some medical challenges at the time, and I was able to spend time with him and be present for therapies and sessions to help get him to where he needed to be."
From there, Diaz Leyva began identifying opportunities to open the law practice he had been dreaming of, and he never looked back.
Success with Respect
Building a business is a Herculean task, but it's only the first step toward success. Diaz Leyva has created a flourishing practice by leading in a nontraditional way—at least, as far as private practice goes.
"I've been in places where everyone is jockeying for position and competing against their contemporaries, and your boss is trying to get all the credit," he remarks. "At the end of the day, that is a toxic environment." In building his own firm, Diaz Leyva has eschewed that type of culture and worked to create a workplace that combines the best practices of every culture he's embraced and thrived in.
"I just subscribe to the golden rule with my team," the lawyer says. "You treat others as you would like to be treated, and you try to be transparent and honest with others so you can help manage expectations."
Diaz Leyva says he treats every employee at his practice as a family member. And while that is a common refrain among business leaders, Diaz Leyva truly puts that philosophy into practice: he wants his team to be fueled by responsibility, not fear, and to see the work that they do as an extension of who they are.
The Great Equalizer
In tandem with the successful law practice he's built, Diaz Leyva continuously gives back to his own community, a habit that has stuck with the lawyer his entire career. He spent ten years supporting one of the largest foster care agencies in Florida, raising awareness and funds and visiting homes and foster parents. He also worked on behalf of organizations providing substance abuse and mental health programs.
Diaz Leyva later dedicated himself to education and educational opportunities. "Regardless of your background, I firmly believe that education can be the great equalizer," he explains. "It's a platform that provides for upward mobility, no matter where you come from."
In 2015, Diaz Leyva was appointed by Florida Governor Rick Scott to serve on the Board of Trustees of Miami-Dade College, a role in which he helped develop and expand the college's mission, goals, and objectives.
Today, as Diaz Leyva and his wife prepare to launch a platform called Empower that will provide educational opportunities and sustained mentorship to those who need it most, it's clear that Diaz Leyva's ambition isn't just to grow his own career. He wants to provide a chance at success for all those he encounters.