Currently a senior corporate counsel at Sumitomo Corporation of Americas, Diana Rosales is unbelievably young in her US law career (she wasn't a practicing US attorney until 2016). But her journey to her current employer already seems to be the stuff of legends.
Rosales was the first international attorney ever hired as an associate by prestigious firm Morrison & Foerster after the completion of a competitive student program, which was offered to exactly one of hundreds of applicants. Five years later, Rosales was offered her current role at the North American headquarters of Sumitomo Corporation of Americas, a subsidiary of global trading and investment giant Sumitomo Corporation.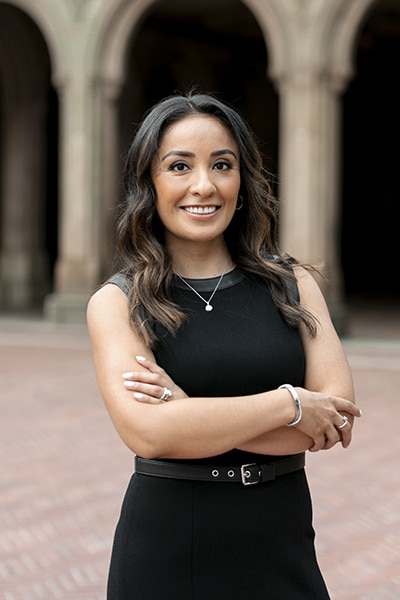 In just over a year with the company, Rosales has helped win a first-of-its-kind bid from the Mexican government for the rail supply of two major portions of the massive Maya train project, which will connect much of Mexico by passenger rail.
The senior corporate counsel has also been a key negotiator in labor talks between a group company and Honduran union organizations, working with regulators from the United States. It's international negotiation at its finest, and while Rosales racked up considerable legal experience as an associate at a law firm in Mexico prior to coming to the States, it's an impressive testament to her knack for international legal work.
Given her experience, Rosales seems the ideal candidate from whom up-and-coming lawyers should seek advice. Indeed, the lawyer—who began mentoring other legal professionals as early as 2014—regularly offers four pieces of advice to lawyers looking to build out their experience and tackle new challenges.
Being Different Isn't a Weakness
According to Rosales, it's imperative for international leaders to understand that their differences are what make them truly unique. "You shouldn't try and hide the fact that you might be different or not speak the language as well," the lawyer says. "It's courageous to be able to speak in another language, and I think you will ultimately be rewarded for being who you are and trying your best."
Rosales knows full well that the things that help professionals stand out may be the very things they felt compelled to downplay or hide in the past. But the world is becoming more and more welcoming of diverse professionals, as organizations increasingly realize that the reason they are thriving is because of their employees' different skills, passions, and backgrounds.
Be Accountable
Accountability is a word used so frequently that it sometimes seems to lose its meaning. But Rosales is able to define the word in a most memorable way. "Accountability is a very particular term that seems specific to the United States," Rosales says. "In Spanish, it's translated as 'being responsible.' I see accountability as being more people-focused. You keep your responsibility to things. You are accountable to people. Your word is all you have, and you should keep it."
Keep Connecting
As someone who has moved a great deal, Rosales places a high premium on building connections that last. "You never know where you are going to wind up in life," the attorney says. "If you build strong relationships, you can rely on them for future endeavors."
Rosales has developed lasting relationships with those from her previous positions. Her first boss, Manuel Garcia, encouraged her to pursue international work at Creel, García-Céllar, Aiza y Enríquez, one of the premier law firms in Mexico. She credits attorneys Mike Doherty and Jeff Chester at Morrison Foerster for affording her high-visibility development opportunities. Today, Rosales seems as motivated to build strong connections with up-and-coming lawyers as those who have helped get her where she is today.
Check Your Ego
"This is a hard one for lawyers," Rosales says, chuckling. "We're used to being the best. The best grades, the best schools, the best mentors. However, when you're starting a career in the United States, you have to be open to new things. You have to put aside your ego and learn everything from everybody. Be a blank page and collect experience and advice."
The lawyer had her fair share of hard knocks early in her US career. A challenging partner kept Rosales busy for what seemed like twenty-four hours a day. "He challenged me in ways that I could never have imagined," Rosales recalls. "It was very demanding, and I gave my best."
Despite such challenges, Rosales has gone on to find success and a deep satisfaction in the work she does every day. She hopes her advice will help others do the same.