It was a perfect day in Salinas. Elena Garnica was in the backyard, soaking up the California sun without a care in the world when something smacked her. It was a copy of the San Jose Mercury News. "Get a job!" her father yelled.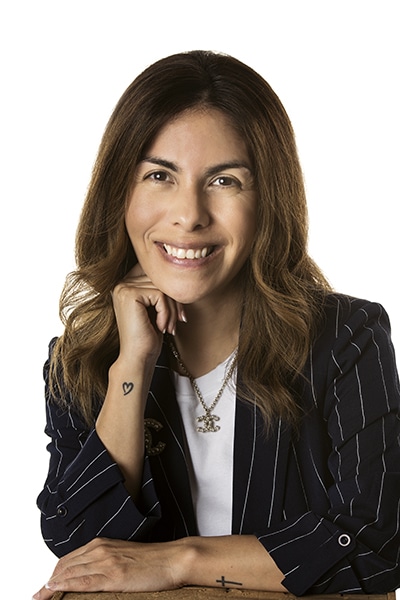 Garnica, who worked three jobs in high school, was anything but a slouch. As a first-generation college student and double major in history and politics, she had also taken pre-law classes during her time at New York University. But she loved to travel and was pondering taking a year off to see the world before enrolling in law school.
However, inspired by her Mexican parents' strong work ethic, Garnica decided to take her father's advice. She applied to be a paralegal at a law practice, got the job, and ended up staying for eleven years. Today, she manages litigation and IP enforcement matters at Netflix.
Garnica's eleven years at Wilson Sonsini prepared her well for her time at the world's top streaming service. As an entry-level paralegal, she started at the bottom but landed on a team with senior paralegals who recognized her talent and ambition. She became a case manager for commercial securities and litigation cases. At the same time, Garnica made her love of travel known and volunteered for cases with an international component. Soon, she was traveling the nation and heading to Europe and Asia to interview clients and collect documents.
When not traveling the world for work (and sneaking in some sightseeing when appropriate), Garnica was back in Wilson Sonsini's headquarters, where she focused on preparing for trials and arbitrations. As a native Spanish speaker, she also translated court documents for several pro bono cases.
In 2011, a former colleague recruited Garnica to join him at Qwikster, which would have been Netflix's DVD spinoff. Her position at Qwikster was very different from her role at Wilson Sonsini and was not litigation-related. She started out helping register Qwikster to do business in all fifty states, working on legal IT Ops, trademark searches, and anything that the GC needed. Garnica was to work full time, but within forty-five days, Netflix abruptly announced plans to cancel Qwikster altogether. Leaders asked her to stay and take on another full-time role at Netflix as its litigation manager.
Subscribe Now
Receive stories like this in your inbox every two weeks!
Subscribe now to the free Hispanic Executive newsletter.
"I've learned the importance of staying nimble and open to change," she says. "Sometimes the unexpected happens, but those who respond well will find new opportunities to grow and develop important skills for the future."
And that's exactly what happened. Garnica moved into litigation support, which in 2011 was a relatively small department and one that didn't have a dedicated manager of trademarks. Garnica noticed the need, volunteered to help company lawyers in the area, and wound up taking the lead on several trademark matters.
Although she didn't have much formal training in the area, she was willing to learn. Garnica prepared herself by interviewing lawyers, attending multiple conferences, and getting advice from her counterparts at other companies. She managed brand enforcement for the company for the next five years and also became the anti-piracy manager for several years.
Today, Garnica focuses solely on litigation support both domestically and internationally. Because of the background she developed at Wilson Sonsini and perfected at Netflix, she continues to offer strong support in e-discovery, civil third-party subpoena responses, document retention, and related matters. As Netflix moves deeper into international markets, she's looking forward to evolving her work accordingly.
The job has required Garnica to stay agile. "The media landscape and the world are changing, and it's important that we are always learning and challenging ourselves," she says.
But no matter what changes she sees in her job or the industry as a whole, Garnica remains inspired by her parents. Her mother was a PE teacher, coach, and mentor; her father worked graveyard shifts in a local vineyard. Garnica still remembers riding to the winery late at night just to catch a glimpse of her father working, and at Netflix, she's striving to live up to the important values her hard-working parents instilled in her from an early age.
Stepping into the World
As a young child, Elena Garnica watched many people in her community work long hours and perform manual labor at demanding, blue-collar jobs. She wanted something different for her own life: she lost herself in books, poured herself into school, and developed a love for both history and reading. She spent two years begging her parents to take her to Europe. They agreed, and when Garnica was finally able to see historic sites she'd only read about, a lifelong passion for travel was born.
To date, Garnica has visited sixteen national parks in the US. While she hopes to visit all sixty-three, Yellowstone and Bryce Canyon are current favorites.
On the international stage, Garnica has already seen four of the New Seven Wonders of the World and plans to eventually complete the list by visiting Petra, Christ the Redeemer, and the Taj Mahal.
Wilson Sonsini Goodrich & Rosati:
"The word that comes to mind for Elena is 'powerhouse'—as a previous colleague at Wilson Sonsini, and as a client at Netflix with how skillfully she manages a variety of complex matters. Her energy and heart are inspiring. We are so proud of her for this well-deserved recognition."
–Luke Liss, Senior Counsel & Pro Bono Counsel