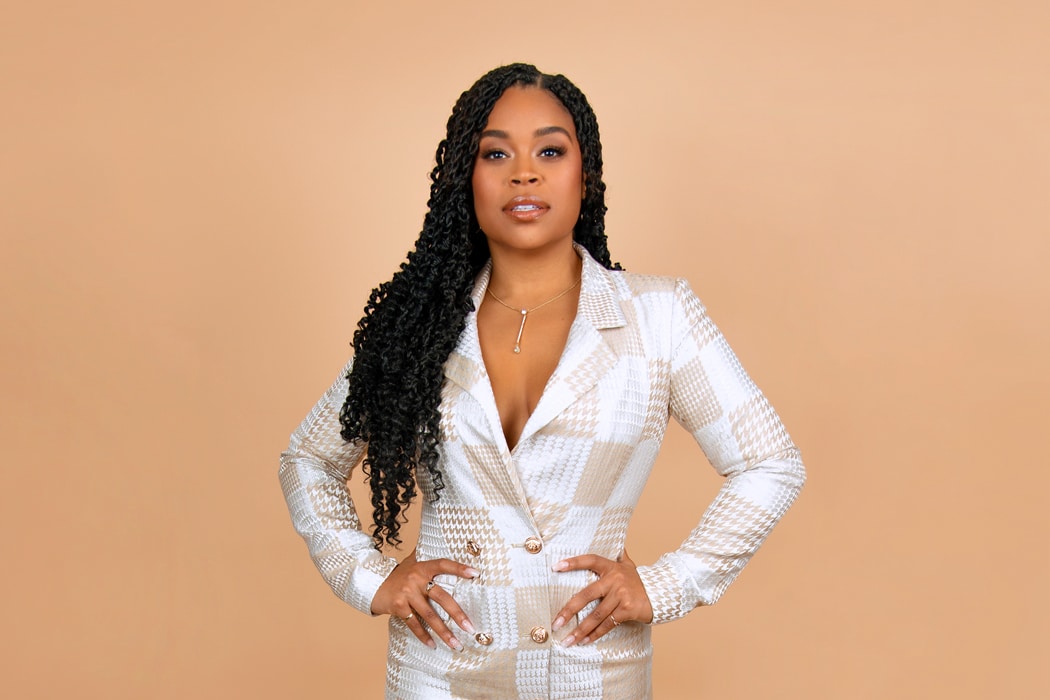 Julissa Calderon dreams big. Then, she dreams bigger.
Indeed, over the course of her career, Calderon has been driven by possibility—and her journey to stardom is an example of that. Following a breakout role as Afro-Latina activist Yessika in the hit Netflix show Gentefied, there's no sign of slowing down for the thirty-one-year-old Afro-Latina from Washington Heights, New York.
Dominican American Calderon actually grew up in Miami and was brought up to lean more into her Latina side versus her Black roots. "It wasn't something we were taught to embrace growing up, and eventually I learned to take pride in being Afro-Latina," she explains.
Calderon attended the University of Florida, where she originally intended to study to become a nurse. But fate stepped in, and after a test that didn't go well, Calderon found herself wandering into a neighborhood where some theater kids were dancing. She was inspired, and soon reconnected with the love of acting that had marked her childhood.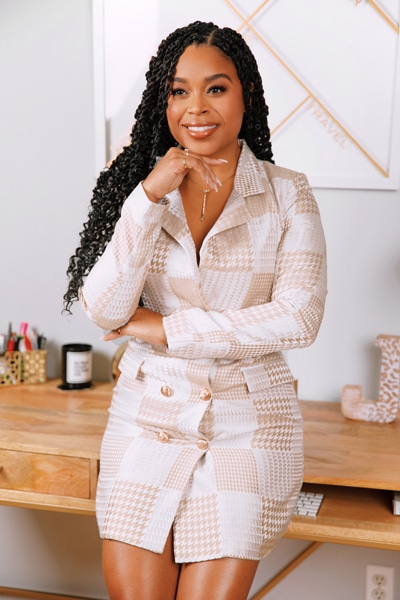 After graduation, Calderon moved to Hollywood, where she pounded the pavement and did what many actors do to pay their bills while auditioning: wait tables. But that didn't bother her, a fearless woman who simply does not see boundaries. If a hurdle is in her way, she breaks right through it. "I've always had that mindset that I can accomplish whatever I want to," Calderon says. "I just go for it, without limits."
Eventually, Calderon had an opportunity to audition for a role in a BuzzFeed video. But when the producers noticed her talent and star-quality, they offered her a regular spot on their Latinx-themed web series, Pero Like.
To Calderon, that was a key moment in her career. How many other opportunities allows one to polish their acting craft while simultaneously writing, directing, and producing their own material?
"This was an invaluable opportunity that allowed my creativity to grow, and I've watched so many other well-known actors do the same on their platforms," Calderon says. "I think it was also beneficial to help bring over an audience to Gentefied, as it was launching."
That is how Calderon's mind works: she has a keen business sense, which hasn't gone unnoticed by those who have come to see her as a mogul in the making.
Of course, Calderon has a long journey in front of her, both as an actor and a content creator—much like other women known for "doing it all," such as Issa Rae, Gabrielle Union, and Gentefied's Executive Producer America Ferrera, who Calderon worked with during the production stage of the series.
"While I was on set with America, taking direction, it didn't really click for me that I was working with the America Ferrera," Calderon recalls. "She has done so much for the Latinx community, paving the way and starring in ABC's Ugly Betty. It was a great experience to be able to learn from her while working on this amazing show."
Calderon has also found kinship and inspiration at some of Hollywood's famous Latina Brunches, which are attended by stars like Eva Longoria, Rosario Dawson, and Ferrera herself. These talented ladies show up to embrace the Latina sisterhood, celebrate it, and help ensure that Latinas are able to take up space in front of and behind the camera. Now, Calderon has joined their ranks.
"Being there felt natural to me, like I belonged. Although, it was a little crazy to keep hearing something like, 'Hi Julissa, I can't wait for Gentefied to premiere.' I kept thinking, Wait, how do you know my name and know all about the show?" she exclaims.
Obviously a priority, Netflix gave Gentefied a huge marketing push, complete with a red-carpet premiere that could rival some of Hollywood's biggest film premieres. It took less than three months to gain a season two renewal, propelling its cast to the top of every casting director's wish list.
Even amongst that talented cast, Calderon stands out. She has been asked to cohost the popular Spanish-language award show Premios Juventud, garnered a nomination for Influencer with a Cause, and nabbed a spot on the coveted list of Variety's 10 Latinx to Watch. But Calderon has taken it all in stride, humbled to be called a leader in the community. As she sees it, a Latina leader is someone like Afro-Latina actress Rosie Perez, who paved the way for Calderon and was instrumental in her decision to pursue acting.
"Saying that I'm a Latina leader is such a crazy statement. That's not what I envisioned being called when I began pursuing this career, but I'll gladly take that title," she says with a laugh. "Being a leader and role model means so much. I get to be to the masses who I have always wanted to see.
"I'd like to think of myself as someone young girls can follow and get some kind of blueprint from," Calderon adds. "I'm not perfect, never will be, but I am authentic and hold myself to high standards and morals—that's what I want the next generation to see and to follow. I hope I can continue to pave the way and do as much as I can for the Latino community. If I were to put my trust in anyone to uplift and push the community forward, I know I can bet on myself to do it."