Aera Energy has lofty ambitions. The California company, which produces about 25 percent of the state's oil, is committed to safety and clean energy: it aims to continue producing affordable energy while reducing its carbon footprint. Sergio De Castro, Aera's senior vice president of strategy and chief financial officer, has logged more than two decades in the oil and gas industry.
For De Castro, climate change, power outages, and electricity shortages are simply problems to solve—and he's been problem-solving his whole life. He was born in Colombia and immigrated to the United States with his wife.
De Castro believes in determination and willingness to learn. He has been especially inspired by observing his father, an industrial engineer, rebrand himself as a tax advisor and start a successful practice late in his career. "My father taught me that it's important to work hard and solve problems, while my mother-in-law taught me the importance of serving people, enjoying what you do, and making a difference along the way," he says.
Like his father, De Castro studied industrial engineering, accounting, and holds an MBA. Upon graduation, he started work as a production engineer in a manufacturing plant for prefabricated metal structures. But his fledgling career took an unexpected turn when he learned that a large consulting firm wanted people with English skills to learn accounting. De Castro, who's both naturally curious and committed to continuous learning, applied and was ultimately accepted into an intensive two-year training program that put his career on a new path.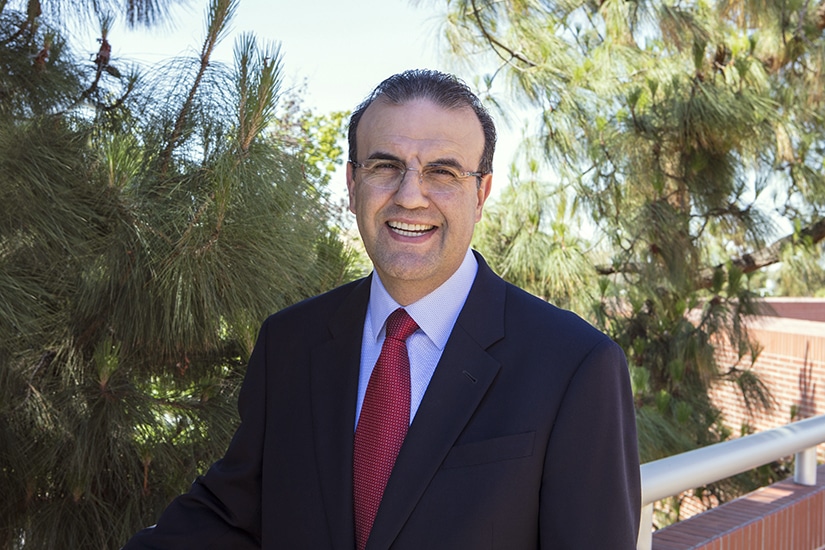 In 2000, De Castro joined Mobil Oil Corporation as a financial operations manager, and he's spent the last two decades handling complex global matters, leading business development, and guiding corporate strategy for some of the industry's biggest names.
While with Mobil, De Castro helped implement a global treasury center to better manage the corporation's cash flow across the world on a real-time basis, using digital management systems that link to bank accounts across multiple countries. The move enabled De Castro and his colleagues to move funds and avoid trapping idle cash. When Exxon and Mobil merged, De Castro replicated his model—first across the Americas and then to other global regions to create three treasury centers.
De Castro's next assignment took him to Angola, where he managed an oil production sharing agreement. He then went to London to serve as financial director for South Hook LNG Terminal Company, a joint venture between Qatar Petroleum, ExxonMobil and Total to bring liquified natural gas from Qatar to the United Kingdom.
These assignments helped De Castro develop both his expertise and his guiding philosophy. "I saw that we were creating impact and adding value in ways that were relevant to organizations and communities," he says. "That's what I still try to do in each and every business decision I make today."
Humanity needs power, and De Castro has stayed in oil and gas because he believes companies can provide that power in a responsible way. That belief led him to join Aera Energy in 2017. The company is dedicated to providing the energy California needs through more sustainable methods and helping with the energy transition while maintaining the quality of life that all Californians enjoy.
Moving to Aera provided De Castro with one more problem to solve. California will need energy from hydrocarbons, but it also needs carbon capture to achieve its greenhouse gas emissions goals. De Castro is tapping into his industrial engineering background, his industry experience, and his financial training to help Aera thrive in both areas while preserving jobs and opportunities for people in California's Central Valley. He's also mentoring his younger colleagues and sponsoring Aera's Latino employee resource group, which helps train and develop the 13 percent of company employees that participate.
Each day, Californians consume approximately 1.8 million barrels of oil, while the state produces just 400,000 barrels. That means the state imports much more oil than it produces. In fact, California sends more money abroad for oil than any other state, and foreign oil doesn't have to comply with the state's strict regulatory standards. That's De Castro's latest problem to solve. He's doing all he can to help take California to a clean-energy future.
Making an Impact
Sergio De Castro's global experience enables him to see the needs of the communities all over the world where he has lived and worked. This motivated him to volunteer with several nonprofit organizations dedicated to making a difference in the locations where he has worked.
He has donated time to serve with different organizations in support of education, health, and the development of Hispanics, and has also served as board member for several nonprofit organizations around the world.
His mother-in-law, De Castro explains, also started a charity to provide basic baby care kits to new mothers in need, and he has supported his wife and daughter in continuing her legacy. De Castro is family man: his wife and daughter have not only accompanied him all over the world but supported him in driving a successful career. Without them, he says, he would not be where he is.
"Sergio brings a wealth of diverse expertise, experience, and perspectives to his leadership. Combined with his curiosity and his ability to spot and develop talent, this makes him a great leader when what's needed is insight, innovation, and change that matters." —Saj-nicole Joni, CEO, Cambridge International Group Ltd.