At 5:30 a.m. Ofelia Melendrez-Kumpf is drinking her McCafe drip coffee and using the quiet for some strategic thinking before the daily onslaught of texts, emails, meetings, interviews, and presentations begins. "I take the time to be mindful and structure my day," says Melendrez-Kumpf, a US field vice president for McDonald's USA. In an environment of unending work, part of Kumpf's success comes from taking a long view. "It's critical that I excel at my job tomorrow, the next day, and the day after that, so I have to end each day with a well-thought-out plan to show up strong, determined, and focused the following day," she explains.
Considering her role blankets operations in Southern California, Nevada, New Mexico, Arizona, and West Texas, it's safe to say Melendrez-Kumpf's tactics for success are working. Any given day could include work on franchising, KPIs, financial performance, marketing, consumer insights, business insights, people development, operations, product development, or real estate. "In essence, my job is to drive consistency, improve the customer experience, and attract new and repeat customers," Melendrez-Kumpf says. "My biggest responsibility is inspiring franchisees and company staff to be the best they can be and offer exceptional customer service, while also staying ahead of competition."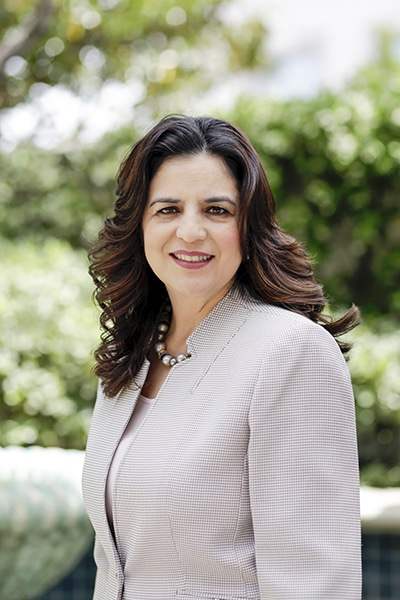 It is no accident that Melendrez-Kumpf finds herself a vice president. "While some little kids role-played as a princess, I role-played as a banker," she says. From the very beginning of her career, she strove to become an executive at a large, multinational company. And though she says she interviewed with McDonald's simply to practice her interviewing skills, she came to understand the opportunities the company offered and took a position as a manager trainee over twenty-eight years ago.
She came on board as part of an internship program geared to hire Latinas. At the time, a midlevel manager served as the highest-ranking Latina at McDonald's, a role Melendrez-Kumpf intended to supersede. The company challenged her to stretch and grow, and Melendrez-Kumpf advanced quickly through all phases of restaurant management and supervision in the US and throughout Latin America, securing her latest promotion in July 2018. Melendrez-Kumpf is now the highest-ranking Latina on the operations side as well as the corporate side of McDonald's USA.
"To excel, you have to have an entrepreneurial spirit and be a tenacious problem-solver," Melendrez-Kumpf says. Beyond titles, she says, "I'm extremely proud of the culture I've helped create here and the talent I've been able to support and develop. I feel extremely fulfilled when seeing others thrive and flourish."
Specifically, the VP advocates for and mentors young people, especially women. "At McDonald's," she says, "we believe that the strength and diversity of our talent enables us to build a better, stronger McDonald's. We are committed to creating a workplace where everyone, from crew to C-suite, is equally supported and empowered to realize their full potential."
To better meet customer needs and access talent, Melendrez-Kumpf says that McDonald's prioritizes becoming a gender-balanced organization where everyone feels safe, valued, and free to be themselves. To this end, Melendrez-Kumpf chairs the McDonald's US Global Women's Leadership Network. She partners with stakeholders and experts to achieve the pillars of the McDonald's Better Together strategy: representation, rising, recognition, and reach. The goals include achieving equality in advancement and championing the impact of women on the business, where gaps exist by 2023.
"Representation matters," Melendrez-Kumpf says, explaining the far-reaching impacts of her work. "When a child sees someone who looks like them succeeding, it inspires the belief that they too can succeed, and that is very important."
The consummate professional, Melendrez-Kumpf says, "I hold myself accountable to create an environment and culture where my team knows that it's okay to make mistakes, where they can learn and grow from them." She brings that intention to her role in helping enact McDonald's Bigger, Bolder Vision 2020, an impressive and transformative plan focused on three key strategies: improving the food, improving the customer experience, and modernizing McDonald's restaurants.
"At McDonald's, we believe that the strength and diversity of our talent enables us to build a better, stronger McDonald's."
"We're changing the entire customer service experience inside our restaurants," the VP explains. From self-ordering kiosks to digital menu boards to table service, McDonald's embraces new ideas to maintain relevance and ensure a market lead. "Our objective is for customers to think of us as a modern, progressive burger company," says Melendrez-Kumpf. Digital technology facilitates more individualized communication, flexibility, and convenience.
As Melendrez-Kumpf drives forward into change, she also responds to the COVID-19 pandemic. She knows customers, employees, and communities count on McDonald's for food and jobs. In the midst of such crises, Melendrez-Kumpf doubles down on the values and responsibilities that guide her work: a sense of unity, transparency, upholding McDonald's standards for customer and employee safety, and, of course, that far-looking mindset.
"Self-awareness is pivotal to personal and professional success," Melendrez-Kumpf says. To her mind, self-awareness means that, on a day that begins with her 5:30 a.m. McCafe, she is studying for the USC Marshall Executive MBA program by 8:30 p.m. As a generalist who loves working with people, she seeks to deepen engagement opportunities across the business, connecting with people from all different walks of life. "I strive to improve as a leader but to share learnings with peers and help create a better future for potential leaders as well."
---
Related Links