In the early 1980s a group of dedicated employees launched what would eventually become McDonald's National Hispanic Employee Business Network (NHEBN). Though the employee resource group's earliest days were humble in comparison to its current size—about 2,500 employees, global headquarters, and 20-chapter reach—the goal has remained the same: attracting, retaining, and promoting talent.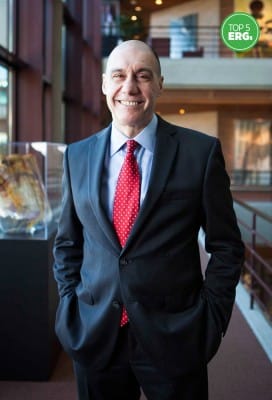 Mark Moreno, McDonald's vice president and general manager of the Houston region, says that McDonald's understood long ago the importance of reaching the Hispanic population by helping Latino employees leverage their culture in a corporate environment. "McDonald's encourages its employees to be proud of their heritage," Moreno explains. "No employee should feel like they need to hide who they are or where they came from. When you can be authentic and bring your whole self to work, it's only beneficial to business."
McDonald's Latino ERG, NHEBN, has a lot to offer employees of any background by providing development classes, networking opportunities, and initiatives aimed at developing internal talent. The ERG also has something it calls "Hispanic business vision," which is a long-term plan that brings together employees, franchisees, and suppliers to create strategies that both enhance McDonald's for Hispanic employees and capture the Hispanic market, with much of these efforts culminating at regional and national conferences.
"What makes our network special is that it's embraced from the boardroom to the crew room," Moreno says. "The strategies are administered at all levels, and they drive our workforce. It's not just talk; we put things into action."
Gustavo Viano, McDonald's director of global inclusion and diversity outreach, is quick to point out that the history and the evolution of the ERG is not an accident.
"Embracing diversity at this level isn't just a nice thing to do; it's a strategic thing to do," he says. "There is a business case for diversity, and we see a return in the resources we provide employees. One of the network's priorities is to send the message that being Latino is an asset, and we're interested in what Latinos bring to the table."
McDonald's Hispanic Employee Business Network is also deeply invested in giving back to local communities. Moreno says that each regional chapter has its own charitable approach with a major emphasis on youth. Ronald McDonal House Charities (RMHC)/HACER Scholarships provide thousands of dollars to students each year, and RMHC aims to create and support programs that directly improve the health and well-being of children, primarily focusing on children's critical needs. Since 1974, RMHC has helped more than 7 million families stay together each year, thanks to chapters in 58 countries and regions around the world.
Viano says that part of the reason McDonald's ERG group has been so successful in its many endeavors is because Latino employees are willing participants. Much of the company's recent growth can be attributed to leveraging Latino talent within the company.
"While many of our employees may not be experts in marketing to Hispanics, they are experts in being Hispanic," Moreno says. "Therefore, their feedback is valuable. They're our sounding board. We're in an excellent place for continued growth and HEBN has been, and will continue to be, a critical part of our success."
MORE:
To round out our special issue on Hispanic employee resource groups, we present our lineup of most-valuable Latino ERGs at some of the nations largest companies—including highlights on our "Top 5," selected by Guest Editor Dr. Robert Rodriguez. View the ERG Roster here.
TOP FIVE LINKS