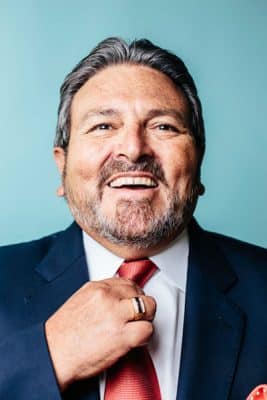 A year after McDonald's Corporation hired J.C. Gonzalez-Mendez, an earthquake hit. He was hired in 1984 as the hamburger company's first employee in Mexico to set up the supply chain for the first restaurants under the Golden Arches south of the border. But when a 7.2 magnitude quake struck in September 1985—killing thousands of people and causing irreparable damage—it appeared that those plans would be derailed.
The company then flew down a contingent of people to boil water, make soup, and give out supplies to people in need. "It seemed like the business loss was secondary," Gonzalez-Mendez says. "It became clear to me that McDonald's was not a company selling hamburgers to people, but rather a people company selling hamburgers. People came first."
So he stayed with the company through the recovery. The first restaurant in Mexico City opened about a month after the quake, and hundreds more followed. Gonzalez-Mendez himself grew professionally as the burger chain established its Latin America footprint. He became president of McDonald's Mexico, and subsequently was appointed senior vice president and chief supply chain officer for North America, a position that involved the purchasing, logistics, and distribution of $15 billion worth of goods annually to 15,000 McDonald's restaurants in the United States and Canada.
From that meteoric rise, he humbly states that McDonald's provided him with all the opportunities he could possibly ask for—including the MBA he earned at the University of Southern California. But since retiring in 2015, he hasn't really left the industry. He formed GM Integritas Consulting, which works with both start-ups and established food businesses. The firm is based not far from McDonald's headquarters in Oak Brook, Illinois, near Chicago.
That change in career course involves significantly different volumes of merchandise being bought and shipped. But Gonzalez-Mendez stresses that successful ventures of all sizes maintain consistent standards.
"My daughter helped me come up with the name, Integritas," he says. "She asked what is most important to me in business and I said, 'integrity.' Integritas is the Latin word for that."
How he carries that idea over from three decades with McDonald's to his new work is perhaps best seen in the nature of building and maintaining relationships. The burger chain famously works very closely with the  vendors that supply everything from coffee creamers to soft drinks. Those relationships involve a lot of learning and sharing back and forth between McDonald's and vendors. The operational needs, marketing programs, and costs of goods may be the business of the restaurant, but suppliers have to be in sync with each of these things.
Gonzalez-Mendez relates how McDonald's underwent significant changes to its menu in recent years to satisfy consumers' better-for-you nutrition demands. "The amount of vegetables served at McDonald's is mind blowing," he notes, mentioning several statistics on consumption in US restaurants alone during his tenure overseeing that geographical region (2002-2006): 52 million pounds of apples, between 3 and 4 percent of the US potato crop, and 15 to 17 percent of American leaf lettuce.
That customer relationship was improved also as the restaurants managed to reduce by 17 percent the caloric content of Happy Meals, which are primarily marketed to children. The chain ceased advertising soft drinks with the meals, which resulted in an uptick in protein consumption by young customers who now drink milk instead.
Some of those changes came with suppliers adjusting their product lines and in some cases entirely new suppliers were found. Part of Gonzalez-Mendez's work today is consulting with food companies who want to get into the McDonald's supply chain or expand their global reach within it. "I help them navigate the system," he says, adding that many are minority-owned companies. One firm is already a supplier of several products to US and many international McDonald's restaurants, but they are working to also become a supplier to the firm's Latin American outlets.
"My daughter helped me come up with the name, Integritas. She asked what is most important to me in business and I said, 'integrity.' Integritas is the Latin word for that."
J.C. Gonzalez-Mendez
On a different scale, and in a different segment of the restaurant industry, he has joined Bien Trucha Group, a Mexican-themed, three-unit restaurant chain in the Chicago suburbs. "It's authentic food, with an educated approach to the culinary traditions," he says. The brand's restaurant names are derived from popular Mexican slang—Bien Trucha, which can be translated to "on top of your game," A Toda Madre (so good), and Quiubo (what's up), soon to open in Naperville, Illinois. These tout modern-rustic décor, and market-fresh, locally sourced ingredients.
Gonzalez-Mendez says that local sourcing is not antithetical to someone who's worked in supply-chain management for the global burger company. "Ray Kroc [McDonald's founder] was always about finding local suppliers where possible," he says. "He knew it was a smart business practice."
While no longer with the global chain, Gonzalez-Mendez remains keenly aware of where it is evolving, probably because his current work is on a parallel track, keeping pace with changing consumer dining tastes.
For anyone looking for a career in global supply chain management, Gonzalez-Mendez offers this advice: "Supply chain is a strategic weapon," he says. "International experience is key, so look for a six- to twelve-month stint abroad. Learn a second or even more languages. And take risks."
While those risks don't have to involve earthquakes, seeing a company doing the right thing in any circumstance is a good sign.