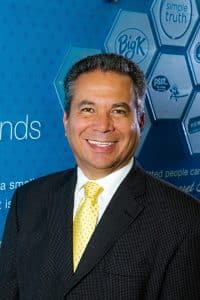 "Let me stop you right there," said the recruiter. "Did you know that The Kroger Co. is not only the fourth largest retailer in the world, but also has over thirty manufacturing plants in the US?"
Marcio DaCosta was in his office at Firmenich, a flavor and fragrance house, and had just told the recruiter thanks, but he wasn't interested in the retail industry.
"Not only that, we have twenty-two banner stores, eighteen corporate brands, and we're in the process of expanding our global sourcing," the recruiter continued. "In other words, Kroger is much more than grocery, and we need a supply chain expert."
DaCosta had always been drawn to the supply chain process and spent the first twenty years of his career leading manufacturing and operations. He was good at making quick decisions and solving problems on the fly. In the late '90s, he led the outsourcing transition of one company's manufacturing plant from West Virginia to Asia. There he was introduced to external markets and global sourcing, he learned the importance of respecting other cultures, and he used the opportunity to build an impressive network. Not much later, he put this experience to use by making an internal move to sourcing.
For the next sixteen years, DaCosta expanded his skills and expertise in sourcing and quickly rose through the ranks at various companies. Through extensive international travel, DaCosta became more familiar with business cultures in Indonesia, China, and Vietnam. He also began to notice more subtle differences in company culture based on size and location. All these experiences informed his well-rounded, adaptable, relationship-based style of leadership—which he had been applying as global purchasing director at Firmenich for over two years before Kroger called.
"With your background in operations and manufacturing," the Kroger recruiter told him, "and your experience in supply chain management and global sourcing, we think you'd be a perfect fit." He finally had DaCosta's attention.   
Kroger's total footprint was domestic, but they sourced a significant amount of products from overseas, so DaCosta knew his global experience would be put to good use. The fact that manufacturing plants were domestic meant a much more attractive and less demanding travel schedule. Most enticing of all was that Kroger had not yet implemented a world-class approach to sourcing, which was an irresistibly blank canvas for DaCosta. "I felt I could bring a process that could take the company to a different level," he says. "And the ability to strategically develop long-term growth opportunities was intriguing."
Much to the recruiter's delight, DaCosta joined Kroger in 2012. "When sourcing in supply chain, it is most important to establish a process that allows you to know as much or more than the individual sitting across the negotiating table," says DaCosta, who is now vice president of global sourcing and planning at Kroger.
For example, if a business partner generically asks for ten pens and DaCosta's team delivers ten blue pens with caps, the partner could easily respond that they wanted three red pens, two black, and five green—and the green ones should actually be highlighters. This ambiguity is incredibly inefficient, so DaCosta's goal is to "turn ambiguity into ingenuity" through collaboration. Collaboration invites innovation, and provides the opportunity to work together to discover the partner's ultimate need without first supplying a partial solution. "It also requires us to be transparent as we figure out how to be more successful," DaCosta says.
But he also says that "the foundation of collaboration is a sound strategy." So, to further preempt the struggle through an ambiguous conversation, he developed the Kroger Six Step Strategic Sourcing Process:
Category analysis
Business needs analysis
Industry and supplier analysis
Sourcing strategy development
Strategy execution
Monitor and manage
Traditionally, sourcing is driven by reverse options—a response to a situation rather than the cause of it. But Kroger's sourcing process is driven by a proactive strategy that guides action instead of reaction. "It allows us to leave the ambiguous, tactical, transactional environment behind and develop concrete strategy that secures our supply for the next three to five years," DaCosta says. "It requires a lot of discipline, but we know that as we grow globally and bring in new materials with new regulations, our strategy ensures top quality for our customers."
A team of seventy associates sourcing $7.5 billion in finished products and raw materials for the over thirty plants is required to serve the 8.5 million customers who walk through Kroger's doors every day, and the sourcing process has improved the logistics for everyone along the way. It has also delivered significant savings in the past three years alone to Kroger's customers, thanks especially to market analysis, outsourcing, and streamlining processes. "It's about understanding international opportunities and the market," DaCosta says. "You have to manage the total supply chain—logistics, forecasting, and the many other pieces in between."
Kroger is the only top ten retailer that maintains 100 percent of its sales in the United States, and is confident that the market is significant enough to provide continued sales growth. "At the same time, we recognize that our supply chain must be global," says DaCosta, so he and his team are always on the lookout for outstanding global partners. Kroger is the largest florist in the country, and a significant percentage of floral needs come from Columbia, for example. Kroger also boasts a large seafood department that brings in salmon, tuna, and other seafood from Japan, Thailand, and Chile.
"Being a good leader means building trust in your team. It also means having passion for the work, and surrounding yourself with talented people who want to grow."
Marcio DaCosta
That said, Kroger is also deeply committed to sustainability, social accountability, and working with international partners who maintain the same standards. "For example, we won't tolerate deforestation or child labor." DaCosta says. "We believe we can bring enough influence to enough business partners outside the US to make a difference." Expectations are made clear to partners, regular audits are performed, and if there is suspicion of unacceptable practices, relationships are discontinued.
The effectiveness of Kroger's globally sourced supply chain has become dependent on the strength of their strategy and health of their relationships. A strong compliance policy has become as paramount as delivering friendly customer service and fresh products to customers, and sustainability and transparency remain essential. But for DaCosta, none of this is complete without good leadership, which he strives to provide in his capacity every day.
"Being a good leader means building trust in your team," he says, adding that reliability, credibility, and intimacy are the essential components of trust. "It also means having passion for the work, and surrounding yourself with talented people who want to grow."
From Asia to South America, manufacturing to sourcing, and at every link in the supply chain, DaCosta attributes Kroger's success to its 435,000 associates, and his own success to the seventy members of his team. Relationships are the most essential component of successful endeavors anywhere in the world, and as DaCosta knows, sometimes the best ones start by simply answering the phone and saying, "yes."
---
KROGER GOING GREEN BY THE NUMBERS
Kroger's Simple Truth brand reached a milestone of $1.5 billion in sales in 2015.
There are more than 2,000 Simple Truth or Simple Truth Organic items.
Kroger offers 20,000 natural products nationwide,  with 4,000-9,000 curated items in each store.
Kroger's Louisville Division will sell 125 products from 34 Kentucky Proud producers in 88 stores.
Kroger's 18 dairies processed more than 476 million gallons of milk in 2015.
By 2025, Kroger's goal is to transition to a 100% cage-free egg supply chain.
Source: sustainability.kroger.com
---
Marcio DaCosta to

future Latino leaders:

Be proud of your Latino heritage. Culture gives strength to everything we do each day, so use it to your advantage.

Millennial Latinos, unite. There's more power in uniting and supporting each other, so don't be too centrally focused. 

Bring the passion. There's nothing more beautiful to me than seeing that Latino passion in a business environment.
---
NOTE FROM THE EDITOR: As of press time, editors learned that Marcio DaCosta was no longer with the Kroger Company. Hispanic Executive wishes Mr. DaCosta all the best in his next endeavor.