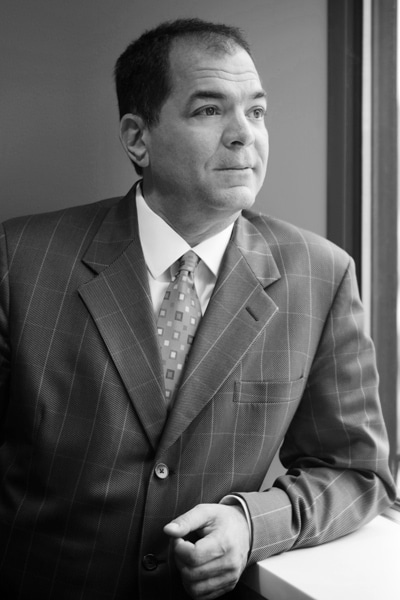 Shortly after starting at Northwestern Mutual ten years ago, Karl G. Gouverneur, vice president of digital workplace and corporate solutions, began to see the future of the company and the impact digital technology would have on it and its industry.
"We take people's hard-earned money and manage the risk," Gouverneur says. "This is the key to our success."
For many years, the company took this same approach when managing its technology—focusing more on proven solutions that minimized risk rather than experimenting and innovating. Predictability and cost control were the priorities.
Gouverneur quickly realized that not keeping up with—or even staying ahead of—new technologies could actually increase risk and potentially erode the company's competitive strengths. Change was needed—and part of that was a change in the company mind-set to embrace innovation and focus on experimenting, testing, and creating new technologies to better serve clients.
After much discussion and research, Gouverneur helped devise and promote a company-wide strategy to create a powerful and distinctive client experience powered by digital that would be coupled with the world-class expertise of Northwestern Mutual's financial advisors. This strategy required company leadership and employees to be willing to adopt new technologies earlier, take more risks, and build new skills—without compromising security.
Shifting the mind-set of a company that dates back to 1857 is no easy task. The concept of innovating on the fly was foreign territory back then. Now, it's the norm.
"The greatest benefit of this culture is that it encourages more innovation among our employees and across our teams," Gouverneur says. "That leads to stronger and higher levels of engagement, which leads to happier people, which leads to higher productivity."
Among the best examples of innovation engaging the entire company are hackathons. These bring teams of company engineers together with colleagues from across the business to rapidly formulate, build, test, and refine new solutions that bring value for employees in the corporate headquarters, their financial advisors, and clients.
"Activities like this have helped people across the organization feel more comfortable trying things out, having some things not go as planned, and learning from the experience," Gouverneur says.
"The greatest benefit of this culture is that it encourages more innovation among our employees and across our teams. That leads to stronger and higher levels of engagement, which leads to happier people, which leads to higher productivity."
–Karl G. Gouverneur
The company's strides toward innovation have not gone unnoticed. In 2016, global tech consultancy Gartner awarded Northwestern Mutual the Eye On Innovation Prize for Most Innovative Digital Business Model in Financial Services, largely in recognition of the company's success in building a culture of innovation at every level.
Earlier in 2017, Northwestern Mutual also earned a Digital Edge 50 2017 Award from IDG for industry leadership in digital innovation. Among the activities and initiatives that helped it earn the award was the Enterprise Venture Fund, which solicits innovative concepts from employees and puts them up for an all-company vote. Winning ideas get funding for further development.
"We've been able to engage employees with the Enterprise Venture Fund," Gouverneur says. "Employees get twenty votes, and they can vote on the projects or ideas they believe will bring the most value. They can even cast 'down' votes for ideas they don't like. We let everyone participate in the process."
Given that so much of Gouverneur's work is focused on the future, it's no surprise he is involved in the company's outreach program in STEM education. Part of this work is his membership on the board of the Discovery World Science & Technology Center in Milwaukee, where many activities are aimed at students in grades four through eight.
"That's a good age range to influence kids on what they can do in STEM," Gouverneur says. "It's when their interests are still developing."
But keeping that interest alive as kids grow up is also key to encouraging them to pursue STEM careers. "We also run a very successful high school technology minicamp," Gouverneur says. "They do real work; they don't just watch."
Gouverneur also believes in direct interaction with the students. "I visit with the kids and let them ask me tough questions," he says. "One asked me what mistakes I've made that embarrassed my boss. These are questions employees have not even asked me!"
Gouverneur has also been active fostering diversity at the company. He is the executive advisor of Northwestern Mutual's Hispanic Employee Resource Group.
"When people in the group speak to other executives or at events, I coach and prepare them," Gouverneur says. "It's an opportunity for them to learn how to shape and guide initiatives in a way that will help them gain better traction in the organization." 
That ties back to Gouverneur's emphasis on democratizing innovation at Northwestern Mutual, a practice he thinks leaders in any type of business can benefit from. That is one of the biggest pieces of advice he has for peers looking to enact company-wide change.
"The most important step is recognizing that the mind-set shift has to happen first," he says. "You can have a new, shiny, creative work space, but it won't matter unless you help people understand how to go about innovating and teaching people techniques they can practice with real-life examples."
That said, Northwestern Mutual recently opened its brand new thirty-two-story office building in downtown Milwaukee, which was designed to create an open and flexible work space that invites employees to innovate and collaborate. To further increase revolutionary thinking, Gouverneur is in the process of creating an Innovation Lab—connected by a skywalk to the new tower—that will be home to a variety of the company's innovative and experimental initiatives.
"We're expanding our innovation footprint to areas of the company that have nothing to do with digital," Gouverneur says. "That's where our new space and the lab will come into play. For example, people will be able to sign up for a lab session on breakthrough thinking, to help them figure out how to innovate their way around a problem."
"There's plenty of value across the business we can apply innovation to," Gouverneur adds. "In many ways, we're just getting started." 
Thoughts from Guest Editor Javier Palomarez
"Karl is demonstrating the importance of being at the forefront of one's field. In today's rapidly changing technological landscape, merely keeping up won't do. Operating on the cutting edge, Karl is making valuable contributions to his company, his industry, and most importantly to the next generation of innovators and critical thinkers. Our community underindexes when it comes to young people in STEM, and I applaud Karl's efforts to change that."