Nabors Industries owns and operates the world's largest land-based drilling-rig fleet and is a leading provider of offshore drilling rigs in the United States and multiple international markets. Jose Nogales is the company's vice president of tax. In a volatile industry, he plays an important role by providing proactive tax-planning strategies that lead to better decisions.
Core Leadership Values
Jose Nogales relies on three basic leadership principles:
Teamwork. Use your strengths, clearly understand your role and the team's objectives, appreciate others' work styles, be positive, a good communicator, and stay flexible and reliable in all aspects of your job.
Integrity. Adhere to a strict moral code that can be reflected in transparent honesty. Meet all of your commitments, build trust, and treat everyone with respect.
Strong Work Ethic. Have a vested interest in what you are doing and in the quality of your work product. Be professional in how you present yourself. Display grace under pressure. Aim to be outstanding in everything you do.
How have you managed to maintain the stability of your department during difficult periods in the oil and gas industry?
When oil prices are high, it is easy to keep employees and shareholders happy, even if operations aren't very efficient. It's a much different story when the price of oil hits historic lows. Companies, including Nabors, have had to look at every possible option to reduce [general and administrative] costs in order to stay in business. The key to surviving during difficult times is to be surrounded by professionals who believe in teamwork, who are high-integrity individuals, and who have a strong work ethic. A tax team with those core values will weather any storm.
Do you have any unique approaches to managing your staff?
Although I am not a baby boomer, I relate very well to that generation. They are dedicated, competitive, have high expectations, and are loyal to their employer. And, like them, I like face-to-face time. So, even though I appreciate the benefits of technology, nothing can replace personal relationships and interactions. I learned the importance of this management style when I worked in Venezuela for several years. I saw how critical it was to have direct, personal communication within all Latin cultures. I apply this way of doing business with my staff. I prefer to talk to individuals in person versus doing business over the phone or exchanging numerous em-ails. Brainstorming ideas while you're face-to-face has tremendous value.
Since many of my staff are millennials, I also try to be respectful of their values and preferences. They're ambitious, need explanations, and appreciate feedback, but they prefer emails and text messaging. If they do a great job, I'm the first one to congratulate them and make sure they are recognized for their accomplishments. I also believe that as the head of the tax department, if something doesn't go well, it's my job to take full responsibility. The buck stops with me. I live a very structured life and am very process oriented. So I try to be as proactive as possible and implement processes that will mitigate errors. But if an error occurs, my team and I will reconfigure the process to make sure they are never duplicated.
How do you manage relationships with other departments?
In a large international company like Nabors, silos are inevitable, since they provide operational structure. Having separate departments such as legal, accounting, treasury, tax, operations, marketing, IT, and procurement also facilitate and develop expertise in different areas. Problems arise when information and open communication do not make it across those boundaries. In my view, the company performs more efficiently when each group communicates well and collaborates. So I like to teach transparency in my department. If an email is sent to our department, we should respond immediately with either an answer or a request for additional time with a completion date that works for both parties. If the tax department is responsive to all requests, other departments will have confidence in us and will be willing to share information. Likewise, when the tax department is working on a project, we must consider all the other departments that might be impacted and get their input early in the process.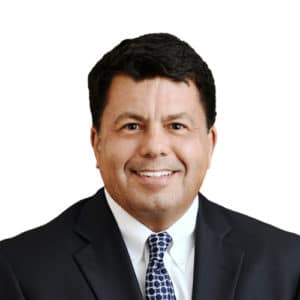 Your faith is very important to you. How does it influence your management style and your own professional responsibilities?
My religion defines who I am, influences the way I view the world, and the decisions I make. As a member of the Church of Jesus Christ of Latter Day Saints, one of the guidelines I live by is to be honest, true, chaste, benevolent, virtuous, and to do good to all men. When I was a young man, I served a two-year mission for my church in northern Mexico. I gained life experiences that I could not learn at school or at work. One of the opportunities was to supervise two hundred other missionaries. I learned skills such as planning, discipline, drive, commitment, selflessness, and perseverance. All of these attributes are still integral parts of my management style.
Your father was an important role model for you. How did his example inspire you?
My father was born in Bolivia but earned his engineering degree and MBA in the US. He was a successful businessman who worked as an executive for GATX Corporation. I admired him greatly. Although he passed while I was serving on my mission, I was able to benefit from his wise council during my formative years. He lived a "white collar" life but raised me with a "blue collar" perspective. I learned that nothing is given to you. If you want it bad enough, you go out and earn it. One of his favorite quotes is from Louis Pasteur: "Let me tell you the secret that has led me to my goal. My strength lies solely in my tenacity." My father was one of the hardest-working men I ever met. He also taught me to be myself and to genuinely care for others.