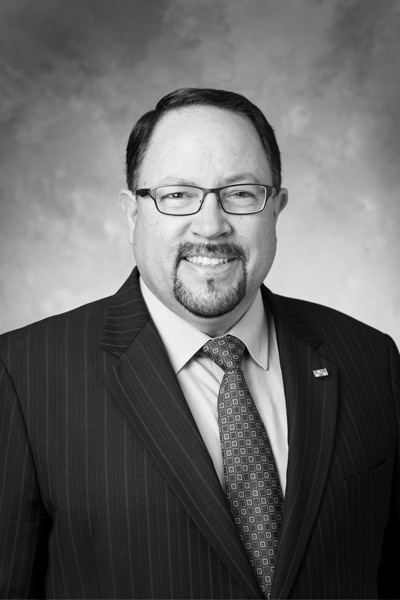 Don't look for Bob Unanue on Undercover Boss. Although he's a fan of the hit CBS show that gives disguised corporate executives low-level jobs in their own company, the CEO of Goya Foods says his employees would recognize him in an instant.
Unanue doesn't need an unscripted show to take him inside Goya. He started packing olives and olive oil at Goya when he was just ten years old. He's loaded delivery trucks and worked in the print shop. And, although Unanue has left the production floor for the C-suite, those early days and his ongoing conversations with Goya employees continue to inform all he does as CEO.
What has become the largest Hispanic-owned food company in the United States and the most recognized Hispanic brand among non-Latinos was started by Spanish immigrants—Unanue's grandparents—in 1936. That's when Don Prudencio and Doña Carolina opened their small storefront business on Lower Manhattan's Duane Street. The elder Unanues turned local Hispanic families into loyal customers by distributing authentic Spanish products that were hard to find elsewhere. As New York's Hispanic population started to grow, mirroring that of the entire United States, Goya kept pace. Each time a new demographic came to the country, Goya rolled out a welcome mat by importing its favorite food products.
After finishing high school, Unanue left to study accounting in both the United States and Spain. During that time, he helped cement Goya's stronghold in Spain. After implementing four new bean-packing lines in Secaucus, New Jersey, he moved to Puerto Rico to become a purchasing director in 1980. He then spent twenty-four years in different roles of increasing complexity—even leaving for a short period to run a restaurant—before stepping in as CEO in 2004, forty-three years after he first started working for the company as a young child.
Goya has seen significant growth under Unanue's leadership. He helped develop and implement a $500 million strategic plan that steered the company between 2005 and 2015. The plan, designed to help Goya reach new customers and enter new countries, was an overwhelming success. Through it, Goya topped $1.4 billion in annual revenue and saw its product total climb to 2,500. As part of the strategic plan, Unanue oversaw the completion of four new manufacturing and distribution centers in New Jersey, Georgia, Texas, and California.
Although he's proud of what he's accomplished as CEO, Unanue says the credit is due to Goya's employees as well as the brothers and cousins of the third and fourth generations. With them, the company has been able to keep Goya Foods authentic through a cooperative, family-oriented approach. "We have many long-tenured employees who have put so much of themselves into this company," Unanue says. "I love to walk the production floor and talk and visit with people because their experiences, their perspectives, and the lessons I still carry from my different jobs within Goya are so valuable to me still today." Although the company has experienced significant growth, Goya is still known for its modest offices, company barbeques, quaint holiday parties, and employee scholarships.
"We're not selling a few products to a warehouse. We're going neighborhood by neighborhood to meet the consumer, and we know the consumer because we are the consumer."
–Bob Unanue
It's that culture that's helped Goya succeed in business. Unanue's grandfather created Goya's first successful advertising campaign. While they now use an external ad agency, the company has always relied on internal intuition and expertise.
"We're nimble because we're family operated and we can make decisions quickly," Unanue says. Goya does its own research about the country's changing demographics. In doing so, leaders such as Unanue rely on an army of sales brokers that work in specific neighborhoods and understand their consumers well. "We know who is coming, where they are coming from, and what products will allow us to make a connection with them," Unanue says. "It works because we have the infrastructure, quality, and authenticity."
That infrastructure—built over decades—is part of the secret behind Goya's success. Brokers take orders during the day, packers load trucks at night, and the food ships the next morning. A contracted delivery driver makes about thirty stops per day; the system, known as direct store delivery, gives Goya a huge advantage. "We're not selling a few products to a warehouse," Unanue says. "We're going neighborhood by neighborhood to meet the consumer, and we know the consumer because we are the consumer."
Hispanics from different parts of the world prefer different ingredients. Colombians make bandeja paisa with frijoles and arroz blanco—not with refried beans and tortillas—as well as cargamanto beans, arepas, and other delicacies. Goya makes a connection with its customers by offering authentic products that make the consumers feel at home in a new land. By building facilities near growing Hispanic populations, Goya can get those products to the people who want them.
In addition to its physical infrastructure, Unanue has led Goya in the building of its IT network. As the grocery landscape and consumer habits change, companies with robust digital systems are outpacing competitors. Unanue says more food is now sold at restaurants than in grocery stores. Many shoppers purchase Goya products online. Thus, a multichannel approach is simply required.
But for Unanue, success is about more than the bottom line; he's also interested in giving back. "Hispanics over-index in obesity and diabetes, and with our size and history, Goya can help do something to address those health issues," he says. The company supports more than 250 nonprofit organizations that seek to improve the wellness of Hispanic communities, and Goya routinely donates food to natural-disaster victims.
In recent years, the company has used its influence on an even greater scale. In 2012, First Lady Michelle Obama and the USDA asked Goya to help launch MiPlato, a national health initiative focused on food and health education. In 2017, Goya Foods announced its Can Do campaign. Through Can Do, Goya partnered with Feeding America and local foodbanks to donate a minimum of 600,000 pounds of Goya products to citizens that "lack access to nutritious, affordable, and culturally appropriate meals." Each donation Goya made through the campaign was given in the name of one retail partner, which allowed each supermarket and grocer a chance to participate directly in the initiative.
While Unanue has been a part of Goya for fifty-three years, he says the time has passed quickly. Latinos are now a leading minority in the United States, and immigration is happening at a record pace. Experts predict the country's Hispanic population will total 132.8 million—or, 30.2 percent—by 2050. Because it has spent eight decades building both trust and loyalty with that population while importing authentic food products, Goya Foods stands to reap a bountiful harvest. "In a way," Unanue says, "Goya Foods is just starting out."
Thoughts from Guest Editor Javier Palomarez
"As this profile illustrates, Bob is a true servant-leader. His personal approach and thoughtful, modest style are proof that with an individual such as Bob at the helm, success is virtually guaranteed throughout the company. Under his leadership, Goya's employee-, customer-, and community-focused philosophy have led to healthy growth and a robust bottom line. I cannot say I'm surprised and have no doubt the company's next eighty years will be even greater than the first."