As 2017 draws to a close, Hispanic Executive presents its sixth annual Top Ten Líderes, a list of outstanding Latino leaders who, in the past twelve months, have made a marked impact in a variety of industries, including banking, sports, food and beverage, oil and gas, and telecommunications.
This year, we brought in Javier Palomarez, president and CEO of the US Hispanic Chamber of Commerce, as our guest editor. Palomarez helped curate this year's list and provided expert commentary at the end of each feature.
It's a powerful, exclusive group of ten, who exemplify the finest in our community.
President and CEO
City National Bank of Florida
Global Head of Innovation and Design
Gatorade
Chairman and CEO
Pinnacle Group
CEO
Goya Foods
VP of Digital Workplace and Corporate Solutions
Northwestern Mutual
VP of Operations for Gulf of Mexico
BP
SVP, General Counsel, and Corporate Secretary
CEC Entertainment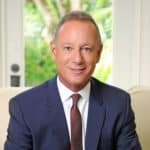 US Partner and Regional Managing Director of the Americas
Deloitte
SVP and Chief Talent & Diversity Officer
Verizon Communications
SVP and Global Real Estate Head
Time Warner