As a cofounder of Revel Digital Collective Inc., Cristina Goyanes is part of a juggernaut team of individual content strategists and editorial specialists. Together, the Revel team has provided leading organizations like Levels Health and Babylist with award-winning content marketing support and insights. Goyanes sat down with Hispanic Executive to tell the story of Revel's first year, her journey to becoming a founder, and the value of taking the time to smell the . . . olives. 
I was incredibly lucky—I landed my dream job right out of college. I had the opportunity to be part of the founding of Women's Health Magazine when it was just an idea, a little fetus, and I got to be part of its "birth" in late 2004. It's where I learned about service journalism as well as about creating good and practical content to inspire people and to take action in some way.
That was the most impactful moment of my life. The second one was when I left. That may sound strange, but after almost five years, I knew that I needed to step into the next phase of my life. I didn't know Eat, Pray, Love even existed, but I had one of those moments where I was so burned out, I just wanted to do something physical.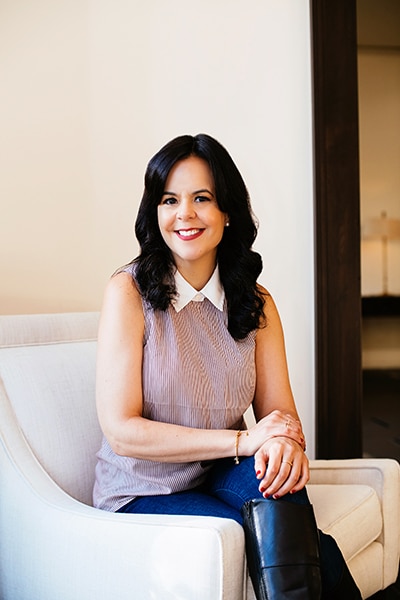 My father had joined the merchant marines in Spain to avoid farm life, and he and my mother (who had spent some time on farms in the Dominican Republic) wanted to make a better life. They were horrified when I told them that I was going to move to Italy for more than two months to pick olives on a Tuscan farm. That's when I learned there is always going to be someone saying, "Don't do it." My parents have been those people in the past, though they are mostly wonderfully supportive, and friends would be those people when we were founding Revel.
I know I have been that person to others at times, but the truth is that a lot of naysayers can only see things from their perspective. It might not be a good idea—for them. You have to remember that you are not them, and they are not you. How you will execute on your plan is unique to you.
But that time I took in Italy helped me stand out—it gave me more perspective and helped me launch a twelve-year career of freelance writing and editing. During that time, I wrote close to five hundred articles, was a ground reporter for the 2016 Rio Olympics, and wound up reporting from all seven continents (including a story on stand-up paddle boarding in Antarctica for Men's Journal). And so, I have to underline the importance of taking a hiatus, a sabbatical, or a career break. Now, more than ever, we need to recharge and take time off. It's a lesson I've applied to my career over and over throughout the years.
Revel is the culmination of all those years, and the collaboration between myself and my two partners, Amanda Jedeikin and Abby Lerner, whom I knew from Rodale Inc. We had been talking about starting a business for years, but we were all so busy with our own individual businesses as editorial consultants and digital media executives that there never seemed to be a good time to sit down and figure it out.
The natural pause that happened with COVID gave us time to regroup and make a plan to go for it. In March, April, and May 2020, we began talking through a potential partnership in more detail. By June 2020, I had quit my lucrative gig as the editorial director of a major brand and decided to focus full time on launching Revel. Amanda and Abby were ready to do the same. Well, sort of. Abby was about to become a mom in early July. So, we had one month to get incorporated—which we did in late June 2020—and set a launch date (for September, by which time Abby would have fully returned and the website would be built).
Because we all had similar backgrounds as editors, we didn't know exactly what each person was uniquely bringing to the table. In the first few months of our launch, it became apparent that we each excel in different areas that are crucial to our brand.
But it wasn't easy. We each had built strong reputations as individuals, but we had to build Revel's from scratch. We must have created nearly a dozen proposals in fall 2020. People were very interested, and we'd get very far in the negotiation process, but ultimately, no one was willing to take a chance on a no-name agency. It took five months from our launch date to land our first client in February 2021.
We actually priced ourselves right from day one. At first, we thought our budget estimates per project might've been too high. But later, we realized that we just needed to break the seal, build our confidence, and have some Revel-specific case studies under our belt, especially when pitching. Now, we're landing yearlong engagements exactly in the price range we first proposed in fall 2020.
Our revenue has tripled since 2021. We continue to attract dream clients, and most importantly, almost all our clients have come back for a second, third, or even tenth engagement. If there's any advice I could have given myself prior to the launch of Revel, I'd quote In the Heights: "Paciencia y fe." I often have to remind myself that if we're passionate and do good work, it will pay off. Patience and faith.