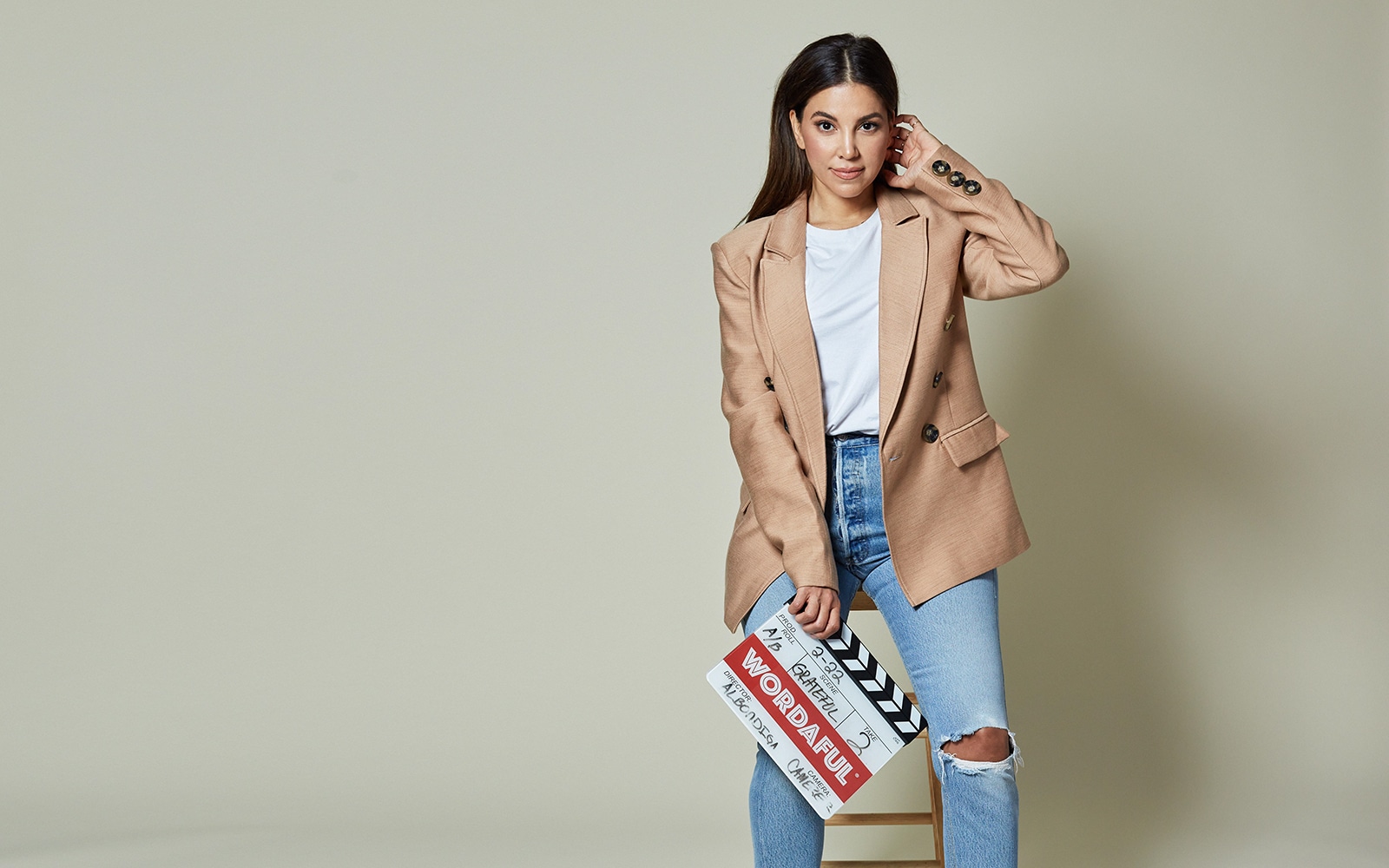 Liz Hernandez was living the dream. The Mexican American journalist and on-air personality known for red carpet interviews and hosting Access Hollywood had it all. At least, that's how things appeared. But, at the height of her success, Hernandez felt empty inside. A family health crisis and other factors led her to reexamine everything and make a drastic change in pursuit of meaning. In 2017, Hernandez left the glitz and glamor in front of the camera to go behind the scenes and create WORDAFUL, a popular video and live event series that explores the power of storytelling and the significance of connection. Hernandez spoke with Hispanic Executive to share an inside look on the dramatic shift and how it altered the course of her life.
There was a point when everything in my career was going the way I had always wanted it to. I had started in radio, I worked for MTV and E! News, and then went to Access Hollywood. Getting into TV was a big deal, but something felt different about it. In radio, I was a correspondent: that gave me the chance to be out in the community sharing big experiences with real people. When I stepped into the TV studio, someone handed me a script and I saw that connection that I loved start to disappear. I wasn't using my own words anymore.
I started thinking more about words, too, because my mom was diagnosed with dementia just two months after I was hired at Access Hollywood. She began to lose her words six months after her diagnosis. It was so hard on me, and it made me realize how important my own words were. My mom couldn't access the words that mattered to her, and I was using my words to talk about celebrity divorces, political scandals, and who wore what to which fancy event. In the back of my mind, I really wanted to know when my mom would give me advice for the last time and tell me she loved me and speak my name out loud. Those were the words I cared about.
I started thinking about something like WORDAFUL—I wanted to create a platform, get back to my real love of storytelling, and create connections—but it was a slow progression. It was a passion project at first because I still had the job that gave me a paycheck. I did a live event as an experiment, and about 350 people showed up. I knew I was onto something.
But the journey really started in August 2016. I just had a simple backdrop, microphone, and not much else. That space became my confessional and my diary and my place of healing. I talked about one word, "connect," and I posted one simple episode on YouTube.
I would record a few episodes at a time and just kind of talk. It took me hours and wasn't nearly as planned as it is today. I think that vulnerability helped. "Mother" was an emotional episode for me, but I think authenticity is vital. People assumed that since I was dressed up on the red carpet I had a perfect life, but Instagram can be deceiving. WORDAFUL was a huge doorway that allowed other people to step up and show who they really are. It started to form a community.
As I was building WORDAFUL into something bigger, I was still on Access Hollywood, and my job was chipping away at my spirit. My mom was beginning to lose life and started on hospice. I remember one day where I was on stage, and my next story was about Harry Styles's new butterfly tattoo. My cohost wanted to debate me about it. I remember looking into the TV monitor, and it seemed like a dark abyss. The teleprompter was rolling across the screen, and meanwhile, my mom is dying and has maybe 5 percent of her words left. I'm in a tight dress and high heels on stage. "What am I doing?" I thought.
That's the moment I knew it was time for something in my life to change. I wanted to spend more time with my mom and more time doing work that's meaningful. I left the show. I was no longer "Liz from Access Hollywood." Suddenly, I was just Liz.
I officially filed my LLC to formalize WORDAFUL and left the show in August 2017, exactly one year after I had launched my first episode.
That whole first year feels magical because it all came together. People think this success happens overnight, but it all came together because of the hard work I had put in over the previous fifteen years. There are times when it is finally your season, and my season came when I had the courage to leave Access. I didn't really know exactly what I was doing, but my management team was supportive, and they believed in my vision.
Right before I left TV, I had the chance to share WORDAFUL with Oprah. I then did my first WORDAFUL event in October. The Oprah Winfrey Network (OWN) wanted to follow up with me, and people started booking me to speak. WORDAFUL was taking off.
In the months and years since, we've really evolved. We have new episodes every week and are booking guests so I'm not always the one at the forefront. We've also created incubator communities and have done two tours across the United States. I'm so grateful that people are responding and that I get to be a catalyst for healing, inspiration, and community.
Unfortunately, my mom passed away during this journey, but I don't regret leaving my job. The biggest regret would have been missing that last year with her. The last two phrases she held onto were "thank you" and "I love you." Those are important words. There is nothing more powerful.