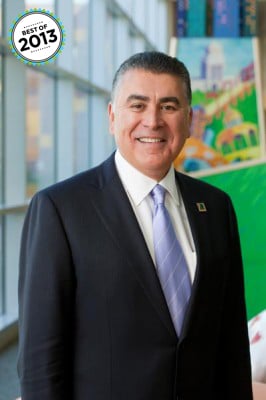 The moment Richard D. Cordova walked into Children's Hospital Los Angeles, he knew he was stepping into the next phase of his career.  "I was considering retirement, then I walked into Children's Hospital and I had no choice," says Cordova, now president and CEO of the historic hospital. "I said, 'I want to be here.'"
Founded in 1901, Children's Hospital Los Angeles is the oldest freestanding children's hospital in California. With decades of diverse health-care experience, Cordova assumed his current role in 2006 and is proud to lead an institution that was recently ranked fifth in the nation in a survey of best children's hospitals by U.S. News & World Report.
Like the esteemed hospital, Cordova has also earned high rankings: He is a fellow in the American College of Health Care Executives and was recently elected to its board of governors. He was also recently named "CEO of the Year" by the Los Angeles Business Journal. Modern Healthcare magazine twice named him one of the "Top 25 Minority Executives in Healthcare" and also named him one of "The Most Powerful People in Healthcare."
The seasoned and committed health-care executive sits down with HE to discuss why pushing for children's interests in the midst of the health-care reform is at the top of his agenda.
What is the biggest challenge impacting the health-care industry from your perspective?
Our state has the most uninsured people anywhere in the nation, so we applaud the Supreme Court's decision to uphold the Affordable Care Act, which provides coverage for the uninsured. In addition, a majority of our inpatients at Children's Hospital Los Angeles are Medicaid patients, or Medi-Cal, as it's called in California. This makes us a safety net hospital for all children and also puts heavy financial stress on our hospital because Medi-Cal reimbursements are less than what private health insurance pays and because of the diminishing reimbursements from our state and federal government.
Looking ahead, both commercial insurers and government will continue to financially squeeze reimbursements to hospitals, so we must look out for our children's interests. Health-care reform caters to adults and children who cannot vote, therefore children's hospitals across the country, and CEOs like myself, have to be vigilant and speak on behalf of the communities we serve as the new health-care reform takes shape.
In what ways do you believe health care is adult focused?
In addition to providing excellent clinical care, we provide education to medical fellows and residents and we conduct pediatric scientific research. But since we are not part of an adult hospital, we don't have access to collect Medicare reimbursements to support all these vital programs. Children's Hospitals Graduate Medical Education was enacted by Congress in 1999 to provide children's hospitals with federal financial support comparable to the support Congress provides teaching hospitals through Medicare. But this fund for children's hospitals is constantly under scrutiny and subject to cutbacks. It used to be $317.5 million; now it's down to $265 million. Why aren't we investing in children and their health care?
How has Children's Hospital Los Angeles become such a highly ranked hospital despite the financial challenges it faces?
It's the dedication of the people here. You can't find a staff that's more devoted to children anywhere in the nation.  We have an excellent faculty—superb physicians who have been practicing here for more than 30 years. They are complemented by our talented junior faculty. We're able to recruit some of the best clinicians in the nation to treat our kids. Our pediatric clinical services, from our Children's Center for Cancer and Blood Diseases to The Heart Institute, are ranked among the best in the nation. Add to that our robust pediatric research programs at The Saban Research Institute and we're able to bring innovation from the lab to the bedside faster than any institution.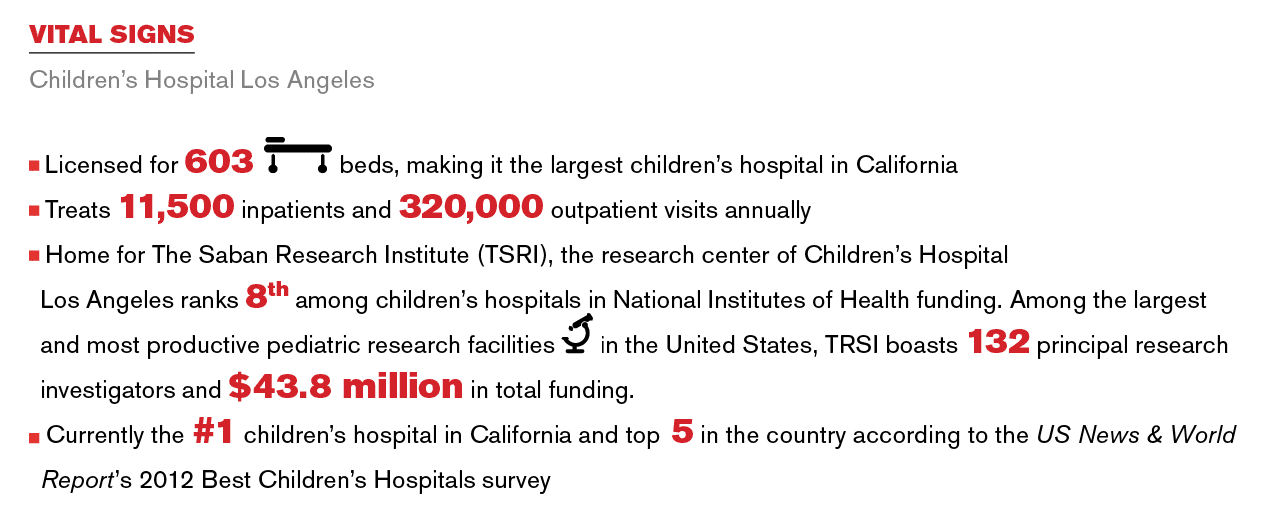 What drew you to Children's Hospital Los Angeles?
There isn't a children's hospital in the nation that serves a more diverse population than Children's Hospital Los Angeles. Our patients come from a range of ethnicities and backgrounds—Hispanic, Chinese, Korean, Armenian, African-American—and our diverse staff is prepared to handle all of our patients. As a Latino executive, I felt I had something special to offer this unique hospital community.
Tell us about some of your efforts to promote diversity within the health-care field and why that's so important to you.
I was chair of the Institute for Diversity in Health Management, which is part of the American Hospital Association and the American College of Healthcare Executives. Its aim is to promote diversity within health care, and to mentor and groom young executives. My interests lie with Latino men and women aspiring to careers in health care, and making sure that we have a pipeline of talent entering the field. I believe it's very important that our executives reflect the communities they serve.
I was one of the founding members and the first chairman of the board of the National Forum for Latino Healthcare Executives. That organization also exists to help develop the careers of Latinos working in the health-care industry. I'm a firm believer that if you have a diverse board and a diverse executive suite, there's a natural inclination to pay attention to issues of cultural competence and disparities.
To download the "Best of 2013″ edition on your iPad, visit our iTunes app here.