https://hispanicexecutive.com/ignacio-martinez-smartsheet/
For the past three decades, Carlos Medina has been living in a "crucible of experience." As a leader at major corporations such as JCPenney, GE Capital, IBM, and Experian, Medina has played a key role in driving strategic growth and has proven himself to be an expert in organizational change.
Today, as senior vice president and head of strategic partnerships and business development at One Technologies, Medina leverages what he's learned to help establish the company as a destination dedicated to its customers, business partners, and teams alike.
A University of South Florida graduate, Medina has continued to prioritize learning and development throughout his professional career, enrolling in change leadership programs as soon as he obtained his master's degree.
"Delivering top-notch products and services to your customers hinges on your ability to grow as an organization and increase satisfaction for both your customers and your employees," Medina explains. "Whether you're working on a project that is supposed to drive tens of millions of dollars or landing large deals, it all comes down to how change relates to three things: yourself, the people around you, and the organization as a whole."
The first step is to embrace yourself as a change catalyst and change leader, Medina says. "You have to be the one who embraces change, the one who has the tools and skills necessary to adapt and be agile. And that takes a great deal of self-awareness," he points out. "You have to be extremely cognizant of your strengths as well as your weaknesses."
The second step toward effective change leadership is to promote your own ability to effect and manage change so that others have confidence that you can "walk the walk," Medina notes. "But the third component, the organization, is what really moves the needle.
"Any change leader has to act in the context of the larger organizational culture," he continues. "And that can be incredibly challenging—your organization may be global in nature or may need to support cultural assimilation of a company that was recently acquired."
According to Medina, it is his focus on these three elements that has enabled him to create an impact at each and every organization he has worked at. And at each of those companies, he notes, he has met "fantastic" people working across an array of disciplines who have mentored and supported him in driving that impact.
"I think that speaks a bit to the Hispanic culture as a whole and how we thrive working together as a team—as a family," Medina reflects. "That's exactly how it is here at One Technologies. We are very process-focused, very centered on our customer and innovation, but at the same time, we are very much like a family in the way that we care for each other and recognize the value that each of us brings to the organization."
"I think that speaks a bit to the Hispanic culture as a whole and how we thrive working together as a team—as a family."
Based in Dallas, One Technologies is known for providing innovative financial credit information, solutions, and products such as credit monitoring and protection services, Medina explains.
As SVP, Medina's aim is to "drive growth through a customer centric focus and a myriad of opportunities to align with our company vision and to develop strategic partnerships that align with what we want to deliver to our customers. It's a lot of orchestration—a lot of herding cats," he says with a laugh.
But no matter how large or chaotic that herd is, Medina stays committed to the three key areas of change leadership: yourself, your teams, and the organization. As a team leader, he always has his "ear to the ground, a finger on the pulse of both the marketplace and the consumer base" in order to ensure that he and his team are able to stay on top of any new developments. He works every day to strengthen his team, to model the adaptability required to launch new products, and to be an example of the self-awareness needed for true collaboration.
But it is the culture at One Technologies, Medina says, that has truly made it a leader in this industry.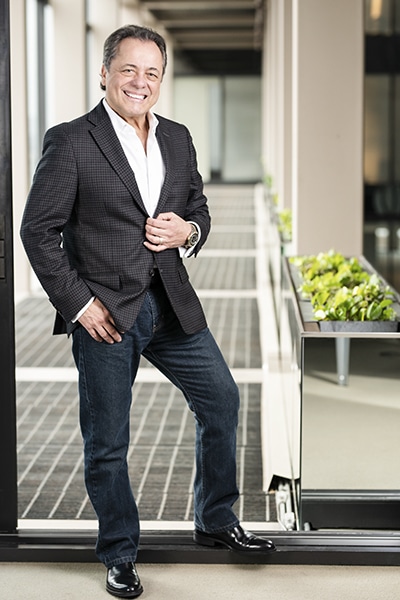 "Culture brings value to an organization, and we firmly believe in our values at One Technologies. It's a key reason we have been named Texas Employer of the Year for six years running," Medina asserts. "We're proud of how we put our culture front and center—that culture is very entrepreneurial, and very focused on the customer, but at the end of the day, everything that we do is about our customer and our people.
"Every single member of my group, as well as the executive leadership team, is focused on driving both the customer agenda and the people development agenda," the SVP continues. "Developing future leaders is primordial; it's key. Everyone in our office, no matter their role, is enrolled in a strengths-based leadership program and in personal development focused on our company values."
When you put all those pieces together—leadership development, change leadership, organizational culture, team coordination—that's when you really see an organization thrive, Medina says. Indeed, that is how One Technologies has built a reputation for cultivating strong, long-lasting relationships while "flawlessly executing" some of the best products and services in the market.
"There are so many other products out there that don't even come close to ours in terms of the informational and educational value we bring to our customers including among others, monitoring, and identity protection services," Medina says. "We want to educate consumers so that they can manage their future financial wellness, to provide them with the tools and knowledge they need to figure out how to buy a house, afford a more reliable vehicle, or put their kids through college.
"And when I look at Latino communities and the people who are trying so hard live the American dream and obtain those things for themselves and for their families," the SVP adds, "I know that we are doing our part to help them. Furthermore, and considering our current global health and required virtual environment, it is also this sense of family that keeps us united with a great sense of pride as we continue forging ahead as a team."
---
Consumers expect digital experiences that are smooth, safe and personalized. TransUnion helps businesses deliver for consumers, making their lives better, building brand loyalty and gaining a competitive edge. Because our mission is to help consumers and organizations transact with confidence and achieve their goals. We call this Information for Good™.
---
Related Links
Brianna Hinojosa-Smith Cultivates Growth from a Patent Perspective