It was during Brianna Hinojosa-Smith's time at BlackBerry that a new job opportunity came to her through LinkedIn. Microsoft—which owns the professional networking platform—reached out to her to gauge her interest in joining the technology behemoth. Today, it's no wonder that she always encourages people to keep their LinkedIn profiles in tip-top shape.
After years of working in the telecom sector, the idea of shifting to a company that develops a broader range of technologies appealed to Hinojosa-Smith. She joined Microsoft as senior patent attorney in 2016, and now also leads its devices team, which consists of attorneys who support the gaming/Xbox and Surface clients. While her focus is on patent prosecution, Hinojosa-Smith's daily work is just one factor in her growth at the company.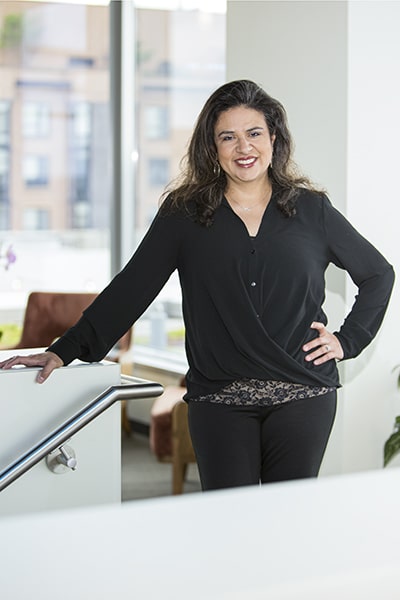 Microsoft puts an enormous emphasis on a growth mind-set, Hinojosa-Smith says. To her, that means employees constantly learn, challenge themselves, and are not afraid to venture outside of their comfort zones.
"When you get to that point of 'comfortable,' where you're doing what you do without making mistakes, without learning, you're only doing yourself a disservice," she says. "Stepping outside our comfort zone is what focuses the mind to learn and grow, even if we make mistakes along the way."
Hinojosa-Smith is well-versed in stepping outside of areas where she feels comfortable. After developing a passion for math and science at a young age, she earned her bachelor's degree in electrical engineering from Trinity University in San Antonio. Shortly thereafter, while working as an engineer, she started to think about law school. A few years later, she earned her JD from St. Mary's University School of Law, followed by her MBA from University of Texas at Arlington.
"As an engineer, you have a problem and you figure out the solution. It's, for the most part, a one-to-one ratio. In the law, however, it's rarely black and white. It's, 'Here are the different ways that you can approach this and here are the risks to take into consideration.'"
She's built twenty years of experience in the field of intellectual property law—which encompasses patents, copyrights, trademarks, trade secrets, and more. Her day-to-day work at Microsoft involves understanding what projects the company and its competitors are working on and deciphering the strategic value of pursuing—or not pursuing—patents for a given technology.
Hinojosa-Smith also embodies Microsoft's commitment to leadership outside of the office. She's been the intellectual property cochair of the Hispanic National Bar Association (HNBA) since 2018. In 2019, she worked on planning and executing the Intellectual Property Law Institute (IPLI), a weeklong annual program Microsoft spearheaded with the HNBA several years ago. The program brings a group of minority law students to Washington, DC, to expose them to all facets of intellectual property via panels, mock interviews with major law firms and corporations, and visits to government facilities like the United States Patent and Trademark Office. One of Hinojosa-Smith's takeaways from that experience is that there's still plenty of work to do in diversifying the IP workforce, which is a Microsoft initiative that she's especially passionate about.
According to Hinojosa-Smith, Microsoft is not only intentional in its hiring of diverse individuals, but also focused on making sure there is diversity within the partnerships they have with others, such as outside counsel.
"Barta Jones & Foley is one of those firms that demonstrates the D&I perspective we value. They have been intentional about hiring diverse talent and having the attorneys that work on Microsoft patent matters represent that diversity. We don't just encourage; we incentivize our firms to close the diversity gap by providing bonuses to firms that meet our diversity goals."
And the team at Microsoft has noticed major benefits as a result of the company's diversity initiatives, Hinojosa-Smith notes: "We have found that there is huge value in bringing together people from different backgrounds, genders, ethnicities, races, or any other characteristic traits that make them who they are. In fact, having such diverse teams representing us on legal matters has not only produced improvements in decision-making, creativity, and innovation, but has also strengthened our results, lowered our settlement costs and reduced our legal fees substantially." She hopes that other companies will tread the same path.
And while diversity is important, Hinojosa-Smith says, inclusiveness is also key. "It's not enough to just have more diversity," she says. "We strive to empower people with the tools for success by ensuring everyone feels included so that people can bring their best self to work and live their best life." Microsoft makes it a priority to invest in and partner with groups in the legal field like the Leadership Council on Legal Diversity and the Hispanic National Bar Association, which offer programs designed to nurture diverse talent.
"When it comes to D&I, it is not about simply moving the needle forward; it is our responsibility to change culture and behaviors, thus providing momentum for constant progress," Hinojosa-Smith says.
Reflecting on her past three-plus years with Microsoft, Hinojosa-Smith can see how much she's evolved as a leader. She credits mentors she's had along the way, and now she helps others navigate their own paths.
"My philosophy has always been, I want people to grow and step outside their comfort zone; and if they move onto new challenges, either inside or outside of Microsoft, then I've helped them defy their status quo," she says. "I've had a couple people on my team move internally to different groups; and while I hate to lose them, it excites me to see them stepping outside of their comfort zone."