https://hispanicexecutive.com/ofelia-melendrez-kumpf-knows-what-success-tastes-like/
Even growing up in a small city in Brazil, the desire to succeed and improve was always present in Anna Oliveira's mind. Obstacles were never an excuse. She dreamed of being a lawyer and having an international career. What she did not expect was that in 2014 she would have the chance to pursue her dream.
At the time, Oliveira was working at Valid SA, a Brazilian manufacturing company, as senior corporate counsel. The decision to leave her job and follow her husband to the US was not easy. Oliveira knew from the beginning that it would be challenging to find a position as an attorney in America: even with more than ten years of legal experience under her belt, including experience with complex corporate transactions, she was moving back to square one.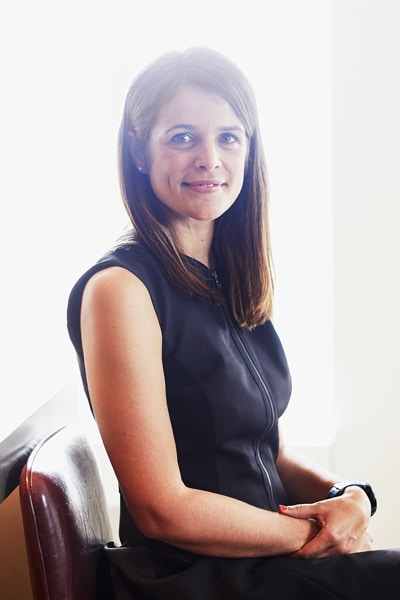 "It's not easy to get your first job in a different country, even if you are an experienced lawyer, because there are a lot of boxes that you don't check and the legal systems are different," Oliveira explains.
Instead of becoming disheartened at the prospect of relocating to the US, she turned the move into an opportunity to advance her career and achieve her dream. Oliveira had a very clear career plan when she arrived in America—pursue a master's degree in law and educate herself to be an international counsel.
While she was applying for her master's degree, Oliveira was offered the opportunity to work in Valid SA's Chicago office and help the general counsel set up the legal department, which gave her a great perspective on legal department operations. Soon afterwards, she was accepted into Northwestern Pritzker School of Law's master of laws (LLM) program.
"Education is one of the pillars of success," Oliveira says. "I wanted to get all the education that is required for an international counsel and be able to provide high-quality legal support."
But Oliveira didn't enroll in just any LLM program. She was particularly drawn to Northwestern's program because it included a combination of law and business, something that was an interest of hers since the early days of her career in Brazil. "As a corporate lawyer, you need to understand the dynamics of the business," Oliveira emphasizes. "An in-house corporate lawyer is responsible for supporting the company to achieve sustainable business results."
As soon as she graduated from Northwestern, Oliveira started her job-hunting process—but she knew that she wanted to work at Kraft Heinz. There were many reasons why Oliveira chose to pursue her dream career at the iconic food company, the most important one being the value Kraft Heinz places on diversity and inclusion.
One of the company's core values is: "We Demand Diversity." The senior leadership at Kraft Heinz works hard to foster a diverse and inclusive workplace. Oliveira says she is an example of how Kraft Heinz believes that diverse backgrounds and perspectives make the company stronger, more interesting, and more innovative.
"I was always told I was overqualified for entry-level positions and did not have enough experience for a more senior position. At Kraft Heinz, I knew I would find my place," Oliveira recalls. "I felt extremely confident after my interviews and fortunately, I was given a chance.
"Since my first day at Kraft Heinz, I have taken all opportunities as a chance to learn and to collaborate with the team," she continues. "My positive attitude, my core skills as an experienced lawyer, my humility, and my perseverance all led me to the position I hold today—my dream job."
Now, as a counsel on the global corporate compliance and transactions team, Oliveira wears multiple hats.
In the US, Oliveira is responsible for leading Kraft Heinz's financing transactions alongside the treasury team. Given the combination of her prior experience with similar transactions abroad and the knowledge she gained at Northwestern, Oliveira has become the primary point of contact for the company's capital markets transactions. She loves to work with the treasury team and learn with them every day.
Under her global hat falls the subsidiary management of two hundred global entities affiliated with the company, and the intercompany complex restructuring projects led by the tax team.
"This role requires a lot of international experience because you need to deal with different legal systems, manage outside counsel in different jurisdictions, and understand cultural issues," Oliveira says. As she puts it, she gained the skills to perform in this role because her colleagues were generous enough with their time to share their knowledge and teach her the intricacies of the function. "The rich mix of perspectives and experiences is amazing. At Kraft Heinz, people work collaboratively and share the same goals."
Indeed, Oliveira says, the diversity of her team is one of its greatest strengths. "It's a very multicultural team," she explains. "I have calls every day with team members in Latin American and European countries." She finds it both challenging and satisfying to find ways to unify this global team.
"Keep persevering, investing in your education, and working as team, and success will come."
Oliveira also attributes the success of her team and company to their shared belief in fairness. "We gain respect by showing our failures, by being humble and bold," she says. "And mistakes will happen. But if you talk about the mistake, you learn from it and you won't do it again."
It has been a long haul for Oliveira, and she knows that this is just the beginning. But diligence always pays off, so she encourages everyone to keep working hard and dream big. She says, "We are the owners of our careers and must look at every opportunity as a chance to sparkle and grow."
Oliveira hopes that all young professionals hoping to work on an international scale are able to find the kind of positive, supportive environment she has found at Kraft Heinz. Of course, this by itself isn't enough—young professionals must be resilient and humble, Oliveira says, yet willing to advocate for themselves. "Keep persevering, investing in your education, and working as a team," she says, "and success will come."
---
Related Links