A born hustler, Lynda Lopez learned early on how to dream big as she was growing up in the Bronx, New York. There was no other choice.
"Our parents raised us to believe we could be anything we wanted to," explains the Emmy Award-winning journalist. "At the time, they weren't imagining journalists and rock stars, but they raised us to believe that whatever we chose, we could do it—even if it was president of the United States. That was the amazing gift that they gave us."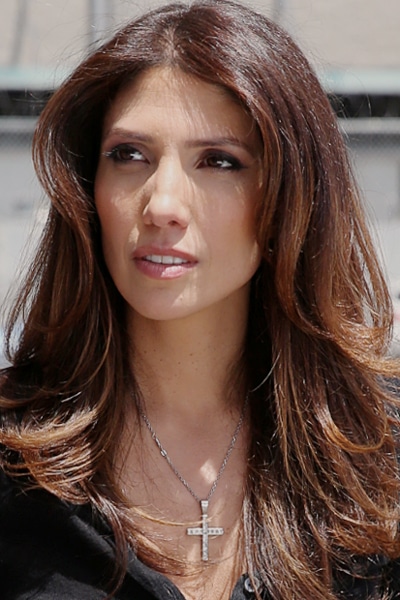 The "us" here includes Lopez's two older sisters, Leslie and international icon Jennifer Lopez. All three sisters were inspired by their parents to make a name for themselves in their chosen fields. "Even though they taught us what the challenges were for people of color, we were always taught to dream," Lopez recalls.
Growing up in the 80s as a latchkey kid, Lopez consumed a great deal of radio and television, and quickly realized that she had a passion for it. "I just knew—especially when listening to the radio—that there was something fascinating about it," she says. "I remember telling myself, 'I want to do that one day.'"
Another artistic influence on Lopez was her mother Lupe, who had an infectious love for musical theater. Lopez refers to both her mother and her late aunt as "Broadway Babies" who exposed her and her sisters to theater and music at a young age. And Lopez certainly gained a deep appreciation for the arts, but she always knew that her calling was not on the stage. As an undergraduate at Long Island University, she chose to study broadcasting, communications, and journalism.
In college, when Lopez went into the school's radio station and applied to be a news reader, she was turned down. They didn't have any openings in that department. Instead, the station offered Lopez a chance to host her own radio show. In that role, Lopez gained the skills and knowledge that led her to post-college gigs at stations like WBAB, WLIR, WXXP-FM, and WKTU. Beginning in the late 90s, Lopez began working at TV network VH1 VJ, where she interviewed some of the biggest names in the music industry—including her sister, Jennifer.
All the while, Lopez's love for journalism and reporting continued to grow. So when she was offered her a gig on a morning news show in NYC as an entertainment anchor, she jumped at it, knowing it would lead to more opportunities in the news and reporting world.
Jumps like that—from radio to television, from hard news to entertainment—are rarely easy. But Lopez has a knack for weaving in and out of these roles, and doing it well. Her secret? Relying on her instincts and, like all good journalists, choosing vision over volume. "I know what stories I want to elevate and what matters most," she explains.
Often, the stories that Lopez wants to elevate focus on other women, particularly other women of color. A couple years ago, when she was working for ABC's Nightline, a story came across her desk featuring someone she had interviewed in the past—Vida Showrunner Tanya Saracho. "Tanya is such an amazing human—a talented writer with a light inside her. These are the kind of women that inspire me," Lopez enthuses. "Women like this are few and far between."
In fact, Saracho was the one to encourage Lopez to pursue her passion of writing. "Just do it," Saracho told her friend. Now, Lopez is the editor and curator of a best-selling book of essays called AOC: The Fearless Rise and Powerful Resonance of Alexandria Ocasio-Cortez. Released in August 2020, the book features stories of what Alexandria Ocasio-Cortez (AOC) means to both the Hispanic community and the nation as a whole.
Fifteen contributors, including Tracey Ross and Natalia Sylvester, illustrate how AOC has resonated with them. Lopez herself wrote the introduction for the book, detailing the Congresswoman's meaning and the significance of her career. There are so many "people who are proud of AOC for so many reasons, and I wanted to explore that," Lopez says.
According to Lopez, one of the most remarkable things AOC has done is stand in her own power, taking up space and forcing other people outside of her community to pay attention to what is happening. And this is not, Lopez emphasizes, a trait distinctive to a handful of people.
"I think all the Latinas I have ever known have what it takes to be a leader. We are resourceful, strong, pay attention, and are loving. All of those things that make a good leader are inherent in all of the Latinas I have known," she remarks.
Many of the women Lopez speaks of are members of her own family. Being surrounded by strong women is something Lopez appreciates, especially as she is a mother herself to a twelve-year-old daughter named Lucie. "When Lucie was on her way, and I found out she was going to be girl, I was very happy," Lopez recalls. "I knew bringing another girl into this family was a gift for us and also for her.
"I want Lucie to be a Latina leader by living her life to dream as big as she can and boldly go in that direction," she continues. "Just by doing that and being herself, with her own gifts, she makes things better in the world."