Alvaro Luque isn't the only reason that avocados have become a mainstay of your grocery shopping list, but the timing is peculiar. The president and CEO of Avocados From Mexico (AFM) launched the company's Mexican-United States partnered program in 2014—or, more specifically, at the exact moment when the population of the United States collectively realized there was an avocado-sized hole in their lives. "We have the third biggest country in the world in the United States, which is 100 percent in love with avocados," Luque says. "And we have the number one avocado exporter in the world in Mexico, which is really the only place that can supply that demand. It's a perfect match."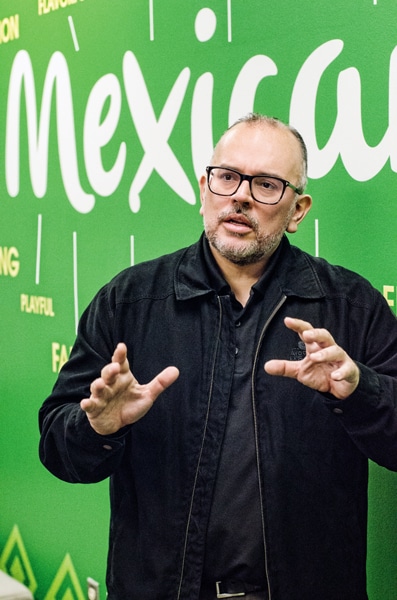 But that doesn't answer the most pressing question. A company doesn't automatically create a demand for its product just by being launched. So how, of all things, does a produce marketing company of thirty-four people set the table for the biggest "new fruit" craze since the wars waged over pineapples? "Our goal from the very beginning has been to break the produce mold," Luque says. "And I think we've done a pretty good job so far."
No Packaging, No Problem
Selling produce wasn't Luque's first idea for the next big move in his career. The marketing director for numerous Latin American and US arms of GRUMA and Mission Foods had built out an impressive international career, always finding himself the youngest executive in the room. "I started working in the corporate world while I was still in college," Luque says. "I was twenty years old and was in charge of twenty people." Luque moved early and often within GRUMA, seeking out new leadership experiences all over Latin America, building out his leadership skills, and honing his marketing abilities to a razor-sharp edge.
When it came time to move outside the organization, Luque was a bit surprised about the job being offered. "I couldn't believe there was any sort of marketing in produce," the president recalls. "But when I learned about this experimental checkoff program based on a partnership between two international associations, I found it fascinating."
Luque came on board AFM in January 2014, and by May he was proposing to the executive board that the company should go big or go home. "I thought we should be in the Super Bowl," Luque says. "You weren't seeing produce brands advertise there, and it was the most-watched television event of the year in the United States. We thought we could actually stand out despite being such a small company compared to the Anheuser-Busches or the Coca-Colas, who were also running ads."
That "crazy" idea has paid off six-fold. The brand that didn't exist ten years ago has been in the top two of the Merkle Digital Bowl Report every year they have advertised, including the number one spot in 2018. "It feels like we're the one who keeps winning the Super Bowl," Luque jokes.
Breaking the Mold
Luque's big ideas have continued to help avocados find their way into homes across the US, from Seattle to Fort Lauderdale. AFM took on the heavies yet again at the Macy's Day Parade in 2015 and had a higher digital spike than the namesake of the parade. Adweek has called AFM one of the most dramatic and impressive rises in marketing history. By making smart decisions, wise gambles, and thinking outside the produce crate, the company of thirty-four has earned itself a seat at the table next to industry giants like Procter & Gamble and Amazon.
By the Numbers:
Annual avocado consumption in the US: 2.5 billion pounds
Labor income in the US: $2 billion
Direct jobs created in Mexico: 78,000
Jobs created in the US: 28,250
Growers who own five acres or less of land: 75 percent
AFM has also been recognized by Fast Company as one of the Top Workplaces for Innovators, proving just how much of an impact each employee at AFM has been able to make in recent years. But as Luque explains, AFM's focus is about far more than just being seen as a forward-thinking and agile company—in the course of fueling American's love for the healthy avocado fruit, the company has built a unique and mutually beneficial bond between the United States and Michoacán, Mexico.
According to Luque, the export of avocados from Mexico to the United States has generated economic output in the US as well as jobs in Mexico. "We have almost thirty thousand growers in Michoacán alone," Luque says. "Most growers own less than five acres. These are many small farmers, and we're able to help feed and fund thousands of families with this partnership."
The economic opportunities created by AFM have led to a drastic cut in undocumented emigration from the state of Michoacán and have provided thousands of families with the opportunity to make a life for themselves in their country of origin. In the United States, which sources nearly 90 percent of its avocado supply from the orchards of Michoacán, both national and state economies have grown significantly. In 2017 alone, US imports of Mexican avocados added $5.5 billion to the national economic output and created more than twenty-eight thousand jobs.
If this is what AFM has done with thirty-four people and one driven president, there's no limit to the growth and green the company can bring to many, many more in Mexico, the US, and abroad.