https://hispanicexecutive.com/camila-casale-claro-enterprise-solutions/
Whether we're supporting the local corner shop, buying online, or sending money home, payments are a key enabler of our everyday lives—and they have undergone an exponential transformation over the past several years. From cashierless checkout to smart payment robo-advisors and instant financing at the point of sale, making and receiving payments has become an intuitive, personalized, and in many cases practically invisible experience. Going forward, we will see payments evolve further and be even more critical to the next generation of identity management, loyalty, and commerce platforms.
In this rapidly changing industry, driving disruption and innovation has been the career focus for Andres Ricaurte, former vice president and head of B2B digital platforms at American Express and now senior vice president and global head of payments for the Blackstone-backed, global IT services company Mphasis. Ricaurte, a seasoned payments executive, is known for his ability to identify big themes and trends and place bets that end up delivering game-changing platforms and products.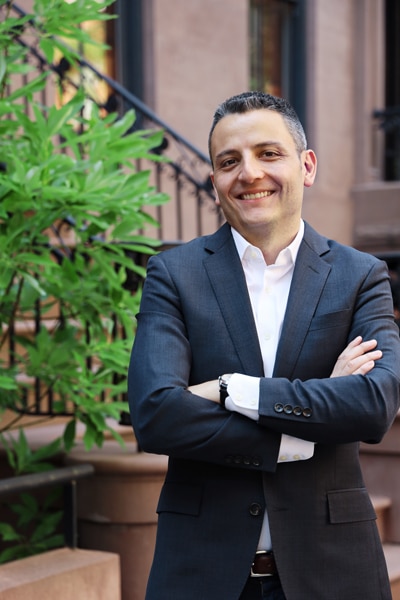 Ricaurte credits much of his out-of-the-box thinking to his diverse background. He was born in Colombia, moved to Mexico City when he was young, and benefited from an international education, including studies in the UK. "I was lucky to be part of a very multicultural environment," Ricaurte emphasizes, recognizing the mixture of people and places that now inform his appreciation for innovative and divergent thinking.
While studying for his engineering degree, he joined American Express (Amex) as an intern. As he jokes, he started "at the bottom of the bottom of the totem pole," but he quickly worked his way up the ranks, alternating between product and technology roles and rotating to different parts of the business. At American Express, Ricaurte began to develop an acute interest in the commercial payments ecosystem, leading him to take a job in the B2B payments department at the company's Mexico City office. They didn't have much of a budget, but what they lacked in resources, they made up for in creativity. "It was a very scrappy approach to innovation," Ricaurte notes.
Recognizing his success in Mexico City, Amex transferred him to New York in 2011 to lead their B2B go-to-market efforts. Not long into the job, Ricaurte discovered the value that digital and cloud services created for B2B payments—clients were looking for their payment services to be more deeply embedded in the systems they used to run their businesses, something Amex was not yet wired to do.
"The whole idea of Payments as a Service (PaaS) was completely foreign [at the time]," Ricaurte recalls. But, sensing there was a future in it, he convinced leaders to let him build a B2B fintech innovation team, eventually culminating in fast-growing B2B digital platforms and a partnerships business for Amex. Among other factors, Ricaurte recognizes that this success was in large part attributable to the diverse team that he built, pulling talent from inside and outside the organization to promote fresh thinking and a culture that challenged the status quo.
It was during this process that Ricaurte encountered Mphasis. Immediately, he was struck by the company's deep focus on cloud, AI, and emerging technologies. "I was very impressed by the caliber of talent and the boldness of their agenda," Ricaurte says, adding that he was attracted to their ability to give him industry-wide exposure to the companies and providers currently leading innovation in the payments industry. In 2019, he made the bold move to leave American Express, the company where he began and grew his career, to join Mphasis as their SVP and global head of payments.
At Mphasis, Ricaurte brings his years of experience in payments—and his ground-floor understanding of the bridge between technology and business—to bear. Much of his time is spent communicating with clients, not just about the problems they'd like to solve today but about ways to open up new options for tomorrow. "You don't need millions and millions of dollars of investment," Ricaurte asserts. "You can build the case, innovate, then leverage the results to build continuous waves of investment in your road map."
One of the ways Ricaurte is helping build that investment wave is through ALTA, an open innovation program that he recently spearheaded to bring together banks, enterprises, start-ups, governments, academia, and other organizations to discuss ways to re-imagine the payments ecosystem for global B2B trade.
"I was very impressed by the caliber of talent and the boldness of [the Mphasis] agenda."
Ricaurte likens ALTA to a lab or think tank with different chapters dedicated to solving different payments problems—some focus on helping exporters secure competitive financing, others look at providing access to faster payments to small businesses across different supply chains. "We assemble proofs of concept to test these hypotheses in real life with real clients, use this data to build investment cases, and co-invest with our clients to scale these innovations," he explains. This ability to rapidly test, learn, pivot, and scale is key given both the speed at which the world is changing and the intense competition characteristic of the B2B payments landscape.
"Launching truly differentiated solutions and maintaining relevance in payments is not easy—and that's an understatement," Ricaurte says. To achieve this, continuous disruption is necessary, especially in world where a single day's change can require every business to reinvent itself. For Ricaurte, that's exactly where his experience comes in handy: leveraging his ability to identify emerging global trends, assemble diverse teams of innovators, and capitalize on the latest technologies to help Mphasis' clients bolster their transformation agendas.
---
Related Links