Jose Guereque comes from a small family in Chihuahua, Mexico. As a young boy, he learned the importance of hard work by watching both his parents give their all in their jobs. "I developed a mindset for very hard work," he says. "Since then, I've had a clear goal to become an executive in a technology company."
And Guereque has fulfilled that goal. Today, he serves as chief information officer for Mexico, Central America, and the Caribbean at Teleperformance, a worldwide leader in outsourced, omnichannel customer experience management.
In his role, Guereque has designed and developed the organization's IT architecture. On top of this, he is charged with leading a team that provides data security and privacy for clients and developed processes as well as practices and tools that enable the organization to operate more efficiently.
"I help secure operations 24/7 for more than thirty thousand employees, across five countries, for a mix of international and domestic companies that belong to the Fortune 500 list," he explains. "Data security and privacy are essential parts of our culture. To protect the security of our clients, we constantly adapt to technology and monitor risks and threats."
Technology's constant evolution is not new to Guereque, who began programming while he was in junior high. "My first computer was a Texas Sinclair ZX81 with 1 KB of memory," he recalls. "It didn't have a way to save data, so every day that I turned off the computer, I needed to start over again the next day typing everything, which helped me build resilience."
After two years, Guereque upgraded to a Commodore 64, finally allowing him to save his work. He continued building out his knowledge of computers and programming in the ensuing years, attending an evening technical program while still in high school and ultimately earning a scholarship to the best private university in Mexico. Upon graduation, Guereque quickly found an opportunity to work in IT consulting.
"Then I was invited to start a new telco, where I had lots of challenges and learnings, from building datacenters and contact centers up to telecom and IT architecture and operations," he says. After some time, Guereque had the opportunity to join the consumer goods world for one of the world's best-known brands—Coca-Cola—through Arca Continental, the second-largest Coca-Cola bottler in Latin America and one of the largest in the world.
At that time, Arca Continental was a regional Mexican company with an aggressive international expansion plan. He was soon leading CRM (customer relationship management) and ERP (enterprise resource planning) projects and, by the time he left the company, he had executed sixteen mergers and acquisitions in different food and beverage lines of business, helping to grow the business eight-fold to $8 billion.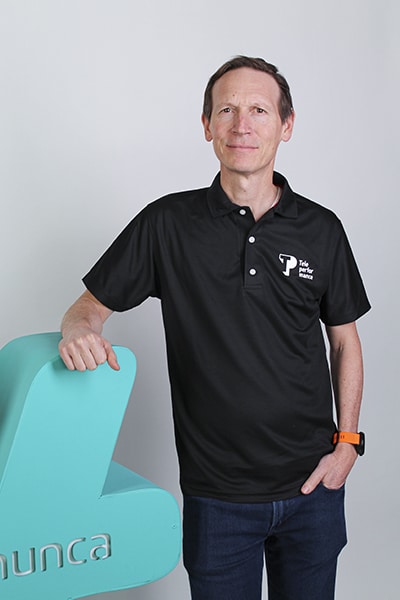 It was that impressive experience that intrigued the leadership at Teleperformance, who invited Guereque to join as the company's CIO in 2019.
"My boss—Juan Ignacio Sada, CEO for the Nearshore region—was looking for someone to walk by his side to really transform the business from a traditional contact center to a digital integrated business services company, and also become a one-office provider, offering not only customer experience services but back office and knowledge services as well," Guereque recalls. "I saw this as an opportunity to challenge myself and demonstrate that I'm able to reorganize and transform an organization that was by design a 'backstage' area. [It was an] opportunity to make the organization more customer-facing, which opens a whole umbrella of new projects."
Of course, Guereque hasn't been executing on this transformation by himself. As CIO, he leads a multinational team of more than three hundred individuals, people that he credits with being strong business enablers as well as client-centric experts.
The Great Outdoors
An avid outdoorsman, Jose Guereque regularly hikes and bikes in the mountains near his home and goes wakeboarding and wakesurfing with his family every week in the summer.
"There are some days that I have the opportunity of being on the boat with my wife and/or my son's at sunrise, seeing spectacular views, and then I come back and get ready to work," he says. "It's a great way to start the day."
"Teleperformance has the most tenured leadership team in the industry, and IT is no exception; most of the members of my team have been working for years in the company, and they are very skilled in the tools and knowledge of the business," he enthuses. "We are truly committed to transforming passion into excellence, which for our IT team means making a reality of transforming the satisfaction of our users and employees into extraordinary interactions for our clients."
Since the onset of COVID-19, Guereque has helped transition clients to a remote model, part of Teleperformance's broader push to transition the organization to a work-at-home (WAH) setup. Already, 85 percent of the company's workforce in Mexico has transitioned to WAH, and more than 1,500 new positions have been created.
Guereque is thrilled to be working at such an adaptable company, surrounded by so many other skilled IT professionals who help him create solutions in a global framework.
"Being able to celebrate with our sales team for a new account where we demonstrate the IT value makes me proud. Enabling new clients and campaigns in less than two weeks has made both me and our team feel great—and continued to motivate us for more. Alone, this is impossible to achieve," he emphasizes. "I believe in teamwork, and I will continue to inspire and lead a team to search for excellence and give 100 percent every day."
---
Businesses are built on the experiences they provide, and everyday millions of those experiences are built by Avaya. Avaya builds open, converged and innovative solutions to enhance and simplify communications and collaboration. We're committed to innovation and a relentless focus on the future. Avaya help deliver Experiences that Matter.