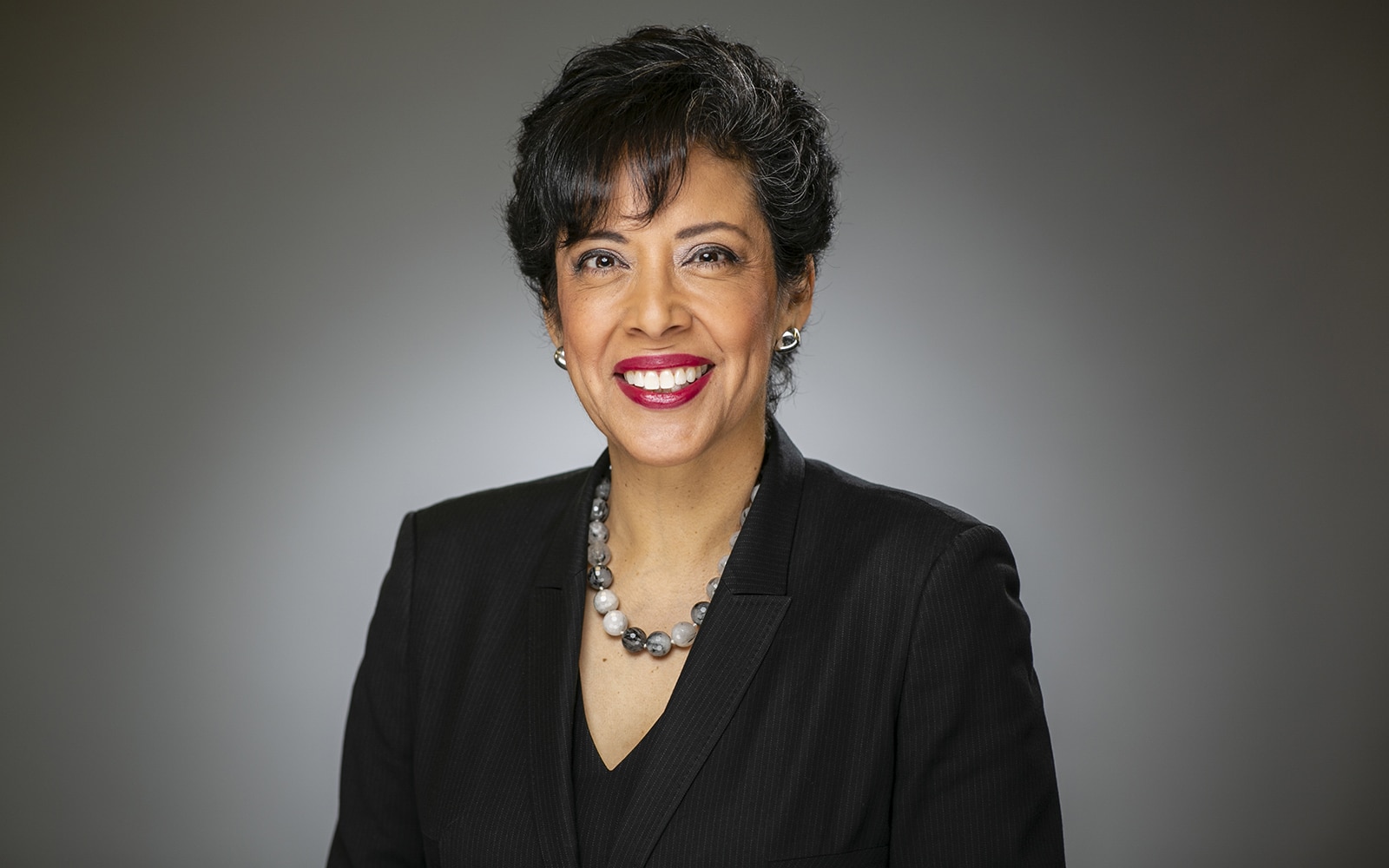 Anna Maria Chávez is tired of firsts, she admits. She was the first person from her high school to attend Yale. She was the first woman of color selected to lead the Girl Scouts of the USA, for which she served as CEO from 2011 to 2016. And in her current role as the executive director and CEO of the National School Boards Association (NSBA), Chávez has the honor of serving with Dr. Viola M. Garcia, the first Latina president in the organization's eighty-year history. Chávez herself was the first person of color to lead the organization.
But Chávez believes it's time for fewer firsts, time for society to start reflecting the realities of the US population.
"When you look at the population of the United States, it is growing more racially diverse, and these shifts are reflected in the make-up of our public schools. Although non-Hispanic, white students comprise 46 percent of enrolled students, Hispanic students make up the second-largest group of students at 27.6 percent, and it has grown over the last decade," she says. "In this conversation, education is one of the most crucial tools for all students, and especially for children living in poverty."
Count Me In
Chávez came to NSBA after what was, by all accounts, a job worth hanging onto at the National Council on Aging (NCOA). She'd been there three years after being asked to come aboard as a transformation leader, a strength that has earned her spots on FastCompany's list of most creative people in business and Fortune's list of World's Greatest Leaders. At the NCOA, she successfully built a team around her and developed a new way forward for the seventy-one year-old organization. "I absolutely loved it there, and it was an incredible team," Chávez admits. "But at the beginning of the pandemic, I was stunned by what was going on across the country with public schools."
Early on, the COVID-19 pandemic was widely focused on older adults, the population most vulnerable to the virus. "I was trying to become an expert on what this virus meant to older adults who were being served by senior centers, community centers, and healthcare centers across the country," Chávez remembers. But amidst all the chaos, the leader received a call from NSBA.
"It just hit me all at once," Chávez says. "Fifty-one million kids. Overnight, an entire infrastructure had been shut down. People forget about the role that schools play, like how they provide meals and are hubs of services for families in their local communities. Many schools send home packaged meals with kids and suddenly, these places were shut down." NSBA asked Chávez if she could come to the organization to partner with their national board of directors and NSBA staff, help elevate the voices of local school board members to the national level, and illustrate the ways in which the pandemic was affecting children across the US.
It was time for a transformation expert to take on an entirely new level of complexity. "I told them to count me in," Chávez says simply.
The CEO has loved every minute of the last year, she says, and while that may seem hard to believe, Chávez is convincing.
Along with helping shepherd NSBA through one of the most chaotic periods of modern world history, Chávez also believed there needed to be a refresh on overall strategy that looked further ahead than just the pandemic. In partnership with the national board, Chávez has laid the groundwork for a new organizational strategy in the world as it exists after COVID, triaging lessons learned in the moment to apply in a different context down the road. Essentially, Chávez and her mission-driven team are building a more road-worthy car while changing the tire while driving down a highway.
Change Agent
The mandate for change, Chávez says, helped describe the challenge of her role. "I was brought in based on my twenty-year track record of coming into legacy organizations, evaluating their current business practices, evaluating products and services, evaluating revenue models, governance systems, volunteer training systems, and then figuring out the products and services our customers expect going forward," the CEO explains. "We are very proud of our eighty-one years, and we're going to build on that history, bringing in new concepts and ideas and new revenue generation to ensure we're here for our school boards associations and their ninety thousand school board members."
Chávez's own mandate, however, may seem strange. "I made it extremely clear that this was going to be a team effort and that this was going to be a kind organization," she says. "In my experience, you can drive substantive and transformational change and do it in a humanistic and empathetic way. One of the accomplishments I'm most proud of thus far is that while we've created new strategies, we've also invested in the culture of this organization. I want to invest in the team because they ultimately make it all possible."
During the pandemic, NSBA took part in a national public education coalition that was able to bring $200 billion in federal aid to public education. Hearing the new president announce public education as the number one priority was a refreshing moment, but Chávez says there are far more systemic issues that need to be addressed.
The Economic Driver
Chávez has the numbers on lock. "I'm going to break it down for you with the data before we move ahead any further," she says. Those numbers should be neither a surprise nor an epiphany: with more education comes lower unemployment and nearly twice as high wages. "That means the more students we put into the pipeline, the more we focus on ensuring that they get a great, not good, education; the better jobs they will be able to get; and the more dollars they will have to invest in themselves and our economy."
This reality is not foreign to Chávez. She's the daughter of a migrant farm worker whose education didn't extend beyond the fourth grade: he had to teach himself to read English. But two of his three children attended Ivy League schools, and all are graduates of the public school system in Arizona.
Earlier in her career, Chávez helped oversee juvenile correction centers as well as child protective services and foster care for the state of Arizona. And there is one thing she is certain of: "Those systems are much more expensive than paying for a child's education."
With that in mind, NSBA recently launched the DIRE initiative: Dismantling Institutional Racism in Education. Like redlining, housing regulations, voter suppression, and a litany of other tactics, the educational system can sometimes unknowingly (or, in the worst cases, knowingly) create an infrastructure that does little to support the experiences and backgrounds of students of color. "Education, for us, is probably the biggest way to ensure families can get out of poverty and be successful," the CEO explains. "We want to ensure that everyone starts at the same starting line."
Editor's note: Chávez is now chief impact officer at Encantos and president of Encantos.org.
---
Educational Elites
In April 2021, Dr. Viola M. Garcia was elected president of the National School Boards Association, a role to which she brings decades of experience in public education. Anna Maria Chávez spoke with Garcia about her perspective on the US education system, the COVID-19 pandemic, and her experience as a Latina leader.
What do you see as the greatest challenge facing education today?
The increasing percentage of US children who live at or below the poverty level. Poverty and the effects of poverty on the academic, social, emotional, and physical well-being of students profoundly affect students' ability to succeed. Households of color and families with economic and other challenges are disproportionately affected. Students who do not get enough food or sleep are less likely to perform at their full potential. Education is the most important part of any functioning democracy. We must develop and sustain support systems so all young people are well prepared to succeed.
What leadership lessons have you taken from the pandemic that you plan to apply going forward?
The pandemic forced us to be more digital users than we ever imagined. We did not have a trial period to plan for the advantages and disadvantages presented. As we come out of the pandemic, will we continue to operate as we had? Or will we be stimulated by new opportunities—or even by fear of a future pandemic and the need to prepare for it while the experience is fresh? Our experience with the pandemic can guide us to more thorough, deliberate preparation, not only for another event but for the betterment of all students and all who serve them.
As a Latina leader, what would you say to the generation coming behind you?
First, I appreciate the professional educators of America for serving in one of the most noble of human endeavors. To the younger generations, I say be proud of your diverse identities. Encourage your schools to embrace, nurture, and celebrate those identities. Continue to reach across boundaries of race, ethnicity, gender, and disabling conditions and make efforts to respect each other and embrace those who are different from you. I am confident our young, future leaders will serve those who are poor and vulnerable. Our future is in good hands.