For Oliver Perez, there's no magic solution to improving the way products are manufactured. Instead, you have to be what he calls a "technology evangelist."
That means it's not only vital to stay up to speed with technological advancements but also to believe in the impact they can have, he says. As the director of engineering at Edwards LifeSciences, a global leader in patient-focused medical innovations for structural heart disease as well as critical care and surgical monitoring, Perez develops and implements strategies to introduce process technology and automation across different manufacturing networks.
"If you don't believe in what technology can do to create efficiencies, you are not in the right position," he says.
That mentality has been a staple of Perez's decades-long career. His lifelong curiosity has been as asset as he's sought to create things no one else has by finding ways to pair the right technology to the right problems. The impact of that work goes far beyond making manufacturing processes more efficient: it's also evident in the lives of the people who utilize the products he's helped create.
"When a patient uses our artificial valve, that person not only lives longer, but they live with a quality of life similar to that of any other person," he says, referring to one of the products his company produces. "Whenever I see a grandparent enjoying their grandkids and using [our product], I feel proud."
Perez first got the opportunity to impact lives in this way when he came home to Chihuahua, Mexico after receiving his doctorate in automation in France. He had a choice: to pursue an academic career path as a researcher or to go into the private sector.
Ultimately, he decided that a job offer at Venusa Medical Devices, which would give him a chance to travel and learn about new technologies, was too attractive to pass up. As a senior product engineer, he helped transfer a product used for long-term relief of benign prostatic hyperplasia symptoms, which are common in older men with prostate issues. The product allowed the prostate tissue to shrink, alleviating those symptoms. He developed the product's processes and served as a technical leader in its execution.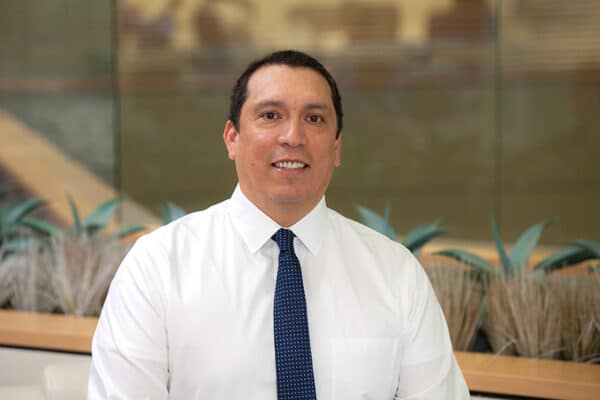 "It's like your baby," Perez says of the role he played in the product's transfer and development. "You know everything about it: you know how to make it; you know how it works; you're able to change the way it delivers what it needs to deliver. It's a passion when it comes to that level of closeness."
That passion also reassured him that he chose the right industry. "It literally is saving lives day after day, and gave me a reason to wake up in the morning with renewed energy and really love what I do," he says.
After leaving Venusa, he went on to serve in various leadership roles, and found himself tasked with finding ways to reduce product development times and costs by leveraging new technologies. One of these roles was as manufacturing technology director at Beckton Dickson, where his team introduced exoskeleton technology to relieve workers of lifting heavy weights. He also worked to deploy automation solutions, manufacturing execution systems (MES), and artificial intelligence (AI) to help with inspecting products for quality.
Perez continues that work at Edwards LifeSciences, where he has introduced AI for quality inspections. He also creates technology road maps for the company, matching its short- and long-term goals with emerging technologies that can be applied at different levels of the product life cycle. To keep up with current developments, he reads constantly and turns to authors like Kai Fu Lee, Peter Diamandis, Martin Ford, Jeremy Rifkin, and Bryon Reese to see what new technologies are on the horizon.
"Learning about new technologies is a constant evolution and a constant challenge," Perez says. "What was true yesterday may not be true tomorrow."
When he's not working on implementing cutting-edge technology at his company, he does pro bono work with an organization based in Mexico called Chihuahua Futura. He does presentations on various technologies, teaching members how and where to use them, as well as helping leaders create strategies for smart factories and work environments with higher productivity. He's also written two books about smart manufacturing aimed at filling the void of Spanish-language books about those concepts.
"It came out of my responsibility as Hispanic and Mexican to take these concepts and principles to a different audience that needed it," he says.
One of the crucial lessons Perez has learned about leading technical professionals is the importance of "amplifying human talent."
"Engineering, in general, is populated by very smart people," he says. "Understanding engineering disciplines and principles is a good starting point for a creative and productive dialog, but if you want to create a compelling vision that amplifies and attracts talent, you need to go far beyond and introduce new and innovative ideas that they want to learn and apply."
He's found success in leadership because he understands what motivates technical professionals. It's the same thing that motivates him: a challenge. "Put in front of us something that doesn't exist," Perez says. "We jump right into it."
---
For more than forty years, JR Automation has been a leading provider of custom automated equipment for global customers in a variety of end-markets, including healthcare, consumer goods, automotive, and more. Our talented teams leverage the latest technologies, innovative thinking, and decades of experience to provide our customers with world-class automation equipment and seamless solutions.
---
By applying diverse perspectives to complex challenges, MiQ Partners reduces cycle and lead times and delivers projects on time as well as on budget through intelligent automation systems. Our expertise covers advanced robotics and automation, assembly, inspection, testing, and more for medical device, diagnostics, CPG, and aerospace companies. For more information, visit miqpartners.com