"I have always really liked to do different, bold, unique things since I was of a very young age," Mariana Prado Cogan says. She's not exaggerating: she was born in Mexico City and at age eight, asked her mother if she could attend a Japanese school there. The answer was yes, and she studied there until she was eighteen, when she moved to Japan to study economics.
Today Prado Cogan is senior vice president of marketing at PTC, a software company focused on digital transformation. Her background in technology helped lead her to where she is now—but her unique academic background, roots in Mexico City, and lessons learned during her time in Japan have also played a role in her success.
Prado Cogan would end up spending many years in Japan; she says her years in Japanese school taught her to be comfortable with Japanese culture. When she moved to Japan, that skill "allowed me to easily adapt to do some things very Japanese and some things very Mexican," she says.
To this day, several Japanese principles influence the way that Prado Cogan conducts business. One is Nemawashi, or root massaging. "If you're going to transplant a tree, you first massage the roots so then it is a smooth transition for the tree and it grows in an even richer way," she explains. "It sounds small, but it allows a big transformation. You take care of the alignment."
She points out that both Japanese and Mexican cultures value the alignment gained through building relationships, which is emphasized in this principle. "I also learned about continued improvement, or Kaizen," Prado Cogan says. "Kaizen is always being on the lookout for ways of improving. It requires you to be much humbler, never conformist, and open to rapidly adapting to change."
One of the most important principles she mastered in Japan was to prioritize relationship-building—something she also learned while growing up in Mexico. "Latinos have a genuine interest in both delivering results and emotionally connecting," she explains. "With empathy you can connect your vision to the business and personal needs of stakeholders to gain alignment. That's when the magic starts happening."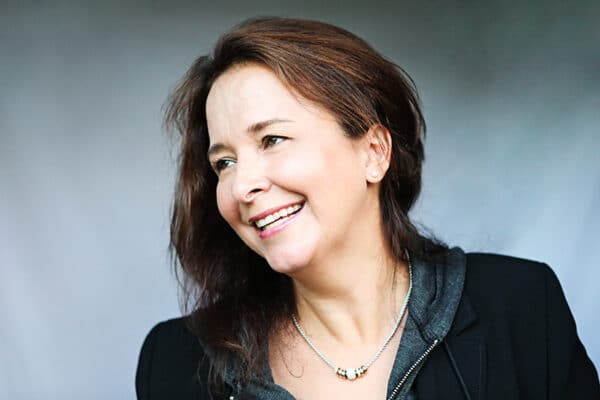 Prado Cogan explains that Latinos are good at emotional connection because it's a very warm culture. "We're a warm, family-oriented, and hard-working culture. That makes it easier to connect with people," she says.
Her diverse background enabled her to move into her next venture when it came time for Prado Cogan to look into expanding her career. She entered the tech field helping companies to break into the Japanese markets. She took a job with American Financial Systems, and the CEO's visionary approach to problem-solving through technology led her to the digital transformation space.
The CEO was looking for someone to focus on the company's Latin and Japanese business. In this position, Prado Cogan says, she started working with digital business, web, personalization, and leveraging technology to solve people's problems. She explains that after taking time off from the corporate world after the birth of her son, she wanted to come back in a space to catch the next business wave.
"I did spend some time thinking about where the world was going, what would be the way to doing business, and that was where digital marketing seemed to be a perfect match," Prado Cogan says. "I like solving problems, and I have a very visionary strategic approach that's complemented by an operational mind, so everything came together."
In recent years, she says, she's been able to establish herself as a thought leader in the AI-driven digital transformation of sales and marketing. "It is the way to deliver customer-centric experiences and increase sales productivity," she says. She has won multiple awards in the space.
One of her primary responsibilities at PTC is to deliver "the right content to the right person at the right time to help customers solve their business challenges," she says. To do so, she leverages her experience in tech to deliver digital transformation, which contributes to PTC having a customer-centric business proposition.
"These days close to 70 percent of a buyer's journey is done in the digital space," she says. "Marketing has to deliver much more than before, including representing the customer throughout corporate decisions—which really means that we have to deliver revenue. It's less about working harder and more about working smarter."
Prado Cogan also believes deeply in the value of diversity, for a number of reasons. She points out that statistics show that diverse companies are more innovative, and companies that are more diverse from a gender and ethnicity perspective financially outperform those that are less diverse. Diversity is especially imperative in tech, she says, since technology companies are driven by innovation—and innovation comes from having new people at the table.
"It's really, really important because at the end of the day we're naturally inclined to work with people like us. When you come from a minority, there aren't going to be as many people who identify with you. We do that naturally," she says.
These days, Prado Cogan is committed to sponsoring others to help them reach the top. She defines a sponsor as someone who brings up your name when you are not in the room and conversations about promotions or high-visibility projects are happening.
While she personally sponsors high-potential individuals, Prado Cogan says her goal is to build a framework for a systematic set-up that delivers scalability for a sponsorship program. "That's what really triggers career development," she says. "I was lucky enough to have sponsors pulling me up, so it's a huge priority for me to help other Latin people make it to the top. It's an obligation to pay forward."
---
6sense:
"Mariana, you continue to demonstrate what it looks like to be a passionate leader who pushes the boundaries of what's possible when marketing, sales, and customer success teams unite and rally around the customer. Your vision for a better B2B buying experience is inspiring."
—Latane Conant, Chief Market Officer
---
At Drift, we're part of the just 2 percent of VC-backed start-ups led by Latinx founders. We've had our sights set on the future since day one and are laser-focused on digital transformation. Our leading AI-backed conversational sales and marketing solutions can help you reimagine your customer experience and grow revenue, faster.