Anna Maria Chávez was born to be a public servant. Growing up in rural Arizona, she became engaged in her community under the direction of her parents.
"My mother was a community leader," she says. "I don't know if she necessarily labeled herself that, but she and my father actually were very engaged in my local community. They saw some discrepancies in the way that certain kids were treated in school. Because it was a rural community, a lot of our schools weren't getting the same resources that schools in the urban areas were getting."
So by age eight, Chávez was helping her parents canvas her neighborhood to draw attention to local issues, such as school funding. She sat at the kitchen table as they discussed politics and community action and even attended local government meetings with them. And those formative experiences evolved into a remarkable career in leadership.
After graduating from Yale University and earning a JD from the University of Arizona, Chávez went on to hold many positions in the Clinton administration, as well as in Arizona state government.
In 2009, she became the first person of color to lead the Girl Scouts of the USA as CEO. And in the following years, she was named one of Fortune's World's Greatest Leaders and was honored as one of the most creative people in business by Fast Company. She has been inducted into the U.S. News & World Report's STEM Leadership Hall of Fame, too.
Today, she is the National Council on Aging's (NCOA) executive vice president and chief growth officer. In that role, she is responsible for positioning the organization for greater social impact in the future through creative business strategies and innovative partnerships.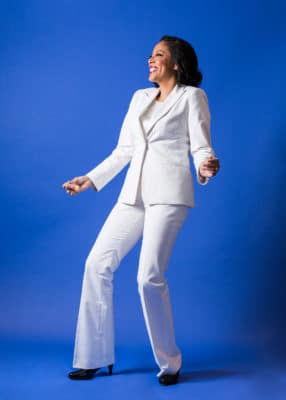 As guest editor of the "Leading Latinas" issue, Chávez offers her insights into public service, what inspired her to lead, and what others can do to be better leaders.
What traits have made you a successful leader?
Chávez: I think a lot of it is my perseverance and resilience. I learned a lot growing up by watching my parents struggle to make ends meet. There weren't a lot of resources in our local community, so they taught me how to make lemonade from the lemons life handed us.
They also taught me that success is determined by your attitude. To me, it's about sticking with things even though it may seem pretty dark and gloomy. But anything that's worth doing is worth doing well—even in challenging times.
I've also been told by my mentors and my former bosses that I can see opportunities where others see risk. I've had amazing bosses, and I often reach out to thank them because I would never have been able to do the things that I'm doing now if they hadn't pushed me and challenged me to live outside my comfort zone. I'm really grateful that they taught me to always look at the opportunities versus the challenges.
What is one of the first times you were pushed outside of your comfort zone?
Chávez: A huge opportunity that came my way was two years out of law school. I was working for Rodney Slater, who was the administrator of the Federal Highway Administration at the time.
He had known President Clinton when he was Governor Clinton back in Arkansas. When President Clinton came to Washington, he brought Rodney in as the federal highway administrator, which was very unusual because the Federal Highway Administration was more than a century old and most of the leaders in that organization had been engineers, not lawyers.
Rodney was this charismatic, smart, African American attorney from Arkansas. He saw the opportunity that government could give local communities, specifically how they decided to invest in local infrastructure and state highways and bridges. He was a big proponent of ensuring that there were opportunities for women contractors, minority-owned businesses, and veteran-owned businesses to actually compete and win the federal highway contracts.
We were sued by a gentleman out of Denver who felt that the program was discriminatory. Two years out of law school, Rodney and his general counsel, who was my direct boss, put me on as assist with the litigation. This case went to the US Supreme Court. I served as the agency counsel that helped the Department of Justice prepare and litigate the case. This was an amazing experience, especially right out of law school. For me, it was a huge learning opportunity to understand that sometimes leaders put you in roles so that you can learn both good and bad things about your trade.
What are some other important successes in your career?
Chávez: I don't see my career as successes for myself. I wasn't drawn to public service based on wishes and desires for myself. I see public service as an opportunity to be a positive and productive member of a community. Because I was trained as a civil rights attorney, I'm constantly looking at the environment to ensure that people who might not have as many advantages are given opportunity.
What advice would you give to other up-and-coming Latina leaders?
Chávez: As a person of color, especially a Latina, and as someone who graduated from high school at the top of my class and went to Yale, the higher I got, the less I saw people who looked like me.
A lot of times, I was the first up. I was the first kid from my high school in Arizona to go to Yale. There wasn't anybody to call and ask, "Hey, how'd you do it? What's the blueprint for success? Help me." I didn't have that. When you go through this experience as the first up, of course it can be very intimidating because you're figuring it out on your own. Unfortunately, if you don't have the mentors, you can make mistakes that other people may not have made because they have a blueprint from a friend who's gone through that experience.
What I learned and what I always suggest to Latinas—especially those taking on new roles—is to have a really good understanding of the environment you're going into. And don't be afraid to ask for help. Don't be afraid to make mistakes because you learn from those mistakes. Don't dwell on it. Just pick yourself up and keep moving.
The number-one cardinal rule I have is always support other women. It's critical. If women are going to succeed in leadership roles, we have to support each other.
What attracted you to the National Council on Aging, and what are you excited to accomplish with this organization?
Chávez: I was actually in the aging sector before I went into the youth sector. While serving in Governor Janet Napolitano's administration as director of intergovernmental affairs, I helped to launch the governor's Aging 2020 initiative and led the team that created the Arizona Division of Aging and Adult Services.
Working on behalf of seniors was just amazing for me. It was such an honor. Back then, I was much younger. I was in my thirties, and I would wear this button that read, "Aging: If it isn't your issue, it will be."
People said, "You're way too young to be advocating on behalf of aging issues." My response was, "If we're blessed, we'll live to reach our senior years, so we've got to start thinking about that." That's when I really started to get a sense of state and public policy issues around aging in particular.
When I got the opportunity to come work at the National Council on Aging, I was delighted and honored to continue my work in the aging sector. NCOA is the longest-serving, most prominent national nonprofit focused on senior issues. We are the national voice for everyone's right to age well. We believe that any individual, regardless of their background or where they live, should have access to tools and resources that help them age in the best way they can. That includes from a healthcare and healthy-living perspective and from an economic security perspective.
It's an exciting time to be innovating tools and real-life solutions for the boomer generation and beyond. We teach young people how to become adults, but we don't teach older people how to age well. At NCOA, we are going to change that to ensure that everyone can make smart choices that allow them to age on their terms.