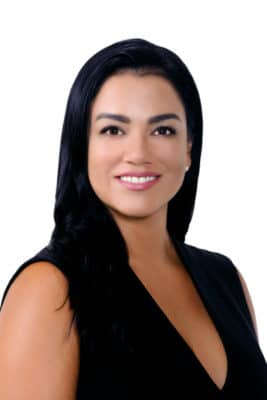 As vice president of legal for Latin America (LATAM) at Millicom, Karen Salas-Morales juggles a variety of responsibilities. Over the course of any given week, she might be involved in discussions concerning acquisitions and asset sales, financings, commercial agreements, treasury transactions, digital licensing or content acquisition agreements, or internal HR or governance issues.
However, if she hadn't been featured as a speaker at a 2012 Corporate Counsel Women of Color Conference, she might not be involved in any of them. It was at that event that she ran into a former colleague who was already working in-house and, by chance, referred a headhunter's call to Salas-Morales, who was a partner at K&L Gates at the time.
"As a law firm partner, I felt I was too senior to be considered for in-house positions," Salas-Morales says. "But because of my friend's referral, I learned more about the opportunity, realized it was a great fit, and took the plunge."
She was well prepared for the move to Millicom, a leading telecommunications company dedicated to emerging markets in Latin America and Africa. During her early years as an associate and young partner at K&L Gates, Salas-Morales not only gained substantive knowledge and technical legal skills, but also ventured into the telecommunications industry. One of her primary responsibilities was acting as the de facto in-house counsel for a client that also happened to be a large mobile technology distributor in Latin America.
"My law firm experience allowed me to handle many different issues for various industries and clients, but in-house I've gained a new perspective and appreciation for my role as counsel impacts company business," Salas-Morales says. "It is very gratifying to approach issues from both a pragmatic and legal perspective and to know that I am contributing something more than traditional legal advice.  I'm no longer just the attorney, I'm a business partner."   
Salas-Morales says she thrives on challenges and works best under stress. That may be one of the reasons she feels so at home in telecommunications. Because the industry is always evolving, she constantly works to stay on top of new developments so she can catch details and raise questions that even outside experts might fail to consider.
"The commercial team is always coming up with new lines of business or new ways to monetize existing ones, so I need to be able to identify and assess associated legal risks or issues," Salas-Morales says. "It's all part of working in such a fast-paced, high stakes environment."
She has implemented a number of strategies to help manage the workload. Salas-Morales stays in regular contact with her business clients to make sure her priorities stay aligned with theirs. She and the rest of the legal team have also created centralized templates that cover the most common clauses, agreements, forms, and training materials needed by each specialty area.
Although all team members are hired with specific areas of expertise in mind, they are also expected to pitch in in other areas as needed. This helps expedite the work volume and also supports one of Salas-Morales' management strategies. "If you're always working on the same types of projects, the work inevitably gets stale," she says. "You need to be challenged with a variety of responsibilities if you're going to do your best work."
Salas-Morales makes a point of adapting her approach to her clients. Millicom's global treasury team, for example, tends to be very detail oriented with a firm grasp on the contractual language needed to support their agreements. Her job for them is to deliver that language and ensure consistent application across Millicom facilities. The commercial team, however, tends to have a broader, big-picture perspective that often requires her to highlight specific risks, definitions, and subtle details that can have far-reaching consequences that go beyond a specific product or business line.
"If you're always working on the same types of projects, the work inevitably gets stale. You need to be challenged with a variety of responsibilities if you're going to do your best work."
Karen Salas-Morales
"Because loan agreements don't face the same kind of ongoing evolution that commercial agreements do, their terms are often more standardized, and negotiations follow market standards," Salas-Morales points out. "Commercial agreements, though, tend to be more challenging, since the legal advice needs to adapt to the constantly evolving business."
One new area for which she has recently taken responsibility is developing global data privacy policy and guidelines for Millicom's LATAM markets. This is just the kind of challenge Salas-Morales enjoys, because many emerging markets do not have the same laws, policies, or practices in place—or being enforced—that are common in more mature markets. The same has been the case, for example, when implementing portability of mobile device numbers and shared infrastructure partnerships.
"As a global company, it's important to implement and follow the highest standards so that customers know they can trust us," Salas-Morales says.
When she takes a step back to assess her transition from private practice to Millicom, Salas-Morales says that nothing about the shift has really surprised her—other than that it has turned out to be an even better fit than she expected.
"The work never gets boring, because there's always something new on the horizon," she says. "It's like a chess game where we're always shifting pieces around to keep pace with new technologies, new businesses, and new competitors. The challenge is figuring out a new strategy that will keep us one step ahead. I'm proud to be an integral part of the Millicom team and our global brand."