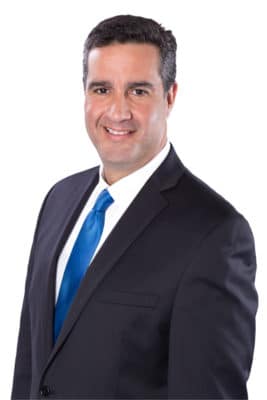 Proverbial wisdom says: "Hope for the best, prepare for the worst." In 2017, those words took on real significance for Puerto Rican native Varlin Vissepó after Hurricane Maria made a direct hit on his beloved island.
"We've suffered a lot from the hurricane, but we're working with insurers and brokers who are being very helpful, giving the assistance we need to bring airport to fully operational," shares Vissepó, chief legal officer and corporate secretary for Aerostar Airport Holdings LLC, the company that manages the Aeropuerto Luis Muñoz Marin (SJU) in Puerto Rico. "After a catastrophe, other airports closed down for days; we just closed during the passing of the hurricane. The day after we were receiving military airplanes with supplies and personnel. We're getting to the other side of the tunnel."
Years before Hurricane Maria arrived, Vissepó orchestrated efforts to improve the airport's disaster preparedness. A key component included establishing a partnership with the Transportation Safety Administration (TSA) in 2017—a first for the airport. The only privately managed airport in the United States and its territories, the SJU airport had to pass multiple safety benchmarks before being approved by TSA as a member airport.
"At one point, we were having issues with TSA; we had many investigations coming our way," Vissepó says. "I talked to the CEO and offered to take it on to help with the issues, which were regulatory and compliance-related in nature. We're the first private company managing an airport in the US, so there's been a learning curve for TSA, which is used to dealing with a county or city officials, and us, because airport sponsors are responsible for compliance with FAA regulations, including providing an onsite police presence, which was a concern for TSA. I started working with the Puerto Rican police department and hired a private company to increase security."
His hard work has paid off. In 2017, the airport was named Airport of the Year, Southeast Region by the FAA. According to Vissepó, that distinction was a first for the San Juan airport and since winning, the relationship with the FAA and TSA has improved. "Having put the ground rules in place, everyone knows what to expect and what to do," he says.
"It's crucial to maintain this bridge to the US. On the mainland, you have roads that can get you relief. On an island, relief comes from the air."
Varlin Vissepó
While the combination of law and aviation may seem odd, they made perfect sense for Vissepó and his three brothers. Inspired by his late father, Hugo, a history professor who served in the Air Force as a flight crew member, and his mother, Nilda, an attorney, Vissepó studied law initially, but opted to realize his first dream of becoming a pilot, like his older brother. He would revisit the law, however, after his mother asked him to help out with research at her office—his two younger brothers are also attorneys.
"I've spent twenty-two years in aviation some way or another. I went to the US to flight safety academy to finish my license and continue training," he says. "I found a job as a jump pilot flying small planes and as a flight instructor until my mother said I needed to help with investigations; I liked that side of the law. I developed an understanding of corporate business law and decided to go back to law school."
But Vissepó didn't abandon aviation—he worked as a flight instructor on the side. "I liked teaching people how to fly, especially seeing their faces after they completed their first flight," he says. He also completed a master's program in aviation law from the Institute of Air and Space Law at McGill University in Montreal, Canada, which led to a position with the FAA.
Exposure to federal regulations was critical for his current job. Vissepó also worked on building a first-rate legal team for the airport, recruiting lawyers from some of the leading law firms on the island and New York City, such as Fiddler Gonzalez & Rodríguez. Initially specializing in corporate law, his two recruits are now completely versed in labor and aviation law as well, including FAA and Homeland Security regulations as well as TSA compliance. He also gave them a crash course on airplanes.
Above all, he reminds his team that they are in a service-oriented profession, bound to providing legal and business advice to the CEO, finance department, and planning and development team, and that transparency is paramount.
"The knowledge they acquired in the last four years has been amazing," he says with pride. "They're now airport lawyers and proud to be. I tell them to do the right thing, even if no one is looking. If we do that, we'll have no issues."
Rebuilding has only just begun at Aeropuerto Luis Muñoz Marin. The airport suffered extensive damage to the roof from wind and rain, and two of the four terminals remain closed when Hispanic Executive spoke with Vissepó in late 2017. But Vissepó is confident that they would be fully functioning by February 2018.
Unlike other airports, SJU is an origins and destinations airport serving nine million passengers annually, mostly from the local community rather than the tourism trade. Located so close to the US and with many islanders traveling back and forth to work or to visit family, it acts as an air bridge. Still, with recovery on the island considered ongoing and long-term, the sooner the airport is back to normal, the better.
"It's crucial to maintain this bridge to the US," he explains. "On the mainland, you have roads that can get you relief. On an island, relief comes from the air."