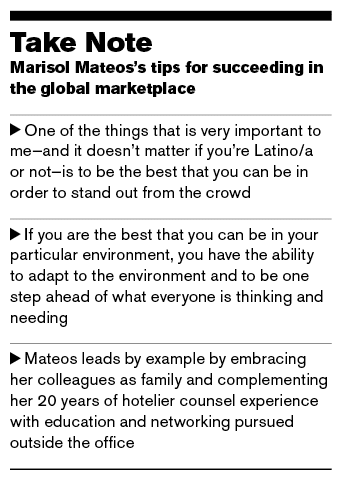 For 20 years, Marisol Mateos has dedicated her time and talents to Spanish hotelier Meliá Hotels International, the 10th- largest hotel company worldwide, with 300-plus properties in nearly 30 countries. She has traveled the map and grown as a citizen of the world with the organization she today considers to be among family.
In her current role as the general counsel Americas for subsidiary The Sol Group Corporation, Mateos oversees the legal affairs, including investments, litigation, and corporate governance advising, of all company hotels in the United States, Canada, Latin America, and the Caribbean. Mateos deems her outside counsel position to be part attorney and part psychologist since she not only gives advice, but also draws on her interpersonal skills and persuasion powers to see those suggestions through.
While the past few years have been challenging for the hospitality industry in general, Meliá Hotels International and The Sol Corporation are poised for growth. Though she could not comment on the specifics of projects in the works, Mateos excitedly acknowledged that the company is looking into entering new major markets, especially in Latin America.
The daughter of Spanish immigrants, Mateos hails from a small town in Argentina, where her immediate family now has resided for more than 50 years. Mateos earned a law degree in Argentina, and worked briefly as an attorney with a boutique firm there. It was then the young professional decided to scratch her travel itch, venturing to Spain to learn more about her family's cultural roots. "That international background," she says, "is still in my blood."
Mateos also made the move to learn more about the business side of the law. She enrolled in an American MBA program hosted in Madrid by the University of Houston. In 1992, while pursuing her degree, Mateos joined Meliá Hotels International as an internal consultant in Mallorca, Spain.
A couple of years later, Mateos accepted a transfer with another subsidiary of Meliá Hotels International in Cancún, Mexico. When that office closed in 1995, Mateos moved with the company to Miami—her adopted home to this day. "I was very excited to be working in such a vibrant city," Mateos says. "I always think of Miami as something in between the Latin culture and the American culture because everybody speaks English and Spanish at the same time—sometimes in the same sentence—and we have traditions for so many countries. It's really an amazing place."
Well established in Miami, Mateos joined the South Florida Group of Regional Counsels, a professional association for in-house counsel working in multinational businesses with operations in Latin America and the Caribbean. When Mateos was introduced to the group several years ago, it comprised about 40 attorneys. Today it boasts more than 200 members, who gather to network, for continuing education or, as Mateos puts it, "to simply relax in the realization that everyone faces similar challenges, so common problems suddenly seem smaller."
A unique blend of international background, business savvy, professional experience, and a circle of supporters have helped land Mateos where she is today. With specialization, adaptability, and wholehearted commitment on their side, the future looks bright for The Sol Group Corporation and its leading legal lady in the Americas.