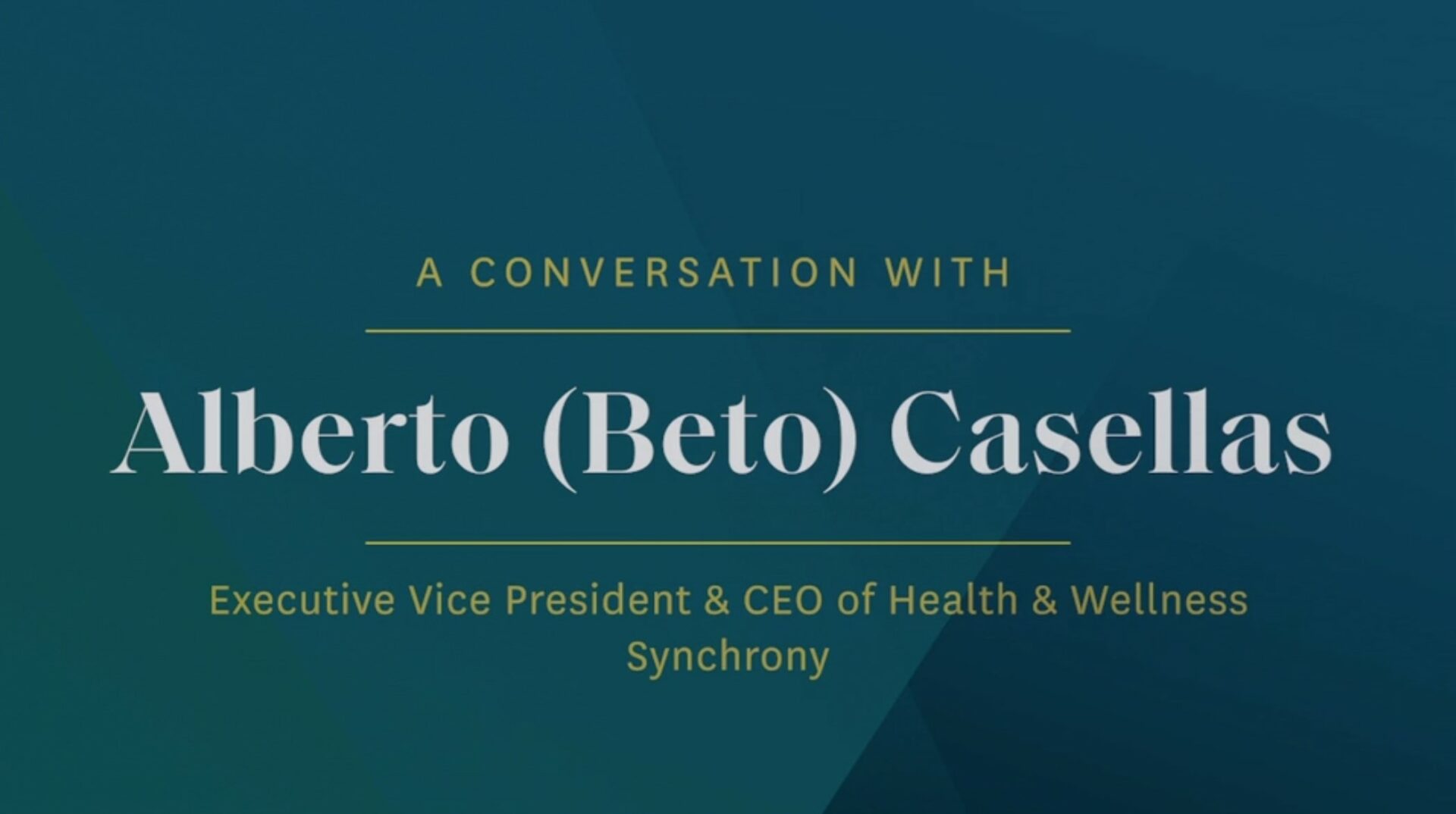 Hispanic Executive's mission is to unite the leaders of the new majority by turning a spotlight on business's most influential Latinos. Simply put, we tell stories about Latinos and for Latinos.
That's why this Hispanic Heritage Month we sat down with Synchrony's Executive Vice President and CEO of Health & Wellness as well as the Board Chair for the Latinx Executive Alliance, Alberto (Beto) Casellas.
As one of a handful of Hispanic C-suite leaders within the Fortune 500 to don the title of CEO, Casellas is an influential Latino and an inspiration to his community (and to all Latinos reaching for the top seat). From his home office in Orange County, California, the executive shared glimpses of his Puerto Rican roots, his early career influences, and how they shaped his passion for diversity, equity, and inclusion.

Cantos: Hello everyone, I'm Michele Cantos Garcia, the managing editor of Hispanic Executive Magazine, and I am thrilled to be here today with Beto Casellas, the Executive Vice President and CEO of the Health and Wellness platform at Synchrony. Synchrony is one of the nation's premier consumer financial service companies. Beto, thank you so much for joining us today.
Casellas: Thanks, Michele, for the opportunity to spend a little bit of time with you.

We are delighted. To get us started, I wanted to just ask some fast facts about you. So let's get right into it. Can you share where you and your family are from and where you are joining us from today?
Casellas: Sure. I was born and raised in San Juan, Puerto Rico. I was born and raised there and then the last 30, 35 years I've been in the United States for most of my career here. Currently I'm in Orange County, California, where I lead the Health and Wellness Platform for Synchrony. We're located here in Costa Mesa, California and we're a network of about 260,000 healthcare providers. We help consumers and patients get the care that they need when they need it by providing a financing option for their out-of-pocket expense.
That's really wonderful. Speaking of your life experiences and how those have shaped you, can you tell me a little bit more about your leadership philosophy and how your background has shaped that?
Casellas: It has evolved over the years. I would say number one, I think I've had a philosophy around continuous learning. I've always been in situations where I think it's important not to rest on your laurels and to look for ways that you can challenge yourself to not only learn on the job but also learn externally with others and get your own education and be responsible for your own learning throughout your career.

I think one that comes to mind as well is making promises and keeping those promises. Keeping your word on doing the things that you say and have a very much high 'do' ratio versus saying just what you're going to do. And so I think it's important in terms of creating a certain identity that I think bring forth to you as you grow in your career.
And I think I've been very purposeful in terms of having a diversity of thinking and background and experiences that I think has been extremely valuable for me as I think through what I've been able to accomplish and where I am today. I think having the opportunity to be exposed to different bosses, different places, different cities, different states, different countries, working with different people from different backgrounds have helped me be able to have a certain view around our consumers, our patients, and our overall business in terms of attracting talent through our overall company.

So that's one that I think I'm fairly passionate about and think is extremely important in terms of leading an overall organization.
Speaking of DEI, you have been a very strong advocate for diversity, for equity, and for inclusion throughout your entire career. And it's something that was really wonderful reading about you while we were doing our research and preparing for today. So my question is, why is diversity, equity, and inclusion so important to you and what helped spark that passion?
Casellas:I started with my background being in Puerto Rico, being able to be exposed to two languages growing up. Moving to the United States and getting educated here in the US and being able to be exposed to multiple priorities of disciplines, people, different countries, folks from different areas. And it really led me to think around, 'hey, I think we can be a lot more powerful. I can be a lot more effective if I have a wide variety of different opinions, different perspective, different skill sets that help me compliment what I'm trying to do.' And so that for me has been personally very engaging and quite frankly it's very satisfactory for me in terms of being able to live in a world where that is the case. But I think, for our organizations and for corporate America in general, it has to be more than just a talking point.

And that's where I think for us, in everything that we do and how we include that in Synchrony, one that I think is important. We don't treat it as an extracurricular activity. It's very much part of our DNA and it's one that we value. Being able to have a diverse workforce is very clear. It's clear in terms of our commitment as a company in terms of creating a space to work for everyone to be able to be successful, it's also a great place to be able to work with other clients that achieve this and being able to be productive with them, and being able to execute and deliver in terms of our commitments to our shareholders and our employees and our partners across the board.

Our leadership is diverse across the board. And we take this as just another important/critical business initiative. We measure it, we use data, we use data to be able to give us focus and directions as to where do we want to make a greater impact, in terms of where we need to get better, whether it is advancing black talent or Hispanic talent in the ranks of the company. And that's where it helps us to make decisions as to how do we want to make this real in our organization.
You answered my next question, which was going to be that it is such a mainstream topic, it can often be a talking point for so many companies and it's wonderful to see that Synchrony is walking the talk and not just having those speaking points. And obviously having a leader like you in this position and vouching for you just shows that commitment behind DEI. So I have a [question for you how do you make sure that it's not just talk, and that you are truly helping to advance Hispanic employees and diverse talent in the workplace?

Casellas: And I think I would add, Michele, on that a little bit on in terms of, like I said, we don't treat it as a different business challenge that we have. And that's extremely important because it is part of our responsibility.
This means our CEO, our executive leadership team, our senior vice presidents, and then all the way down to our entry level employees as well as newcomers into the company. We think everyone has a responsibility in terms of making this a real part of their day to day.

And so, part of it is being able to treat it as another business challenge that we have and treat it as a business initiative. Using data to be able to understand where all the representation occurs and exists in our company.

Certain things that we invest in terms of talent, for example, we have now three programs, Strategic Pathways is one of the names of the program, our [Advancing Diverse Talent] Fellows program, as well as LEAP [Leadership Experience for Advancing Professionals], which is all around trying to move talent, diverse talent from AVP levels, to VP levels, to SVP levels. And being able to do that is extremely important. We, meaning the executive leadership team at Synchrony, are all involved in these programs.

For example, I have several mentees in these programs where I meet with them on a regular basis as they're going through the program to have a sounding board and a perspective for myself. And what we discuss in those meetings really stays between us. They use me as a sounding board. It's great to see where they go because,
Just a couple of weeks ago, one of my mentees was able to move to the next level of the organization, which is great for her, and as well is great for me to be able to see that as well.

That's amazing. And actually, you are such a point of pride for our community. You are one of just a handful of Hispanic C-Suite leaders within Fortune 500 companies and you carry the title of CEO, which is such a massive accomplishment. So, hearing you speak about all the pathways you're building for not just diversifying the company but diversifying at the top tiers is really inspiring. Can you share a little bit more about your journey getting to the top and what helped you break through?
Casellas: Yeah, Michele, what I would say is I've gotten a lot of help along the way. From my parents to the way I was raised, going to college, and then getting connected with great organizations that I have worked for in my career, including now the last several years with Synchrony, being able to do my craft in a place that I'm able to do that in this sandbox is great to be working here.

I think one piece that I would say is I'm not a lone ranger, so I've had people that have mentored. And I think you have to be vulnerable. You have to be say like, 'Hey, here are my shortcomings, here's the things that I'm working on.' And have true conversations with people that you trust around you. Because that's the only way that I could acknowledge and notice and observe and maybe act differently in terms of taking care of those things that perhaps kept me not moving as fast throughout the years.

And I think when I think back [to] some of the things, I mentioned, some of the leadership philosophy earlier when you asked me about it, but keeping your promises and delivering on what you say you were going to do. I think that's very important early on in your career to differentiate yourself from others that are around you. And then after you do that kind of, your list of accomplishments are going to grow throughout time and you're going to get some accomplishment that then people are going to associate you to being an accomplished individual and someone that can be trusted and have a certain identity to accomplish certain things.

And last but not least, once you do all that, then you have the capacity to lead. And leading is just going to increase your capacity to be able to make even bigger promises and produce bigger outcomes in the organization that you are tied with. And that's the whole purpose of leadership and being able to bring others along in your commitments to produce the outcomes that you've been asked to do and being able to influence, and doing that across your career. And so, it's not really one nugget or anything like that, but it's a recurrent practice of being able to hold all of that through a long horizon of time that really produce an identity of trust and of leadership for continuing to grow in the organization that you may be part of.
That's really wonderful. I'd love to hear a bit more about some other initiatives you're working on, like the Latinx Executive Alliance Initiative. What are you hoping to achieve with that initiative?

Casellas: Yeah, Michele, we have talked about our IP, I'm a sponsor of the Hispanic Network+ here at Synchrony. We have eight great networks within the organization here at Synchrony, and we have made a lot of progress across our talent and over, since we were IPO'd in 2014. What I would say is, we said, 'hey, we've learned a lot of things internally. I think it's time for us to actually take this in an external way.'
And as I was growing up in my career, I didn't have a group of leaders or colleagues that I could associate myself to have conversations around diversity, to have conversations around how do we make a bigger impact? How do we go after the challenge of only having 4 percent of the top executives in large companies in the US [who] are actually Hispanic, and that's according to public records of reports that are out there. How do we bring forth more representation at the highest levels in corporate America?

And as I was growing up, I really didn't have a group of folks that we could kind of unite in terms of having meaningful discussion, take different actions in order for us to facilitate and improve and influence kind of the outcome of having a much greater than 4 percent. Because we know we have the largest group that is growing in the United States in terms of population. So I think we started the Latinx Alliance, a coalition of executive and business leaders that are passionate about helping fill this gap that we have and really getting together and having discussions around what could we do as leaders, as senior leaders, as C-Suite members across the board. And being able to facilitate, move the needle, and be catalysts for change and being able to improve the 4 percent that we're talking about here.

And so it started from that passion. I'm passionate about it. We're just one year in. We got over 600 members joined us through our LinkedIn group. We have a board of advisors of 17 to 20 executives that are passionate, committed to the narrative and the story and the strategy that we have around the goal of being able to bring more people along the way with us in terms of hitting the C-suite of corporate America, and what can we do as a group to able to share best practices, have mentoring, and have an avenue for others to be able to take advantage of this and be able to be a source of power for others to be able to have the capacity to do this kind of stuff.
So very early stages. We're working with other organizations in terms of how can we augment what we're currently doing. Very much a startup, Michele, but we're very pleased with the traction and the great thing about it is that with the other people that we have spoken to, they feel the need. They feel the gap that exists out there in having these types of forums, these types of coalitions, and uniting ourselves in terms of bringing forth a challenge like only 4 percent of our top executives in large US companies are of Hispanic descent. It should be much higher than that.
To summarize a bit, what can other senior executives do to help the Latinx Executive Alliance?
Casellas: What I would say at this time, join us. We're on LinkedIn, Latinx Executive Alliance, you can follow us there. We're developing mentorship, webinars, and other programs that I think are going to be valuable. We have a couple of events coming up here in September as part of our Hispanic Heritage Month. One in September around mentoring groups that we're creating and piloting. And when we're also doing an event, a panel event around a sponsorship that one of our board members, Fernando Aguirre, who is the former CEO of Chiquita Banana, will be leading a discussion with a couple of other C-suite Hispanics, and they're going to be talking about sponsorship, and that will be on October 4th. Again, you can find us at www.latinxexecutivealliance.com, as well as in LinkedIn at one of our groups.
That's great. I hope that some of our folks will reach out and continue building on this initiative. It's really exciting. We have to wrap up, but I can't let you go until I ask you a more selfish question. So just from all of your lived experiences, everything you've learned on the way to the top, I'm curious, what advice would you give a younger professional or yourself 25 years ago, or excuse me, when you were 25 or 30 or just growing in your career?
Casellas: Wow, when I was about 29, 30 years old, I actually read an article either on Fortune or Forbes. I was part of a business professional group that reshared an article that said Dead at 40. Now, it wasn't mean physically dead, it was more around executives that were growing in corporate America, but they were stale at 40. They stopped learning, they stopped growing their careers, they got disappointed or didn't have the fire in their belly across the board. And then I read that and I said, 'Well, I don't want to do that 10 years from now. What do I need to do to be as far away as possible from that?' Because a few years later, I learned from part of Synchrony, they did work within our parent company around [the question] 'why did officers quit or derail their career in our company?' And the number one reason was they stopped learning in their work.
Over the last 25 years, I've had this in my mind and I have said to myself, 'I'm going to be as far away as possible from that situation.' Which what that means is I got to continually learn. Whether it's on my job, whether it's on the reading that I'm doing, whether it's raising my kids as a parent with my wife, Laura, or whether it's working with a Synchrony on a strategic program or a strategic initiative. All of that are learning opportunities for me to show up and really challenge myself to put myself in an uncomfortable situation to execute and deliver and show up and be able to bring forth new ways of doing things.
In order [to] do that, I have to keep myself challenged. I have to have a passion for learning. I have the passion to say, 'you know what worked last time or what worked two years ago is not going to work today,' so I got to be able to find ways to reinvent myself and reinvent what I'm currently doing, refine, pivot, change, and be thirsty for that and have people around me that are also thirsty around this.

And so that's what I would say.
And I think if you do that, people will notice around you that will assess in terms of your professionalism, your capability, your capacity to really influence and deliver in terms of the organization that you each one of you may be in.
Cantos: Thank you so much, Beto. It's been an absolute pleasure and I hope we'll get to chat again soon.
Casellas: Oh, thank you very much, Michele. Appreciate the opportunity to be able to do this with you all. And thank you for the opportunity again to share some thoughts here that might be helpful for others that are listening. Thank you again.
This interview was edited for length and clarity.