Sofia Hernandez grew up on the South Side of Chicago. That city was, and in some ways still is, pretty segregated, she says. "If you're from the South Side, you stay on the South Side. The same goes for the North Side," Hernandez explains. But growing up, Hernandez's parents demonstrated the value of exploring cultures and diversities outside of their Mexican community.
"My parents would take us to Devon street, which is a predominantly Indian neighborhood. We would eat there, explore the shops, and marvel at the beautiful saris," Hernandez recalls. "Or they would take us to Belmont, which was where the LGBTQ community mainly was. She always wanted us to explore and be challenged by the idea of diversity."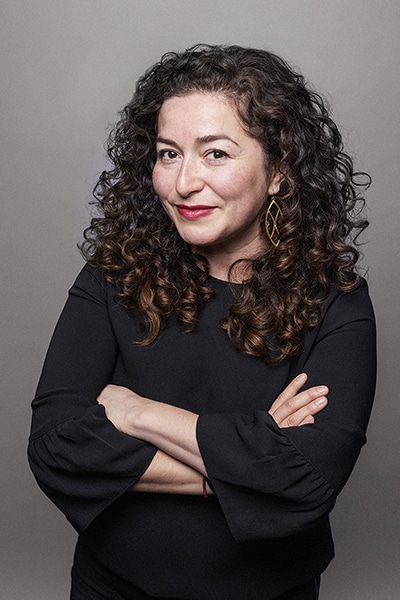 Hernandez's parents were also both devoted activists within the Latino community. "My mother was a Brown Beret, which is the Mexican equivalent of a Black Panther. I grew up going to protests," Hernandez says with a laugh. This exposure to exploration and activism spurred Hernandez to aspire for more than what she could find in the confines of her own neighborhood.
"I have always had the drive to do more. When I achieve something, I think, 'What's the next rung on the ladder?'" Hernandez explains. But while she always had the personal drive to "do more," Hernandez acknowledges that this was not typical behavior for people in her community. "It's quite rare that Latinos will leave their families. There's a sense of responsibility and guilt that we encounter. We almost feel selfish," she reflects.
But Hernandez believes that it is important to push beyond any perceived boundaries, not only to grow as an individual but to gain the experiences necessary to be able to give back to one's family and community.
A Process of Self-Realization
Roughly two years after starting her career in the advertising industry in Chicago, Hernandez made the difficult yet necessary decision to relocate and develop her career in New York City. This decision was motivated in part by Hernandez's recognition that the field she was in required her to code-switch and conceal parts of herself in the workplace.
"I didn't know how to be authentically myself in that environment," she recalls. "As Latinos, we're taught to be one person at home and one person outside of the home. When you then go into corporate America, there's a culture of similarities, and, often, you're the odd one out."
So, when Hernandez made the move to New York, she also embarked on a journey to understand the woman she wanted to be. "I was tired of feeling scared about being my true self and not feeling accepted," Hernandez emphasizes. "I started little by little, but finally reached the point where I could bring my activism to corporate America."
Reaching that point has been a process, though, and not a simple one—especially given the fact that only 1 percent of executives in the tech industry are Latina. "It has been tough," she acknowledges. "I have cried in bathrooms, I have been so scared that I have made myself sick before meetings, and I have had difficult conversations and had people call me awful names." Nevertheless, Hernandez believes that following through on this self-development process is what has allowed her to pave the way for other women in the workplace, including her own employees.
Keep Going
Now, as head of North American business marketing for TikTok, the video-sharing app that has become a global sensation since its release in 2016, Hernandez makes her employees' comfort and confidence in the workplace a priority. All of her team members, she stresses, should feel that they can "always be themselves publicly."
The best way to achieve this type of environment, according to Hernandez, is to lead by example. If leaders are transparent and authentic, she explains, it sets the tone for employees to feel comfortable doing the same.
She approaches inclusion with this same mindset. "It is important, as a leader, to look at your organization and your team and encourage people that come from different backgrounds to be involved, too." But to Hernandez, "different backgrounds" is about more than cultural backgrounds. "Think about it like this," she suggests. "If you are a marketing team, think about having an economist join. That type of diversity of thought is so valuable."
Throughout her career journey, Hernandez has always been powered by this emphasis on authenticity and diversity. Indeed, in 2016, it inspired her to cofound a clothing company called Black On Black . But it is her family, Hernandez reveals, that is her true secret to success.
"When you come from a situation like mine, people often ask you, 'What makes you keep going?' And it always comes back to my family," she says. "It is my responsibility to elevate my family because it's up to each generation to leave a legacy for the next."